Today marked a historic day for tech startups—and Facebook employees—as the $104 billion social network officially went public. Here's how some of them reacted on Facebook.
Mark Zuckerberg, Facebook Founder and CEO
Today was a big day for Facebook founder Mark Zuckerberg, who took his social network project from a dorm at Harvard to the Nasdaq. After ringing the opening bell this morning, Zuckerberg posted a special status update on Facebook.
Eduardo Saverin, Facebook Cofounder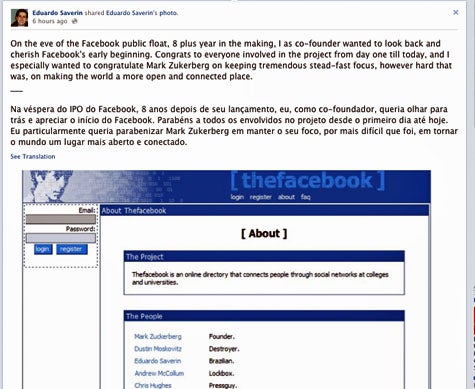 Saverin, who has taken some heat in the last week for renouncing his U.S. citizenship to avoid paying taxes on his IPO payout, took time to reflect on Facebook's humble beginnings. Below his message, he posts a screenshot of the original "TheFacebook.com."
Tim Campos, Facebook CIO
[Facebook CIO Shares IT Innovation Successes and Failures]
Ji Lee, Creative Director at Facebook
Charlie Taylor, Facebook Account Manager
Francis Luu, Facebook Product Designer
Luu uploaded a Facebook album showcasing highlights of today's news. Below, an employee catches Facebook CEO Mark Zuckerberg preparing to ring the Nasdaq bell.
In another post on Luu's Facebook page, he writes, "We stand, applaud and thank Mark for the opportunities he's given us."
Bret Taylor, Facebook Chief Technology Officer
Jocelyn Goldfein, Engineer at Facebook
Perhaps my favorite, from Facebook engineer Jocelyn Goldfein: With the hefty paydays some Facebook employees are expected to receive, 5 a.m. is all but a memory.
Kristin Burnham covers consumer technology, social networking and enterprise collaboration for CIO.com. Follow Kristin on Twitter @kmburnham. Follow everything from CIO.com on Twitter @CIOonline and on Facebook. Email Kristin at kburnham@cio.com