12 Ways Silicon Valley Hates Women
Tech leaders in the Bay Area say the right words, but reality reveals a serious problem. Here are a dozen examples of how the world's hub for technology is a hotbed for sexism.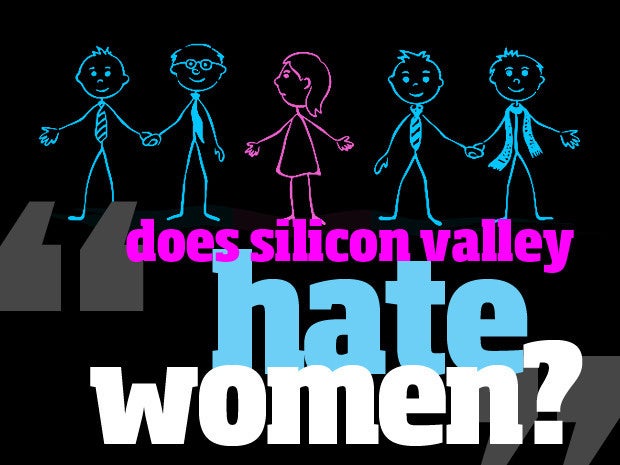 There Are Haters in Silicon Valley
It appears, as examples continue to stack up, that Silicon Valley companies hate women. Even captains of the tech industry know there's a problem. At CES in Las Vegas this year, Intel CEO Brian Krzanich challenged his company and the industry to become more diverse, saying, "When we all come together and commit, we can make the impossible possible." Words of atonement sound nice, but pictures show a serious problem. Here are only a dozen cases, but you can be sure there are a whole lot more.
Tech's Male-Dominated Workforce
A landmark tech--industry employment diversity study last year found a wide gender gap at Google, Apple, Twitter, Facebook, Microsoft, Hewlett-Packard, Cisco, Intel and others. Systemically speaking, a workforce of 70 percent men, 30 percent women. In terms of wages, studies have shown that women get paid around 20 percent less than their male counterparts. Recently, actress Charlize Theron demanded equal pay after the Sony hack revealed her male co-star was making more than $10 million.
Microsoft CEO's Gaffe
Most industry watchers have cheered the aggressive moves made by CEO Satya Nadella, who replaced Steve Ballmer a year ago -- right up to the moment he stuck his proverbial foot in his mouth. At the Grace Hopper Celebration of Women in Computing last fall, Nadella suggested that women not ask for raises. Instead, they should have faith in the system, he says, "because that's good karma." Nadella was highly criticized, and he quickly apologized for his comments.
Github Doesn't Get It
Last spring, former Github engineer Julie Ann Horvath claimed she was harassed by a male co-worker and discriminated against by co-founder Tom Preston-Werner and his wife. This led to an internal investigation and the resignation of Preston-Werner. While much finger pointing ensued, this case underscores the tension between the genders in Silicon Valley and it makes its way into the workplace.
Tinder Sparks Lawsuit
Another high-profile accusation occurred last summer when co-founder Whitney Wolfe sued matchmaking service Tinder for sexual harassment. Wolfe claimed Tinder co-founder Justin Mateen became "verbally controlling and abusive" after the two dated and broke up. Tinder also removed Wolfe's co-founder title. The suit was settled in September, and Wolfe reportedly received more than a million dollars.
A Barbie Blunder
Mattel pulled its Barbie book "I Can Be a Computer Engineer" from Amazon's shelves after critics called out its overt sexism. The book showcases a pink-clad Barbie who needs the help of her male co-workers to do her job, doesn't back up her work, mindlessly infects computers and doesn't know how to code. The book, of course, is aimed at young girls.
RadiumOne or Radium117?
Last April, law enforcement claimed to have a video of RadiumOne founder and CEO Gurbaksh Chahal hitting his girlfriend 117 times in an assault that lasted 30 minutes. In a blog post, Chahal denied the charges, compared himself to a targeted celebrity, and accused his girlfriend of being a prostitute. He eventually pleaded guilty to two misdemeanors of battery and domestic violence -- and still avoided jail.
TechCrunch's Titstare
At TechCrunch Disrupt 2013, a couple of Australian guys presented as an apparent joke an app called Titstare, which does what you'd expect. TechCrunch quickly issued an apology. While this happened more than a year ago, it's notable for the bold, misogynistic attitude at a premier conference that has become a tech cultural icon.
Tech Conference or Frat Party?
You don't need workforce demographics to see the gender disparity, just go to any tech conference and look around the room. At PyCon 2013, two male software developers joked about "big dongles" and "forking" overheard by SendGrid tech developer Adria Richards. She was offended, took a picture of them and tweeted it. One of the men was fired. Hackers exposed Richards' private information (an attack known as doxing) before she was fired for "publicly shaming the offenders," wrote SendGrid CEO Jim Franklin in a blog post.
Gamergate
You can't talk about tech without talking about video games and "gamergate" -- the sexism that pervades the gaming culture. Where do you start? How about the harassment of game developer Zoe Quinn. Her ex-boyfriend lit a fuse with a blog post claiming that she had a romantic relationship with a gaming journalist, implying that this led to her game gaining unearned praise. Threats of violence ensued, as well as doxing of Quinn and her supporters, such as media critic Anita Sarkeesian and game developer Brianna Wu.
Venture Capitalists: The Raw Deal
Last summer, Wired ran a damning story about gender discrimination in the venture capital community, which fuels Silicon Valley. The women in the story claim that VC firms, mostly run by men, are less likely to open up their pocketbooks to startups with a woman in charge. "For every story you hear about investors behaving badly, there are far worse stories that many women wouldn't dare to tell," writes Issie Lapowski, staff writer at Wired.
Uber, SMH
Taking dead aim at Uber, PandoDaily founder and editor Sarah Lacy wrote in a blog post: "I wrote a story about the outrageous sexism woven deeply into the culture of the company. We've seen it in the company's PR team discrediting female passengers who accuse drivers of attacking them by whispering that they were 'drunk' or 'dressed provocatively.'" This led to Uber executive Emil Michael suggesting the company spend a million dollars to dig up dirt on critics like Lacy in order to intimidate them, Buzzfeed reported.
Zillow, OMG
Last year ended with chilling claims of "sexual torture" from Rachel Kremer, who worked at real estate website Zillow. CNN Money cited a portion of Kremer's lawsuit against the company: "Ms. Kremer's male supervisors ranked her according to her breast size, sent pictures of their penis to her, and demanded sexual gratification and obedience by Ms. Kremer to continue her employment." Zillow filed a motion in December to dismiss the suit.
Copyright © 2015 IDG Communications, Inc.
Next Up: Check out these related slideshows