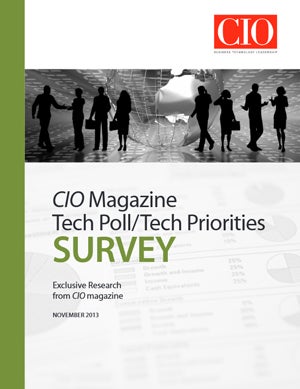 More than half of CIOs (53 percent) say they plan increases to their overall IT budget in 2014, according to CIO.com's most recent Tech Poll. The survey of 200 top IT executives was conducted in November 2013.
The 53 percect figure is up from 48 percent in a similar poll conducted by CIO Research at the beginning of 2013, but is relatively consistent with the 51 percent reported roughly a year ago.
CIOs, on average, expect overall budget increases of 5.2 percent, which is down slightly from 5.9 percent reported in our February 2013 poll. However, it represents an increase from the 3.9 percent reported in the fall of 2013.
Enabling business process innovation (36 percent) is the most frequently cited focus for IT investments across all respondents; this figure climbs to 42 percent for CIOs in enterprise organizations.
Spending increases on mobile apps is the most frequently cited area for investment (see table below) and most IT leaders have this area on their radar or in production.
Currently 52 percent are researching or piloting mobile apps, 19 percent are piloting programs, and an additional 33 percent are already producing a mobile app for their business unit, division, or enterprise.
The poll also asks IT leaders in what stage their companies are at when it comes to implementing technology initiatives.
Software defined networking (SDN), enterprise mobility management (EMM), and business intelligence/analytics rank among the most frequently identified areas CIO are currently watching.
Download the full
Dan Muse is executive editor of CIO.com. Follow him on Twitter @dmuse. Follow everything from CIO.com on Twitter @CIOonline, on Facebook, and on Google +.