For all the mind share and interest directed at social media today it still does not measure up to the pervasive use of live online video in the enterprise. A new report by Wainhouse Research (commissioned by Ustream) determined that live online video for business purposes reached 1.12 billion total hours last year.
[Related: 8 Ways Online Video Can Improve Your Business]
Live online video events that reach at least 25 viewers simultaneously are outperforming social media applications for business communications by at least double the amount of overall use. While popular social media platforms like Facebook, Twitter and LinkedIn are extensively adopted for personal use, they are much less likely to be used as a tool to convey business messages, according to the report.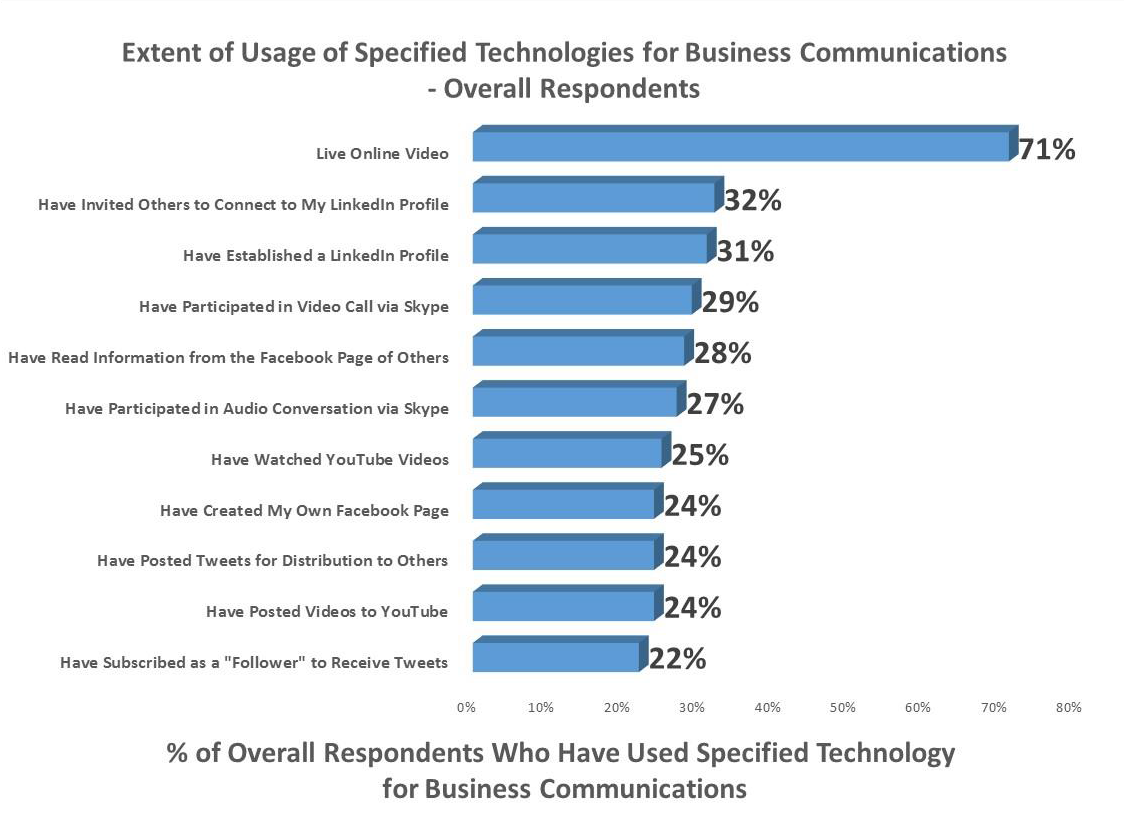 Live Online Video Serves External and Internal Needs
The online survey of 1,007 executives found that 71 percent have used live online video for business while just 30 percent of all respondents reporting using LinkedIn specifically for business use. Executives are creating Facebook profiles in large numbers with 70 percent of those surveyed reported having done so, but less than one-quarter of all respondents report using Facebook for business communications.
[Related: 5 Cloud Computing Trends That Will Be Big in 2013]
Ustream CEO Brad Hunstable says there are two main categories of live online video used for business purposes: external and internal facing communications. That includes everything from product launches to earning announcements, employee training seminars, chats with vendors, press conferences or executive town hall meetings.
"I think what makes video and live online video unique is that it's starting to become more and more of a daily use," he says. "When you do use live video it tends to be a highly engaging experience… Companies are realizing there's real ROI in that engagement and in that connection."
One in Five Are Viewing Video Daily
The average viewing time of a live video on Ustream runs anywhere from 20 to 30 minutes, Hunstable says, adding that's at least four times the length of the average YouTube clip, for example. About half of all Ustream viewership occurs on a mobile device, he adds.
The research conducted by Wainhouse Research also found that the biggest adoption of live online video remains at the executive level. More often than not, the use of live online video in enterprise is coming from the top down, but that trend is shifting as wider groups of employees make use of the platform, says Hunstable.
One in five respondents said they watch live online video at work on a daily basis and 38 percent are tuning in at least once a week. More than 40 percent say they are watching more than they did three years ago, with 10 percent saying their viewership has at least doubled over that period.
"Video is an incredibly valuable tool if you're showing somebody how to do something," says Hunstable, referring to the growing use of live online training across large and disjointed business groups.
Wainhouse Research projects live online video for business will double from 1.12 billion hours last year by 2016 and almost surpass 3 billion total hours in 2017.
Matt Kapko covers social media for CIO.com. Follow Matt on Twitter @mattkapko. Email him at mkapko@cio.com Follow everything from CIO.com on Twitter @CIOonline and on Facebook.