McKee Foods, best-known for its Little Debbie snacks, might not be the picture of a technology early adopter. The company, which traces it beginnings back 80 years to founder O.D. McKee selling snack cakes out of the back of his car, is on its third generation of family leadership.
But don't let its longevity fool you. Yet the Collegedale, Tenn.-based company was one of the first customers of cloud-based human capital management and payroll software from Workday, making the decision to move from its on-premises system from PeopleSoft more than seven years ago.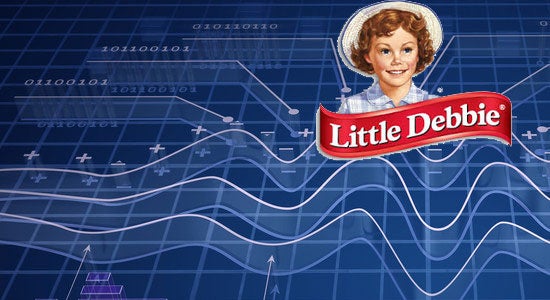 The company was on the verge of yet another expensive upgrade to its 14-year old PeopleSoft system — a process that was going to cost it two-and-a-half times its most recent upgrade costs and take a year to rollout — when the McKee family said enough was enough. "Everyone was worn out," says Mark Newsome, McKee's director of corporate human resources.
From Back-Office HR to Workforce Self-Service
Newsome was hardly disappointed. The legacy system was not only costly but cumbersome. No one outside of HR wanted to touch the system, creating paper-based workarounds for everything from W2s changes to job applications to performance reviews. Managers submitted that paperwork to the folks in HR, who then had to key the information into the system. "People only touched it when they had to," explains Newsome. "It stayed — very heavily — a back-office product."
[Related: 6 Practical Predictive Analytics Tools]
Newsome was eager to implement more employee and manager self-service and free up his team to focus on more strategic work than data entry, and Workday's product seemed the only to fit the bill. Newsome's team, working with IT, spent 10 weeks reviewing the product, the majority of which was devoted to exploring the data security issues.
Once McKee's vice president of IT was convinced that the vendor provided better protection for McKee's data at its facilities than the company could provide behind its own firewall, Newsome was sold on release one and the product roadmap.
The biggest risk beyond security was lack of functionality. Workday had no recruiting or payroll capabilities at the time. Newsome found another provider of recruiting support in the meantime, but payroll was a must-have.
"In the middle of reaching our agreement, they asked us if we'd be willing to be design partners on U.S. payroll," says Newsome. "So we'd not only get to participate in a designing a product that would be useful for other companies, we could make sure we'd get all the pieces we would need."
Still, leaving a stable payroll product for something brand new could put employee's paychecks in danger. That wasn't a risk Newsome was willing to take.
McKee Foods has 100 percent of its employees on direct deposit, distributing more than 350,000 paychecks per year through weekly payroll cycles. So Newsome delayed the rollout a total of two years until he could ensure the payroll functionality was sufficiently robust.
[Related: 3 CIOs Reveal How They Got Started With Predictive Analytics]
The delay, however, proved beneficial. It gave McKee time to place 800 employees and corresponding departments into the system so HR could "play in the sandbox" and develop new business processes, Newsome says.
"By the time we went to implementation, it was already second nature," Newsome says. Ultimately the new system saved McKee $1.5 million in costs and reduced HR headcount by two-and-a-half full-time employees.
HR Analytics Guide Tough Decisions
The timing of the Workday rollout proved especially advantageous as McKee Foods faced hard times. "We're a very mature company that's been around for many decades, and it was easy for us for a long time," says Newsome. "But as the marketplace tightened up, things got tough. And we recognized that to stay ahead of our competitors, we'd have to tighten up in a lot of places."
Like others in the snack industry, the company was getting squeezed by the push toward healthier eating combined with a weak economy. Company leaders knew that a reduction in force would be necessary but wanted to be smart about the process. They "asked us to help them identify, based on the reduction that needed to take place, where we could make those cuts without impacting the output of the organization," Newsome says.
"As they were dealing with the reduction in force, our managers had that real-time data at their fingertips to help them figure out what they needed to do and where they were in meeting their goals," Newsome says.
[Related: Red Hat Takes Customer Service to Next Level With Predictive Analytics]
With the old HR system, the company had made what Newsome calls a "strategic error" by allowing multiple users to build their own reports, which lead to various versions of HR truths. Not so with the Workday system. Now company leaders and managers have full confidence in the accuracy of HR data and reports.
When Hostess went out of business, the new system enabled McKee Foods to ramp up hiring to meet the increased demand resulting from a key competitor exiting the market. Hiring times have decreased from 90 to 45 days, depending on the level of the position.
Predicting Future Workforce Needs
Newsome and his team are now in the early stages of evaluating predictive HR analytics capabilities. They spent a year surveying company leaders about what would be most useful in their day-to-day decision-making and created a workforce analytics team.
It's the real fun part, says Newsome, because it will have a much more strategic impact on the organization that backward-looking reporting. The only difficult part is figuring out where to start. "It's the same struggle I've had for the past 30 years in HR," Newsome says.
"There's so much stuff out there, but you want to focus on the things that managers will embrace," Newsome says. The team is currently building predictive analytics and dashboards in the areas of performance reviews, goals management and succession planning. Then managers will get early access to the tools to provide feedback for further development.
"We have a lot of baby boomers who are now five to 10 years away from retirement, and we have to be prepared for that," Newsome says. "The will give us a real picture into what we need to do."
Analyzing data for strategic decision-making has always been a goal for HR, says Newsome. They just didn't know where to start. The efficiencies gained from automating several business processes has allowed McKee to invest in strategic human capital initiatives.
HR now leads the organization in a goal alignment process, for example. The new tools provide the capabilities. But, Newsome points out, "we still have to do the hard work. No piece of software will do that for you. And it's proven to be very difficult work. But we're starting to see the benefits."
Stephanie Overby is regular contributor to CIO.com's IT Outsourcing section. Follow everything from CIO.com on Twitter @CIOonline, Facebook, Google + and LinkedIn.