Road races had more than 15.5 million finishers in the U.S. in 2012, according to RunningUSA. Sure, some of those runners mailed in registrations for those 5Ks and marathons, but most used some sort of software to secure their spots.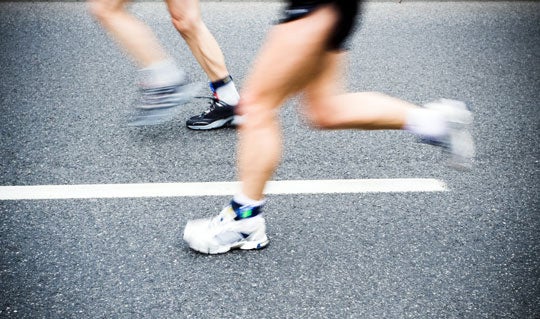 The technology for these registration systems have grown up around the sport. As in any other industry, races can either hire another company to run their registration process or build their own system. However they got there, they've needed mechanisms that can run smoothly on any given day, and also handle thousands of extra visitors in one shot when in-demand races open their registration doors.
[ Related: Technology Runs the Boston Marathon ]
Here's a look at how three companies manage that extra volume.
A race registration giant that handles more than 200,000 activities.
A running company that created open platform software and is own load testing company.
A 55-year-old nonprofit that developed its registration system from the ground up.
Active.com: Virtual Queuing Mitigates 'Rush' to Register
Active.com is an event sign-up giant. The company handles registration for more than half of the major road races in the U.S., according to Active.com CIO Greg Ingino; this includes the Portland (Ore.) and Pittsburgh Marathons. It has an international presence as well, serving races such as the Hong Kong Marathon, which had 73,000 runners in various racess this year. Active.com goes beyond running, too, with sign-up technology for cycling, triatahlon and other fitness events.
Not surprisingly, traffic is huge: About 5.5. million visits a month, with people searching for 200,000 activities.
[ Related: Top Fitness Gadgets for the Athlete in Your Life ]
[ More: Best New Fitness Gadgets and New Fitness Apps for 2014 ]
Demand can be huge, too, especially for races that sell out quickly. Previously, Active.com used a combination of throttling Akamai cloud computing for content distribution and segmentation of cloud VMs to handle the sudden load of in-demand races.
Recently, though, Active.com shifted to virtual queuing. That has reduced the issues related to one of its largest challenges &mash; the "rush" to the front door, Ingino says, when a few thousand people try to sign up for the same race at the same time just as registration opens.
"We have optimized and scaled the systems, in terms of throughput, for items such as inventory or payment management," Ingino says. Active.com also tests to determine single points of failure and performance gates through cloud testing, isolated service testing/thresholds, usability testing and analytics.
Run Sign Up: Open Source Platform for the Running Community
Bob Bickel started Run Sign Up in 2010 as a blend of two of his interests: Running and technology.
"The running community is made up of tens of thousands of micro-communities — running stores, running clubs, timing services," he says. "We think that they all overlap, so we wanted to provide technology for these micro-communities."
[ Feature: 8 Ways Big Data and Analytics Will Change Sports ]
Using Run Sign Up, these groups can create a race calendar for a running group website or run a race's registration from their own websites (instead of on Runsignup.com itself). Bickel says he expects to handle registration services for 5,000 races this year, from small community races to big-ticket events such as the McGuire's St. Patrick's Day 5K in Pensacola, Fla. It's one of the largest prediction race in the country; runners try to guess their finish time and win prizes the closer they come.
Run Sign Up software runs on Amazon Web Services because, as Bickel says, AWS provides "unlimited resources that you can scale up." Now, he says, the service can successfully complete 50,000 registrations in seven minutes. This lets Run Sign Up take on registration for some very in-demand races. The Spring Lake (N.J.) 5 Mile Run, for example, reached its registration limit of 12,000 in a matter of hours.
Run Sign Up software is an open sourced API, which makes it easier for other race technologies, like scoring software, to hook into the system. "Our philosophy is that you want to lift all boats and put the technology out there," Bickel says. "We don't have aspirations of being public or having a lot of money invested in us. We're just trying to serve customers."
After Philadelphia's Broad Street Run suffered a very public system crash on registration day in 2012, Bickel knew his company needed to make sure its system could handle heavy traffic. (That race hadn't been using his program.) Instead of buying a load-testing tool, Bickel built his own, which he spun off into a cloud-based load testing company known as Red Line 13.
NYRR: Homegrown Software, Data Center, Sign-in System
The New York Road Runners puts on more than 50 races a year, including the TCS New York City Marathon, which has more than 50,000 runners and is the largest marathon in the U.S., and the New York City Half Marathon, which has 20,000 runners.
[ How-to: 10 Tips for Using Fitness Gadgets to Avoid Holiday Weight Gain ]
The 55-year-old organization has always handled registration itself, since the first race in 1970, says Chris Weiller, vice president of media and public relations for NYRR. When the NYRR switched to an online system, it built its own sign-up technology, too.
This now includes proprietary software, a data center in New Jersey and a sign-up portal called My NYRR. There, runners create a login and profile, whether or not they're members of the running group, and use that account to register for races. The registration process is the same for runners entering lotteries for in-demand races, such as the marathon or half-marathon, or smaller races that choose a field based on who signs up first.
NYRR, too, tests its system for expected big race openings. "Every race registration is a new registration, and you have to be ready for any potential situation," Weiller says, "but it's critically important from the customer service standpoint to get it right, and we work really hard to do that."
Jen A. Miller is a freelance journalist from New Jersey who writes for the New York Times, Philadelphia Inquirer and Runner's World, among others. She can be reached at www.jenamiller.com or n Twitter at @byJenAMiller. Follow everything from CIO.com on Twitter @CIOonline, Facebook, Google + and LinkedIn.