Red Hat and Hortonworks, provider of one of the most popular Apache Hadoop distributions, expanded their existing strategic alliance on Monday as part of an effort to make it easier than ever to bring Hadoop into the enterprise in production environments.
Under the expanded alliance, the partners will integrate their product lines and enable joint go-to-market initiatives and seamless collaborative customer support. Additionally, the partners announced the availability of a beta of a Hortonworks Data Platform (HDP) plug-in for Red Hat Storage that allows Hortonworks' Hadoop distribution to run natively on top of Red Hat's storage offering.
"At the rapid rate that enterprises expand their Hadoop requirements — due to the business consistently identifying new use cases and more internal stakeholders — the Red Hat and Hortonworks strategic alliance provides a seamless approach to enabling the next generation of data-driven applications," says Shaun Connolly, vice president of corporate strategy at Hortonworks.
"Our mutual customers complement both their Hadoop strategy and commitment to community-driven open source innovation," Connolly says.
An Open Road to Big Data
By tightly integrating HDP with open hybrid cloud technologies — including Red Hat Enterprise Linux OpenStack Platform, OpenJDK, Red Hat JBoss Middleware and Red Hat Storage — the two partners aim to deliver open hybrid cloud infrastructure solutions that will enable their customers to deploy next-generation big data applications.
[Related: Hortonworks Brings Hadoop 2.0 to Windows]
The immediate initiatives of the expanded alliance include the following:
Data architects will be able to combine data in a single, scalable open source repository. The combination of HDP and Red Hat Storage will provide customers a secure and resilient general-purpose storage pool with multiple interfaces, including Hadoop, POSIX and OpenStack Object Storage (Swift).
Enterprise operators and application developers will be able to elastically scale their Hadoop infrastructure. This will let them meet changing demand with an open and flexible platform that supports a full range of deployment scenarios from physical to virtual to cloud. The partners say the combination of HDP with Red Hat Enterprise Linux and OpenJDK will provide faster development of enterprise-strength analytic applications, while the combination of HDP with Red Hat Enterprise Linux OpenStack Platform provides elastic Hadoop services on a secure, private cloud infrastructure to lower costs and improve flexibility.
Developers will be able to quickly build new analytic applications. This will allow them to take advantage of new data types and data analysts will have improved access to data through standard interfaces. By combining HDP with Red Hat JBoss Data Virtualization, the partners aim to integrate Hadoop with existing information sources including data warehouses, SQL and NoSQL databases, enterprise applications, cloud applications and flat and XML files. This, in turn, allows for business-friendly, reusable and virtual data models with unified views through the combination and transformation of data from multiple sources.
[Related: Red Hat, Hortonworks Prep Openstack for Hadoop]
In addition to building seamless integration across their infrastructure solutions to allow customers to store data in one place and analyze it at scale, the expanded strategic alliance also provides great customer support collaboration between the two partners.
Whether a customer reaches out to Red Hat or Hortonworks for support, the customer support teams will be able to seamlessly work together to identify and resolve problems.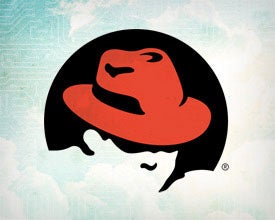 "Data — specifically data running processed with Hadoop — is the killer application for the open hybrid cloud," says Ranga Rangachari, vice president of Storage and Big Data at Red Hat.
"Enterprises are looking to IT solution providers to help with a dramatic reduction in time-to-results for their big data projects," Rangachari says. "Red Hat's strategic alliance with Hortonworks is focused on helping customers with efficiency and agility as they embark on data projects."
Thor Olavsrud covers IT Security, Big Data, Open Source, Microsoft Tools and Servers for CIO.com. Follow Thor on Twitter @ThorOlavsrud. Follow everything from CIO.com on Twitter @CIOonline, Facebook, Google + and LinkedIn.