WASHINGTON — The federal government has a spotty track record when it tries to play the role of venture capitalist and makes direct investments in specific startup companies. But the departments and agencies of the government can play an essential role in setting in motion the next great wave of private-sector innovation and economic growth simply by offering up access to the vast collections of data they have amassed, a senior White House official said yesterday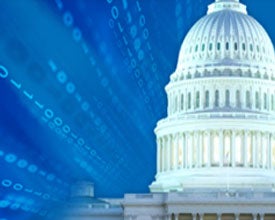 In a keynote address at a conference marking Data Innovation Day, Nick Sinai, deputy U.S. CTO, talked up the Obama administration's efforts to bring more government information online, freely available to the public in a machine-readable format.
"Taxpayers have paid for this vast trove of government data, and wherever possible it should be available."
— Nick Sinai, Deputy U.S. CTO
But that work has been slow going, with agencies reporting varying levels of progress in response to a White House directive to open up their data sets.
[Related: Government Healthcare IT Plans Hinge on Open Data]
"Too much of it is trapped in government systems, and even when it's technically available online it's often hard to find, understand and reuse. And a lot of it isn't even online," Sinai said.
For instance, the National Oceanographic and Atmospheric Administration, which includes the National Weather Service, has estimated that just 10 percent of its data is available on the Web, according to Sinai. Such low availability rates for non-sensitive data that holds significant commercial potential are unacceptable to the administration.
Giving Taxpayers Their Data
"Data's a valuable national asset. It should be open and available to the public wherever possible — available to entrepreneurs, to scientists, to innovators inside and outside of government, instead of being trapped inside government systems," Sinai said. "Taxpayers have paid for this vast trove of government data, and wherever possible it should be available."
[Related: Obama Promotes New Open Government Initiative]
In that spirit, last May Obama issued an executive order directing departments and agencies to unlock more of their data and to adopt open, machine-readable formats as the default for newly created data sets. With that executive order, Obama was aiming to provide "fuel for private sector innovation and growth," Sinai said.
Favorite examples of companies — and even industries — that have been built on the back of government data draw from the work of the National Weather Service and GPS satellite operations. If all that information were still locked in the government vault, would there be a Weather Channel or companies like Garmin that sell navigational devices?
Those may be the headliners, but they only scratch the surface. Researchers at NYU's Governance Lab have compiled a list of 500 companies that are "using government data as a key business resource," said Joel Gurin, senior advisor at the lab. The Open Data 500 project is billed as "the first comprehensive study of U.S. companies that use open government data to generate new business and develop new products and services."
[Related: How NASA Helped Open-Source Cloud Take Off]
The list, modeled in part on Fortune magazine's famous business ranking, features "companies large and small, in all sectors of the economy," Gurin explained. That spans a broad range, including firms in finance and investment, food and agriculture, transportation and technology.
"The demand for this kind of information is real," Sinai said. "This is really, really exciting because they are building all kinds of great things, and they are also addressing important national priorities at the same time."
Federal Data Goes Mobile
The centerpiece of the federal government's open data initiative is the Data.gov website, which was refreshed last week to adopt a more mobile-friendly design and to improve the searchability of the data sets.
Each department and agency has also been instructed to conduct, for the first time, a thoroughgoing inventory of its data sets, just as they would be expected to routinely tally their supplies of computers, office chairs and other tangible assets.
"Government data is an asset, and we need to treat it as an asset," Sinai said.
As a result of that inventory process, agencies will be publishing on their websites a list of data sets that are publicly available, and for each one designating a point of contact for the public.
Kenneth Corbin is a Washington, D.C.-based writer who covers government and regulatory issues for CIO.com. Follow Kenneth on Twitter @kecorb. Follow everything from CIO.com on Twitter @CIOonline, Facebook, Google + and LinkedIn.