Recently I saw yet another slide presentation showcasing the decline of enterprise IT spending and the comparable increase in public cloud business. The conclusion? Enterprises just don't have money to spend and it's killing enterprise vendors.
This is fundamentally not true. What's really happening is that users are increasingly using public cloud services, and the expenses they incur are being reimbursed, so the money's theirs. I've also seen several studies showing that moving to the cloud is expensive — twice what it would cost to build services internally, according to an internal analysis I recently reviewed, and five times as much if one uses the Oracle alternative.
[ More: Read what Forrester and Gartner say about IT spending in 2014 ]
[ Commentary: Enterprise is Why IBM Will Win War With Amazon ]
Generally, that 2x number hits the company's bottom line, not the IT budget, but it does pull from money that IT would otherwise get and control. The 5x number, meanwhile, is waiting to be discovered and discussed among the CFO, CEO and CIO in a "come to Jesus meeting" that won't be pleasant.
It's time to chat about the misconceptions surrounding the enterprise public cloud.
IT Needs to Know How It's Competing With Cloud Services
Let's simplify the argument. Say you're a medieval English blacksmith and have been selling swords to the Count, who controls the town where you live and work. The aging Count increasingly turns business decisions over to his children, who went to school in France and like French swords because the ladies think they are sexy.
So the kids push more and more business to your French competitor. When you call on the Count, he says he'd like to buy more swords from you, but he just doesnt have the money. You conclude that the poor guy is going broke when, instead, someone new has gone around you and your contact to get the business. If you knew, you'd build French sword knock-offs, offer them at a fraction of the price (because you are local), and hire some ladies to drool over them in front of the Count's kids to get the business back.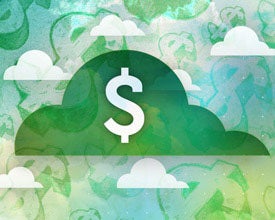 To not lose, though, you need to know four things:
Competition exists.
The decision maker had changed.
You need a new product.
You need to offer it in a way that looks superior to the new buyers.
This isn't a multiple-choice problem. It's all or nothing — or you can kiss your business goodbye.
Today's problem, then, isn't that enterprises don't have money. The problem is that it's being spent around IT — and OEMs sell to IT.
Public Cloud Costs More — But Users Prefer It
This comes at a significant additional cost to the enterprise. Users don't buy at enterprise volumes; often, IT can actually provide equivalent services for less. Why? Enterprises operate at huge scale. They buy their hardware for much the same cost as Amazon does, and they don't have to maintain the sales and marketing overhead. IT also doesn't charge sales tax for what it provides to its customers.
However, this lack of sales and marketing staff means an IT department can't present its offerings in a compelling fashion, so IT generally lags behind a service such as Amazon when it comes to ease of use. In one internal survey I reviewed a few weeks ago, users clearly said dealing with a firm such as Amazon was worth the extra cost when compared to working with internal IT. (This internal work was done for a large multi-national enterprise that doesn't want to be mentioned.)
[ Commentary: How Cloud Computing Changes Enterprise IT Economics ]
[ Also: As CMOs Grab IT Budget From CIOs, Cloud CapEx and OpEx Shift ]
An optimally run IT shop, according to this internal analysis, can provide cloud-based services, on average, for about $100 per user. Amazon and services like it are about $200, if purchased individually and not in bulk, while and a proprietary platform such as Oracle costs more than $500 per user.
The relative cost of an Oracle solution increased thanks to licensing cost and the multipliers for VMs needed for a Web-like service. (No wonder folks are screaming about Oracle software license costs.) Coincidently, I got this report the same week I read about the mammoth Oracle failure in Oregon. It's worth reading this case study because, no matter how bad your job is, you will feel better about it once you finish.
If you IT folks haven't conducted a cost analysis of your service providers yet, it is well past time. If IT wants to compete with Amazon, it needs to fully step up. If OEMs want to preserve their sales through IT, they need to help IT market the related services and create an interface competitive with services such as Amazon. Neither of these is optional, either. Services such as BMC's MyIT (partnered with EMC and VCE) and Egnyte can go a long way toward making IT relevant while solving ease-of-use problems.
To Create a Solution, You Need to Understand the Problem
This is the second time I've seen detailed analysis suggesting that IT — either as an intermediary for services such as Amazon or as a provider of the services themselves — can do so far more cheaply than when users, as they currently do, go directly to a cloud provider. Other clear benefits include compliance and increased security. But if IT can't pitch its advantages, it won't matter; users will still bypass IT, and the enterprise will still waste money that could have been better spent elsewhere or gone to the firm's bottom line.
Like that blacksmith, once you understand the problem, you can craft a solution. The trick is both understanding the problem and agreeing to craft the entire solution. In the end, enterprises still have tones of money to spend; enterprise OEMs just lost their connections to a large portion of them.
Rob Enderle is president and principal analyst of the Enderle Group. Previously, he was the Senior Research Fellow for Forrester Research and the Giga Information Group. Prior to that he worked for IBM and held positions in Internal Audit, Competitive Analysis, Marketing, Finance and Security. Currently, Enderle writes on emerging technology, security and Linux for a variety of publications and appears on national news TV shows that include CNBC, FOX, Bloomberg and NPR.
Follow everything from CIO.com on Twitter @CIOonline, Facebook, Google + and LinkedIn.