Like many organizations, the National Football League is going through a period of disruption. Now more than ever there are more competitors vying for fans' attention and dedication and outside forces affecting the traditional business model for the league and its teams.
While mobile technology has provided many more ways to get in front of fans, the ultimate disruptor is the at-home experience of watching a football game.
In a move to better engage fans at stadiums across the country, last week the NFL announced a partnership with Extreme Networks, a network services company, as the league's official Wi-Fi analytics provider.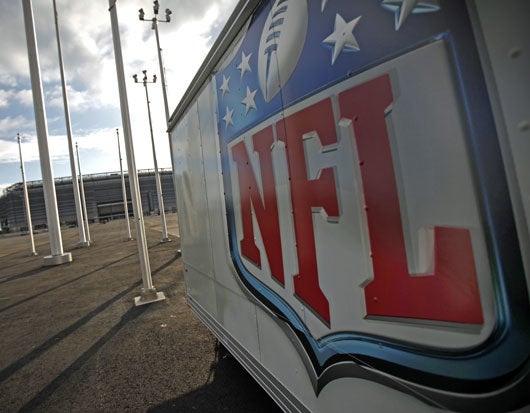 The partnership is meant to encourage all NFL teams to deploy Wi-Fi along with an analytics engine in their stadiums so fans can use their mobile devices to consume football content and share their experiences.
[ How Technology is Transforming the NFL ]
The New England Patriots and Philadelphia Eagles were the early adopters, deploying Wi-Fi in their stadiums this season. NFL CIO Michelle McKenna-Doyle says teams need to provide as good, if not better connectivity as the at-home experience.
"Nothing can replace the immersive experience to be surrounded by fans," McKenna-Doyle says. "But the at-home experience has continued to get better and better and couch-gating has become very popular." The NFL's first big test with its new Wi-Fi analytics provider will be a big one: Super Bowl XLVIII on February 2.
CIO.com's Lauren Brousell spoke with McKenna-Doyle at NFL headquarters in New York City about the future of the NFL fan experience and the role big data and analytics will play in competing with the at-home experience.
Is Wi-Fi for all NFL stadiums a mandate by the NFL?
It's not a mandate. It's a recommendation. We've outlined a plan for how to get there including an RFP to tweak and point out specific things. The next step is for us to meet with clubs to see where it is in the priority list.
What is the first step now that you've announced this partnership with Extreme Networks?
Right now it's about catching up with every club. The Patriots and Eagles and others have done it and we are learning from all of them. Every stadium that will have Wi-Fi within next year will also have analytics systems.
How will this partnership affect staffing, specifically for analytics and big data?
We're looking at creating new positions and repurposing others. We have amazing statisticians for football stats. [It's a matter of] convincing them [to analyze data with the new analytics engine.]
Once football season is over, what is the plan for this initiative?
It will be a race. We do a ton in the off season. Every club has its own staff so if they make the decision to go about it, they aren't dependent on me. They are not required to use Extreme Networks, but it does benefit them to do so and they get preferred pricing.
You've announced the use of Extreme's analytics engine so what's on your wish list for how you want to use that?
I'd love to use it to do predictive analytics: What are leading indicators of things people are starting to do and early adopters are starting to do? What are things that pop on the screen that we haven't thought about yet? When data can be predictive is when it's most valuable.
We'll spend a bit of time to see if we are meeting needs and the next goal is to predict what fans are going to want to do. Do we continue to invest in club specific apps? Or do we embed ourselves in every other cool app?
The NFL will get an influx of information from the analytics engine, but what will the benefit be for the fans?
Loyalty programs are amazing when people have a compelling reason to share their information with us. We can take lessons from the best in world on loyalty. [Now] we have someone leading our centralized marketing database for fans. Every club had it [separately] but now we have it centralized.
What are some specific ways the NFL can reward fans?
Everything from making parking easier, to [dealing with] the things they complain about, such as ordering food, virtual wallet, specialized video, exclusive opportunities like kicking field goals and [visiting] the sidelines.
The Super Bowl is coming up in two weeks and it will be the first test of the in-stadium Wi-Fi. What are you hoping to learn from that?
At the Super Bowl, there are more media and connectivity challenges than any other event. We see spikes at kickoff and halftime and patterns on traffic but no patterns on the device [itself] or what types of devices. We want to learn so next year we can provide a more social Super Bowl. My goal would be [make it] the most social live event.
Lauren Brousell is a staff writer for CIO magazine. Follow her on Twitter @LBrousell. Follow everything from CIO.com on Twitter @CIOonline, Facebook, Google + and LinkedIn.