With vendors and customers alike taking it easy during the holiday season, business likely won't pick up until we are a few weeks into 2014. Why not use the extra time to fine-tune your home office or small business for the year ahead?
Here are some tips for methodically upgrading every aspect of your network to help you work at your peak.
Up the Ante on Security
A good place to start is ratcheting up the security of your home office or small business. Given that prevalence of Wi-Fi wireless capabilities, be sure to secure your Wi-Fi network with WPA2 encryption and a sufficiently complex passphrase to prevent your neighbors from listening in. The strength of WPA is directly related to the length of the passphrase, so avoid a passphrase with fewer than 20 characters.
Though commonly found in older Wi-Fi access points, Wi-Fi Protected Setup (WPS) is universally considered to be broken — hackers can guess passcodes through repeated attempts over a few hours — and should be avoided at all costs. Disable WPS support on any Wi-Fi access point (AP) that comes with it, if you can. (The ability to disable WPS may not be available on some Wi-Fi APs.)
[ More: How to Secure USB Drives and Other Portable Storage Devices ]
Unless you don't care at all about privacy, enable BitLocker or similar full-disk encryption protection on your Windows PCs.
BitLocker is offered in the Ultimate and Enterprise editions of Windows 7, and the Pro and Enterprise editions of Windows 8. Full-disk encryption essentially scrambles the data saved in the storage drive so that it remains inaccessible even if the disk is removed and accessed from another computer.
Though BitLocker is a mature and well-established product, one often-missed point is that it checks for unauthorized changes to the pre-boot environment (BIOS, MBR) before booting up. This means a system malfunction could result in BitLocker requiring a recovery key data. Keep it handy and store it on a USB device.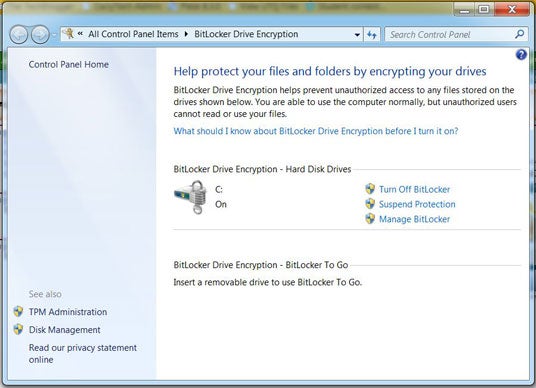 Finally, nothing beats good physical security. Use a Kensington lock to secure expensive equipment. It won't stop a well-prepared burglar armed with heavy cutting equipment, but it should slow down someone less prepared and hopefully eliminate opportunistic equipment theft. Finally, while IP cameras don't actually stop burglaries, they can serve as a strong deterrent to miscreants and are affordable even for home offices.
Upgrade Your Network for Lightning-Fast Work
Constantly frustrated by slow network access speeds in your office? Even if you have no complaints, productivity will benefit from a speed boost from an upgraded network. Unless your network has been upgraded in the last couple of years, chances are you're at least one generation behind what is now available as affordable mainstream equipment.
If you still use 802.11g, or you have slower access points or routers, do yourself a favor and buy a faster one with at least 802.11n capabilities. Better yet, ensure that the new APs supports simultaneous operation on both the 2.4GHz and 5GHz bands; in environments with a mix of 2.4 and 5GHz Wi-Fi devices, as it effectively offers twice as much bandwidth. Larger offices should consider deploying additional APs for better coverage.
[ How-to: Set Up a Business-grade Wi-Fi Network ]
[ Review: Ruckus Wi-Fi Access Points for Your Small Business ]
On the wired end, upgrade to a Gigabit Ethernet LAN if you don't already have one. This typically entails swapping out an aging Fast Ethernet (100Mbps) network switch with one offering Gigabit Ethernet (1,000Mbps) capability. This upgrade that makes sense even in offices where Wi-Fi use predominates, as a slow LAN can become the bottleneck with faster 802.11n implementations, as well as with the upcoming 802.11ac "Gigabit Wi-Fi" standard.
Laptops manufactured in the last couple of years should already have Gigabit Ethernet — though there isn't much you can do if they don't. In some cases, a USB Wi-Fi adapter will give you a speed boost, though a clunky adapter can be unwieldy and detracts from the portability of a laptop.
If you work from home extensively and rely on fast Internet access, one unconventional approach is to consider doubling up on your Internet access by signing up with a second ISP. Whether configured in load balancing or fail-over mode, having two Internet connections helps ensure that you are not beholden to a single ISP for continued Internet access. On this front, a company called Peplink makes router appliances that deliver robust, easy-to-use WAN load balancing.
Make Storage Faster, More Robust
While cloud storage providers would sooner have everyone exclusively on cloud storage, this isn't always possible from a compliance or privacy standpoint. Even if these aren't concerns, a local backup allows for much faster disaster recovery, as well as substantially faster access for large files.
For businesses that can't consider cloud storage, or that need a local copy for quick disaster recovery, a disaster-hardened device such as the ioSafe SoloPRO external drive offers protection from local disasters such as fires and flood. While not invulnerable, it does offer 30 minutes of protection against fire of up to 1,550 degrees Fahrenheit (843 degrees Celsius) or 72 hours of protection in water of up to 10 feet (3 meter). The company also makes a Network-Attached Server (NAS) version in the form of the ioSafe 214 that runs the popular Synology DSM operating platform under the hood.
[ Related: 6 Steps for Setting Up a Small Business Server Room ]
[ More: Set Up Your Small Business Server Room Right the First Time ]
Another strategy to consider is deploying a second NAS to an offsite location and setting it to synchronize with a primary NAS. A number of NAS devices, including Synology's DSM platform, offers some form of support for this, though exact capabilities vary. On a similar vein, Connected Data (now merged with Drobo) sells a novel Transporter network-enabled storage drive that offers both PC-to-Transporter and Transporter-to-Transporter synchronization capabilities.
When it comes to onsite storage, users with older NAS devices may want to consider upgrading to newer, faster hardware with support for substantially faster Gigabit Ethernet network interfaces. If your existing NAS supports it, it may be worth swapping out older 500GB or 1TB hard disk drives (HDD) and replacing them with new 2TB or 3TB HDDs for a leg up in both capacity and performance.
If you've yet to make the jump to a solid-state drive (SSD), consider it. Prices have fallen substantially, and the speed gain from an SSD upgrade is far more noticeably than a CPU or RAM upgrade.
Add Peripherals, Enhance Your Workspace
Nothing enhances productivity like having an additional display available when doing work that involves correlating or referencing information across different apps. Even if this isn't necessary, having more screen real estate can be a huge timesaver by reducing the need to sort through multiple open windows for the correct one.
Start off the New Year with a bang by getting a second (or third) monitor. Lower-end LCD monitors can be purchased for less than $100 and can be used over the life of multiple PC upgrades. (As for the technicalities end of things, CIO.com has previously addressed setting up multiple monitors for laptops, and also using multiple monitors at your workstation.
If you're dead set against a multimonitor rig, consider a good monitor arm for greater flexibility. Since they typically clip to the edge of a desk, they can be pushed out of the way to free up additional space on your desktop as required. Moreover, the capability to tilt, rotate and generally reposition your monitor can do wonders for your eyesight. Ergotron, a specialist in this area, sells a range of desktop arms, including a heavy-duty arm that can accommodate an All-in-One PC.
Finally, having some of life's comforts on hand can help you work faster, too. Nothing beats having the right peripherals to boost productivity. Why not settle down with a new wireless keyboard or mouse to begin 2014? If you lack ideas, here's a list of 10 new gadgets to improve your workspace.
Paul Mah is a freelance writer and blogger who lives in Singapore. He has worked in various capacities within the IT industry and enjoys tinkering with tech gadgets, smartphones and networking devices. You can reach Paul at paul@mah.sg and follow him on Twitter at @paulmah.
Follow everything from CIO.com on Twitter @CIOonline, Facebook, Google + and LinkedIn.