WASHINGTON — Efforts to modernize the IT operations of the federal government hinge in large part on accelerating development and deployment cycles, a process that has been hobbled by arcane acquisition and procurement rules, a panel of agency IT executives said today at a government IT conference.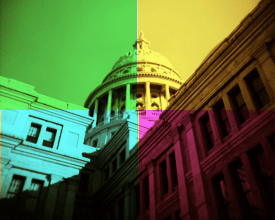 "It seems to me that is the critical thing we should be optimizing for," said Mark Schwartz, CIO of U.S. Citizens and Immigration Services, a division of the Department of Homeland Security. "How can we get the cycle time dramatically reduced?"
Where the Silicon Valley ethos encourages innovation, tolerates failure and embraces a culture of iterative development, the culture of government IT might politely be described as risk-averse. Too often, in procurement and acquisition cycles that can drag on for more than a year, CIOs are setting their sights on technology that is already obsolete by the time it arrives at the agency.
Government Looks to Get More Agile
Senior government officials — all the way up to the White House — have recognized that challenge and developed a number of policy proposals in response. For instance, the FedRAMP program provides one-stop security testing and certification for cloud computing technologies offered by the private sector. Upon winning FedRAMP certification, a cloud product is cleared for use across the federal government, eliminating the need for each agency to conduct its own testing.
[Related: Federal CIOs Look to Platform-as-a-Service for Software Development]
Separately, the General Services Administration has been evaluating cloud brokers, contractors from the private sector that would operate in a similar manner as systems integrators, helping federal agencies move their existing technology operations and data to the cloud, presumably accelerating deployment over what they agency could achieve on its own.
More recently, DHS took its "car wash" application development program live. Car wash provides a "mobile center of excellence," allowing any developer to submit code for an app that is automatically reviewed for problems involving security, accessibility or other issues, explained Peter Chin, DHS' chief or product and provisioning.
Car wash supports Schwartz's vision of a "continuous delivery system" for application development, where problems with code are flagged early in the development cycle when fixes can be more easily implemented.
[Related: Federal Agencies on Track to Consolidate Data Centers]
"All of that happens automatically when the developer checks in code," Schwartz said.
But pressing ahead with structural changes to the way the government manages its roughly $80 billion IT operation poses numerous challenges, many of which have nothing to do with the technology itself.
IT Field of Dreams
Before the government executives took the stage at Tuesday's conference, Bill Schlough, the CIO of the San Francisco Giants, delivered a keynote address, touting the ways that the baseball franchise is using technology to connect with fans (in-stadium Wi-Fi, mobile apps), boost revenue (dynamic ticket pricing) and improve the quality of the product on the field.
Schlough's team has installed cameras in the rafters of AT&T Park that capture the movements of the players, generating a large pool of data that can be mined to create a new crop of statistics, such as a catcher's release time when trying to throw out a base stealer, or how long it takes an outfielder to run the route to catch a fly ball.
[Related: CIOs in the Public Sector Face Roadblocks to Data Center Consolidation]
"These new stats are going to revolutionize the way we can quantify players' defensive skills and other skills that have never been quantified before," Schlough said. "This is the future across all baseball, I think."
Schlough, sporting a World Series ring on his left hand (team CIOs get them, too), described a breezy IT environment where innovation is encouraged — the word appears in the Giants' mission statement — and rolling out new technology is little more than trivial.
Not so in the federal government. Asked about the biggest impediment to the IT transformations the feds are undertaking, Joe Klimavicz, CIO at the National Oceanographic and Atmospheric Administration, offered a not-so-simple answer.
"From a magic wand perspective, I think it would be culture," Klimavicz said. "I think the technology's there."
Kenneth Corbin is a Washington, D.C.-based writer who covers government and regulatory issues for CIO.com. Follow Kenneth on Twitter @kecorb. Follow everything from CIO.com on Twitter @CIOonline, Facebook, Google + and LinkedIn.