Tablets are sure to be some of the most popular gifts this holiday season. Both Apple's new iPad Air and Amazon's latest tablet, the Kindle Fire HDX 8.9, will be atop a lot of gift lists. The iPad is inarguably the most popular tablet today, and the Air will help Apple continue its dominance in the tablet market. But the new Kindle Fire upped Amazon's tablet game, and it outshines the iPad in a number of ways.
If you're considering buying a tablet as a gift – for a family member, a friend, a special someone or for yourself – this comparison will help inform your purchase.
Amazon sent me the Kindle Fire HDX 8.9 a couple of weeks ago, and after putting it through its paces, I feel confident in saying there are at least eight good reasons you might want to buy Amazon's tablet instead Apple s latest and greatest iPad.
Before I get into specifics, it's worth noting that I don't mean to imply the Kindle Fire HDX 8.9 is "better" than the iPad Air; the iPad does a number of things the Kindle Fire cannot. And, in some ways, the iPad Air may be "better," depending on your specific wants and needs. This is article is meant to stimulate thought and demonstrate that the iPad Air is not the only high-end tablet that deserves your consideration.
Here's a list of eight ways the Kindle Fire HDX 8.9 outdoes the iPad Air.
1) Amazon Prime Movies/TV and Offline Viewing
One of the best things about Amazon's Kindle Fire tablets is their integration with Amazon's content ecosystem and services. And perhaps the most noteworthy content feature is Amazon Prime subscribers' ability to download Instant Videos for offline viewing.
Of course, you need to have an Amazon Prime membership, and the service costs $79 a year. But that price is reasonable – less than $7 a month – and you get free two-day shipping on most items, access to more than 41,000 movies and TV episodes, and you can download 350,000 Kindle books. You also don't have to pay for each Prime movie or Kindle book, so you can afford to be more experimental with the content you download.
Prime subscribers with iPads or iPhones still get access to the Amazon movies/TV shows and books, using Amazon's iOS apps. But they can't download the movies or TV shows to their iOS devices for offline access.
So, for example, if you want to watch National Lampoon's Christmas Vacation during some holiday air travel, you could download it for free using your Kindle Fire HDX 8.9 and then watch it during a flight. Many Prime films also have three different quality options (Best, Better and Good) to help manage download times and storage on your device.
iPad users with Prime subscriptions can stream the film on Amazon if they have a network connection, but if their flights don't have Wi-Fi (or the airlines block streaming services, and many do) they're out of luck. Of course, iPad users could buy the film on iTunes, download it and watch it during a flight. But they'd have to drop $4 to rent it or pay $10 to buy the movie.
Netflix, the leading movie- and TV-streaming service on the Web, doesn't allow for offline viewing of its content on any platform, so the ability to download films and episodes from Amazon's Instant Video streaming service is unique, at least in the United States. And the latest Kindle tablets are the only devices that currently support the feature.
Some newer Internet-connected TVs also support Amazon Instant Video out of the box, but you have to purchase a $100 Apple TV device if you want to watch iTunes content on your TV. (Amazon says a "fling" feature for Kindle Fire HDX 8.9 is coming soon, and it will let you quickly send media from your tablet to your compatible TV and then use the tablet as a remote control, another unique Kindle Fire feature, but I did not test this functionality.)
2) Amazon X-Ray for Movies and TV
Both Amazon and Apple offer vast collections of books, movies and TV shows via their respective online stores. For the most part, their offerings are comparable, though each has its individual strengths and weaknesses. A feature that is unique to Amazon devices is X-Ray for movies and TV, a feature that lets you quickly learn more about the content you're viewing.
X-Ray for Amazon Instant Video is powered by IMDb. The movie feature lets you tap the X-Ray button to see all the cast members in a specific scene; learn about a song you hear in a certain scene, as well as the artist; read trivia questions; see location information; and check out random factoids about the film or video. You can also drill down into X-Ray information to learn more about actors and music.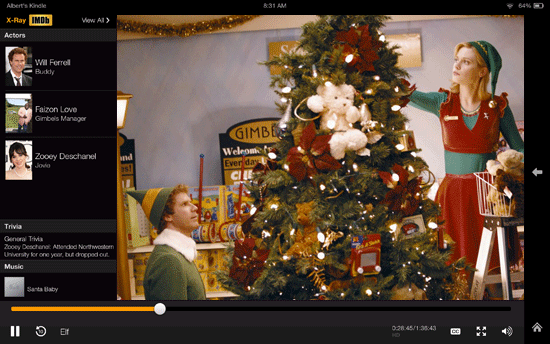 If you've ever been watching a film and wondered "Who's that actor, and why do I recognize him?" you'll find a friend in X-Ray for movies. (Again, not all Amazon movies are X-Ray-enabled but it's simple to determine which ones are, thanks to an X-Ray button on the Amazon page for each film.)
The Kindle Fire HDX 8.9's display (2560×1600 at 339 ppi) is higher resolution than Apple's iPad Air (2048×1536 at 264ppi), and it's particularly well-suited for watching HD movies and other video. (From a hardware perspective, the Fire HDX 8.9's display makes the tablet really shine; the screen is bright, crisp and clear, and the colors are accurate and true to life. It's the highest-quality display I've ever seen on a mobile device.)
3) Amazon Mayday Tech Support vs. Apple Genius Bar
Chances are Apple has a fancy, modern-looking retail store located in your city or local mall. Its Genius Bar, or service area within the stores, helped redefined tech customer service during the past few years. But Amazon won't be outdone, and as such, it launched its new Mayday button and service along with the Kindle Fire HDX 8.9.
Mayday connects you to a live "Amazon Tech Advisor" who can see your screen (but not you) to help with whatever issues you may encounter. It's a lot like a personal IT guy. Fire users who would rather not talk to a live representative can choose a text chat instead.
Of course, in person help can be better and more effective than remote assistance. But if you're a new tablet user or you're gifting the tablet to someone who isn't particularly tech savvy – or who can't easily get to an Apple store for tech support – the Mayday button and service could be invaluable.
4) Kindle Fire HDX 8.9 Has Standard Power Port, iPad Air Doesn't
The Kindle Fire HDX 8.9 has a standard micro USB power port, so you can use a wide variety of chargers and accessories without having to purchase Apple-specific adaptors or devices. One thing that really bothers me about Apple's products is the fact that they all have proprietary ports.
This may not seem like a big to deal to long-time Apple users who don't have many non-Apple devices. But I use a wide variety of smartphones and tablets, and I have a ton of charging cords that I use in my home, office and in my car. I recently purchased an iPhone 5s, and shortly after I got the new device I had to pay $20 each for a number of Lightning adaptors for use along with my micro USB chargers and cords. Apple products are expensive enough without having to buy adaptors just so you can use your chargers and accessories. And standard ports make it easy to use old chargers instead of just discarding them and buying new ones.
5) Kindle Fire HDX 8.9 and Case Cost Less Than iPad Air
You can purchase a new 16GB Wi-Fi Kindle Fire HDX 8.9 tablet for $379 with "special offers," which means deals and offers display on your tablet's lock screen, or $394 without special offers. The 16GB Wi-Fi iPad Air costs more than $100 more at $499.
That means you can purchase the Kindle Fire HDX 8.9 and just about any case you might want – Amazon's cool Origami case costs $70 on Amazon.com – for less than the cost of the iPad Air 16GB Wi-Fi model. Or you could put the money you save on the tablet toward an Amazon Prime membership.
The 16B Wi-Fi + 4G LTE Kindle Fire HDX 8.9 costs $494, and the 16GB Wi-Fi + Cellular iPad Air costs $629, so the price difference actually increases when you add a cellular radio.
To sum that up, for $450, you can get a 16GB Kindle Fire HDX 8.9 and a nice leather case – but you can't get an iPad Air for less than $500.
6) Kindle Fire HDX 8.9 Runs Android, iPad Air Runs iOS
The Kindle Fire HDX 8.9 runs a customized "flavor" of Android called the Fire OS. (The Fire HDX 8.9 runs the latest version of Fire OS, v3.1.) The iPad runs Apple's iOS.
If you're already an Android user and are comfortable with that OS and its collection of applications, the Fire OS may make for a smoother transition than the iPad Air and Apple's iOS.
That said, Amazon makes the Fire OS feel different than any other version of Android, so you shouldn't expect the Kindle Fire HDX 8.9 to feel just like your Android smartphone.
The Fire OS also does not have access to Google Play for apps and content; instead, it uses Amazon's own App Store and library, and only a small subset of the total number of apps in Google Play are available through Amazon. (Crafty users can get unofficial access to Google Play on the Kindle Fire but doing so will likely void the warranty.)
7) Get the Most Full-Featured Amazon Apps on Kindle Fire HDX 8.9
Amazon offers mobile apps for the majority of mobile platforms including iOS, Android and Windows Phone (Kindle only), but as you might expect, the Amazon apps you get on the Kindle Fire HDX 8.9 are more polished and feature-packed.
For example, the Goodreads social-networking app for readers is built directly into the Kindle app on Amazon's tablet, so you can quickly and easily share the books you're reading with connections and also view their updates. Goodreads is available for iOS and Android, but it's not integrated with the Kindle apps for these platforms. The Kindle app for Kindle Fire also has many more advanced viewing and notation features.
The X-Ray for movies and TV feature listed above are also exclusive to the Amazon Kindle mobile apps, and another Kindle Fire X-Ray feature for music lets you view Amazon MP3 song lyrics as they're sung.
8) Amazon Content on Non-Amazon Devices
This last item is not really specific to the Kindle Fire HDX 8.9; it's more about Amazon's content ecosystem compared to Apple's. But Kindle Fire tablets are really all about integration with Amazon's services so the point is relevant, and it is a good reason to consider investing in Amazon instead of Apple.
Most of the digital content you buy from Amazon – books, music, movies and TV shows – can be accessed via a browser, so you don't have to be using an Amazon device to access your purchases. For example, if you buy music via the Amazon MP3 Store or a movie from Amazon Instant Video, you can use most major browsers to access your purchases. If you use an iPad Air, you can download the Amazon Cloud Player and Instant Video iOS apps to access your Amazon music and movies. Say you're at your brother's house for the holidays and you all want to watch a movie you purchased on Amazon. You can simply login to your account in a Web browser on your brother's PC to access all of your Amazon purchases.
It's much more complicated to access content you purchased from Apple using non-Apple devices. There are no iTunes or Apple music or video apps for non-Apple devices. And using the example stated above, your brother would have to download and install iTunes on his computer – if he didn't already have it – and then you'd need to login to your account and authorize your brother's computer if you wanted to watch an iTunes movie or listen to iTunes music.
You could see that last point as a reason to pick the iPad Air over Kindle Fire HDX; you can purchase and consume both Apple and Amazon digital content via iPad in a way you cannot via Kindle Fire HDX. But if you're going to invest in Amazon's ecosystem, there's no better way to consume that content than with a Kindle Fire tablet.
Learn more about the Kindle Fire HDX 8.9 on Amazon's website. And visit Apple.com for more on the iPad Air.
AS
Al Sacco covers Mobile and Wireless for CIO.com. Follow Al on Twitter @ASacco. Follow everything from CIO.com on Twitter @CIOonline, Facebook, Google + and LinkedIn.