Google's futuristic Glass headgear is currently available only to developers and early adopters, the so-called Glass Explorers, with commercial release expected sometime next year. But Google Glass is already raising questions about its use behind the wheel of an automobile. Is using the head-mounted device for navigation or other purposes inherently riskier than using, say, a smartphone while driving? Or is it actually safer?
The Google Glass and automobile safety debate grew louder late last month. On October 29, Cecila Abadie, a Glass Explorer, was pulled over for speeding in San Diego. In addition to a speeding ticket, Abadie received a citation for driving while wearing Google Glass. The officer considered Google's eyewear device a monitor, and California law prohibits television and similar monitors from being on and in view of the driver.
The citation appears to be the first of its kind. Abadie said Google Glass was not active at the time. She has vowed to fight the ticket, and many Glass enthusiasts have come to her defense.
Analysis: Is Technology the Cause of Car Crashes? Or the Cure?
We asked Google Glass Explorers, app developers and others to weigh in on the pros and cons of Glass behind the wheel. Here's what they said, along with some background on anti-Google Glass legislation around the world.
The Movement Against Google Glass Behind the Wheel
Legislators in Delaware, New Jersey and West Virginia are firmly in the no-Google-Glass-behind-the-wheel camp. All three states have introduced bills to ban driving while wearing Google Glass, according to Fox News. West Virginia representative Gary G. Howell, who in March 2013 introduced his state's amendment to ban Google Glass while driving, tells CNN: "The primary thing is a safety concern. [The Google Glass headset] could project text or video into your field of vision. I think there's a lot of potential for distraction."
As of late July 2013, the United Kingdom was said to be considering a ban on Google Glass for drivers. A Department for Transport representative tells Fast Company: "We are aware of the impending rollout of Google Glass and are in discussion with the police to ensure that individuals do not use this technology while driving. It is important that drivers give their full attention to the road when they are behind the wheel and do not behave in a way that stops them from observing what is happening on the road."
In the wake of Abadie's high-profile ticket, California Highway Patrol Officer Marc Hale tells Fox News that drivers shouldn't be allowed to use Google Glass: "Anything that takes your attention away from the motoring public in front of you is a distraction."
In the same Fox News report, David Strayer, director of the University of Utah's Center for the Prevention of Distracted Driving, says that, even though Google Glass wearers can look ahead while driving, glancing at the screen still distracts the eye from the roadway. That's enough to make Google Glass a safety threat, according to Strayer. "Your eyes aren't looking where they need to look."
In Pictures: New Google Glass Design Features Detachable Earbud
New technology is often a tempting target for law enforcement in search of new revenue streams, San Diego attorney Mitchell Mehdy told CNN after the Abadie citation. "The traffic law enforcement is coming and saying, 'Wow, we've got this new incredible device and we want our piece too," he says, adding that Abadie's ticket is just the beginning of similar citations.
Google Glass Creates 'Potential Blind Spot,' Concerns for Corporate Execs
Rich Chang, CEO and partner of NewFoundry, a Google Glass app developer, also believes drivers shouldn't be allowed to wear Google Glass. The device's current design "adds a potential blind spot to peripheral vision due to the bulk of the device and the close proximity to the head and eyes," Chang says. "It can also be distracting, especially since it still requires some physical interaction such as finger gestures to access and use some functions. Drivers are already distracted with too many other inputs in the car."
Chang adds that the device's display isn't likely to be in drivers' direct line of sight. To interact with Google Glass, they have to look up or down. "Your eyes aren't primarily focused on the road in front of you."
Google Glass poses too many risks to drivers to be safe, adds David Berkowitz, chief marketing officer for digital and technology agency MRY and a frequent speaker on wearable technology at events such as South by Southwest (SXSW). "Even if Google rolls out a driving mode that disables notifications, there's no way to mandate that drivers will enable those safety features. Glass can trigger so many distractions that drivers need to keep the headgear off."
Abadie's citation should serve as an alarm bell for C-level executives, says George J. Siedel, who teaches business law and negotiation at the University of Michigans Ross School of Business. "They should be concerned about potential company liability in situations where Google Glass might increase the risk of accident."
Analysis: 5 Things Businesses Need to Know About Google Glass
More: Google Glass Apps for Enterprises Coming by Early 2014
Picture an employee driving a car on company business and wearing Google Glass. The employee negligently hits another car, injuring both drivers. "As in similar cases where employee-drivers are using cell phones, the other driver could recover damages from the company. The company would also have to pay worker's compensation to the employee," Siedel says. "Company leaders should act quickly to do everything possible to eliminate the use of distractions such as Google Glass and cell phones that might contribute to car accidents."
Why Google Glass Is Safer Than Other In-Car Tech
Not everyone agrees that Google Glass should be banned behind the wheel. Matt McGee, editor of the Glass Almanac blog and a Glass Explorer, says he believes that wearing Google Glass for navigation while driving is much safer than relying on a smartphone's turn-by-turn directions.
Recently, McGee drove in an unfamiliar area near San Francisco. He used both Google Maps on his iPhone and Google Glass navigation to find his hotel. "Pretty quickly it became obvious that Glass was much, much safer than having to glance at my phone to see the map and check my progress," he says.
By default, Google Glass remains off until you tap it or tilt your head to activate it. For additional safety, the screen can be turned off while driving, leaving only the voice navigation; turn-by-turn directions can be turned on with a voice command, though.
Blog: Google Glass App for Drivers is Promising and Potentially Perilous
Also: Is Computer's Future a Glass House?
Once activated, Google Glass acts like a GPS, McGee says. "The voice says, 'Turn left in 500 feet' … and the map appears with your location. This lasts about four or five seconds. Then it goes back into Off/Standby. This happens slightly above your right eye. It doesn't block your vision in any way."
The first few times McGee wore Google Glass while driving, he used voice commands to shoot a video or snap a photo; he says that was easy and safe. Since Glass connects to your mobile phone via Bluetooth, "You can also make hands-free phone calls with Glass, just like you can do with regular cell phones."
Now, McGee primarily uses Glass behind the wheel for navigating in unfamiliar areas. "I'd never use Glass (while driving) for something that requires significant attention, like doing a search and looking through results or watching a video that comes in via the CNN app," he says.
Google Glass Beats Dashboard GPS for Navigation
Another advocate for driving with Google Glass is Charles Webster, a Glass Explorer with an engineering degree from the University of Illinois, Champaign-Urbana. For his M.S. degree, Webster studied industrial engineering and human factors, such as pilot attention and decision-making during emergency maneuvers and useful vs. distracting effects of real-time automated decision aids. (He also has an M.S. in Intelligent Systems, which combines artificial intelligence and cognitive science.)
Related: Busting the 7 Worst Myths About Google Glass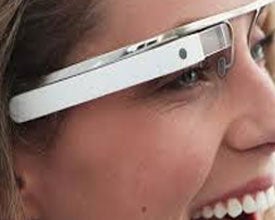 Webster says that in his experience, it takes approximately five seconds for a driver using a dashboard GPS to turn his head, divert his eyes from the road, shift his focus from infinity to 18 inches (the distance from their eyes to the dashboard GPS), locate the dashboard GPS, interpret the map, turn his head again, refocus on the road, and reinterpret the road ahead of him, since it's changed during those five seconds.
By comparison, Google Glass GPS "takes about half a second," Webster says. "No head movement. No refocusing. No need to reinterpret the road scape because it doesn't change enough in a half second." As a result, he says that, compared to a dashboard GPS, "Glass is faster, less effortful and less disorienting" for drivers. That means it's safer.
Webster describes Google Glass GPS as "enormously useful [when] going into an unfamiliar, complex cloverleaf at night or in a busy urban traffic environment, when there may be literally a dozen different route options in the next few seconds."
Beyond Google Glass: The Wearable Tech That Will Revolutionize Business
Also: Wearable Tech Will Be Much More Than Google Glass, Galaxy Gear
Aside from navigation, Webster sometimes uses the Google Glass camera to snap a photo while driving. "It might be useful in capturing a license plate number," he adds, though he hasn't tried that yet. He occasionally answers email, hands-free.
Over time, Google Glass "will actually augment driver judgment by performing some of the valuable functions of a second pair of passenger eyes," Webster says. "If you put together calculation of gaze direction (where you're looking) and object recognition (what you're looking at) I expect to see some of the same collision avoidance decision-aiding that's already beginning to appear in modern vehicles."
If You Ban Google Glass While Driving, Then Why Not GPS Devices?
Though Google didn't respond to requests for comments for this article, the company address the question "Can I use Glass while driving or bicycling?" on its Glass FAQ page:
It depends on where you are and how you use it. As you probably know, most states have passed laws limiting the use of mobile devices while driving any motor vehicle, and most states post those rules on their department of motor vehicles websites. Read up and follow the law! Above all, even when you're following the law, don't hurt yourself or others by failing to pay attention to the road. The same goes for bicycling: whether or not any laws limit your use of Glass, always be careful.
Some early Google Glass users say that efforts to ban driving while wearing Google's headset typically come from those who haven't tried it themselves. There's also the argument that, if you ban Google Glass behind the wheel, why wouldn't you also forbid cell phones, portable GPS devices and other potential distractions?
Both sides tend to agree on one thing, though: Google, and other high-tech headset makers, have an obligation to clearly, loudly and frequently warn users of potential safety risks. Some point to the cell phone industry's "It Can Wait" public-service campaign as one example of how headset makers can warn its customers.
James A. Martin is an SEO and social media consultant and writes the CIO.com Martin on Mobile Apps blog. Follow him on Twitter @james_a_martin and on Google+. Follow everything from CIO.com on Twitter @CIOonline, Facebook, Google + and LinkedIn.