Market research firm IDC today released the latest version of its Worldwide Quarterly Mobile Phone Tracker, which provides data and insights into smartphone market share and shipments for all of the major mobile platforms. (IDC is a sister company of IDG, CIO.com's publisher.)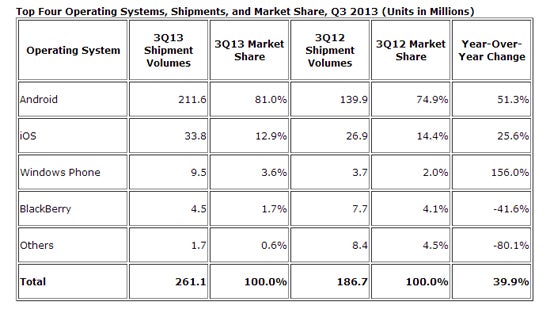 The most recent numbers are for the third quarter of 2013, and they show impressive gains for Android and Windows Phone. Android for the first time broke the 80 percent global market share mark (81 percent) on 211.6 million devices shipped in Q3 2013, up from 74.9 percent share on 139.9 million devices shipped in Q3 2012, according to IDC. Cheaper, low-end smartphones and large smartphones, or "phablets," are helping to fuel Android's growth, according to IDC.
Microsoft's Windows Phone platform also made notable market share gains in the quarter; Microsoft increased its global Windows Phone share by 80 percent, up to 3.6 percent of the total market in Q3 2013 from 2.0 percent of the market in Q3 2012, IDC says. Windows Phone shipments also more than doubled year over year, with 9.5 million devices shipped in Q3 2013, or a 156 percent increase over the the 3.7 million devices it shipped in Q3 2012.
These Windows Phone numbers are particularly impressive, even though the OS still has a relatively small percentage of the overall market. Nokia is fueling the charge; 93.2 percent of all the Windows Phone smartphones shipped during Q3 2013 were Nokia devices, according to IDC. The increase could bode well for the future of a platform that has not seen any significant market share gains during the past couple of years.
The overall smartphone market also increased by 39.9 percent year over year, according to IDC, which suggests no signs of decreased demand for smartphones in the future.
Even though Apple increased its total shipment volume of iOS devices by more than 25 percent, its global market share actually dropped in the quarter. iOS market share dropped 10 percent from 14.4 in Q3 2012 to 12.9 in the same quarter of 2013. Worth noting though is the launch of two new iPhones shortly after the close of the quarter, which are sure to drastically boost Apple's Q4 2013 shipment numbers. (In just the first weekend following the launch of the iPhone 5s and iPhone 5c, Apple sold more than 9 million devices.)
IDC attributes Android's massive gains to the wide range of device prices, which makes Android more suitable for emerging markets. The average smartphone price dropped 12.5 percent in Q3 2013, according to IDC. In response to the demand for more affordable smartphones, Apple released the iPhone 5c, which is designed to be a more affordable – though definitely not cheap – iOS option, so that device should also boost Apple in the following quarters.
Finally, and not surprisingly, BlackBerry's numbers dropped across the board in Q3 2013. BlackBerry's total device shipments dropped from 7.7 million in Q3 2012 to 4.5 million in Q3 2013, a decrease of 41.6 percent, according to IDC. The company's global market share is now 1.7 percent, down from 4.1 percent year over year, and less than half of Windows Phone's current global share.
Read more about IDC's Worldwide Quarterly Mobile Phone Tracker on the company's website.
AS
Al Sacco covers Mobile and Wireless for CIO.com. Follow Al on Twitter @ASacco. Follow everything from CIO.com on Twitter @CIOonline, Facebook, Google + and LinkedIn.