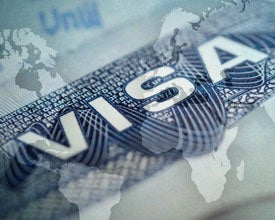 The announcement today that Infosys reached a $34 million settlement with the U.S. after an investigation its alleged temporary worker visa fraud could have implications not just for Infosys and its customers, but for the IT offshoring model as well.
[ 5 IT Outsourcing Tips in the Wake of Infosys's Visa Fraud Settlement ]
The investigation, led by the U.S. Attorney's Office for the Eastern District of Texas, centered on the Indian IT service provider's procurement of B-1 visas designed to allow foreigners to come to the U.S. for short periods of time for such things as meetings, contract negotiations or short-term training. Former Infosys employee Jack "Jay" Palmer had sued Bangalore-based Infosys, accusing the outsourcer of using the B-1 visa — easier to obtain that the H-1B visa — to bring its Indian employees to perform software development, quality assurance and testing for U.S. clients. (The judge ruled for Infosys in that case , but the federal investigation continued.)
Recent Visa Fraud Settlement Should Concern ALL IT service Providers
Industry watchers say the settlement should concern all IT service providers using not only B-1 visas, but also the more commonly employed H-1B and L-1 temporary skilled worker visas. "$35 million is a big number for Infosys and will frighten the life out of their Indian competitors, which are also exploiting the gray areas around the visa rulings," says Phil Fersht, CEO of outsourcing analyst firm HfS Research. "This fine will put a nail in the coffin of any outsourcer still trying to flout the rules."
"The most important implication of this judgment would be an increased scrutiny of visa applications, making it tougher for vendors to get visas and impacting delivery involving large on-site teams," says Hansa Iyengar, a sourcing and vendor management analyst with Forrester research. "Since the visa scrutiny process can't be selectively applied to Indian companies — no one would want to get into discrimination issues — both multi-nationals and Indian vendors will feel the pinch."
The conclusion of the investigation also sheds a light on the increasing dependence on so-called "landed resources" — offshore employees brought on- site — to make today's outsourcing model work, not just for Indian or Indian-centric outsourcers, but multinationals like IBM and Accenture. Experienced outsourcing customers are demanding a greater percentage of onshore support, but have grown accustomed to offshore prices. "The ability to price competitively and retain margins seems to be increasingly obtained via paying non-U.S. resources at low Indian wages," says David Rutchik, partner with outsourcing consultancy Pace Harmon, adding that visa holders are often forced to live cheaply when working stateside, several to a hotel room. "The entire business model may be in jeopardy."
Infosys (for whom the North American market accounts for 60 percent of its revenue) had prices typically 20 percent higher than their tier one competitors offshore. "They are being pushed to lower prices to customers," Rutchik says. "And because they don't want to sacrifice margins, they have turned to more aggressively using the 'landed' model — even when they couldn't get the appropriate visas to do so apparently."
"Offshore IT companies have been circumnavigating visa legislation for decades," says Ken Behrendt, CEO of Eden Prairie, Minn.-based Eagle Creek Software Services. "I formerly led an offshore IT services company and saw countless examples of companies manipulating or simply breaking the law in regards to visa policy. A fine of this size will serve as a deterrent for other companies and will likely impact the way they attempt to bring foreign workers into the U.S."
Obtaining temporary visas had already become more challenging. "Immigration policy is being enforced at entry now, which is causing more confusion and disruption for clients," says Esteban Herrera, partner with outsourcing consultancy Information Services Group (ISG). "We have many anecdotal stories of resources assigned to client engagement not being allowed in the country because of visa status or not having a workplace address."
The Infosys settlement may finally force outsourcing providers to explore alternative methods of project delivery — including ways to move more work offshore, says Fersht of HfS Research. "They will look to employ more local U.S. staff to support clients and also invest in more experienced staff domestically so they can take on more work in India as opposed to the U.S." It may be too costly and complex to bring offshore resources onshore, agrees Michael Kushner, managing director with outsourcing consultancy Alsbridge.
Infosys Investigation Proves Indian IT Providers Are Being Unfairly Targeted
But the investigation of Infosys — following proposed H-1B visa changes in the Senate that would have significantly more impact on Indian companies than U.S. multinationals — is further evidence that Indian IT providers are being unfairly targeted, says Dr. Norman Matloff, computer science professor at the University of California at Davis, "Abuse of work visas and other nonimmigrant visas pervades the entire industry," Matloff says. "It is not limited to the 'rent-a-programmer' firms such as Infosys. Focus on such firms amounts to scapegoating, meant to draw attention away from the much more general problem."
The finding against Infosys could also fuel those factions that were supporting the tougher immigration laws and general sentiment against offshoring. "Earlier there were expectations that there would be substantial dilution in the clauses, but this incident may work against such possibilities," says Iyengar.
"Congress needs to determine whether to increase availability of H1-Bs and L-1s because it meets the needs of U.S. companies, allows them to be more competitive globally, keeps costs down which in turn keeps prices down for U.S. consumers or recognize that this 'landed' dynamic (even when proper visas are used) is really a way to undercut U.S. workers and not allow it for outsourcing providers," says Rutchik.
"While the number of visas being offered is growing and will probably stay at the higher current levels, the regulations on how and who will receive a visa will be stricter, most likely impacting the outsourcing community," says Kushner of Alsbridge. "[However] as every new regulation comes out, creative leaders will attempt to determine new corporate, organization, or delivery structures that can be leveraged to keep costs down while complying with the law."
In a statement, Infosys denied any claims of systemic visa fraud, misuse of visas for competitive advantage, or immigration abuse, saying it wanted to remove the uncertainty of prolonged litigation.
Stephanie Overby is regular contributor to CIO.com's IT Outsourcing section. Follow everything from CIO.com on Twitter @CIOonline, Facebook, Google + and LinkedIn.