Just a week after Apple released its brand new iPhone lineup, composed of the high-end iPhone 5s and the mid-range iPhone 5c, the company said it had already sold 9 million new devices. (Apple didn't break down its sales by model, but estimates suggest the iPhone 5s is two to three times more popular than the 5c model.)
Just last week, Apple released user numbers for its new mobile OS, iOS 7, and they were equally staggering. Five days after iOS was released, more than 200 million users were running the software, which amounts to about 64 percent of all iOS devices.
That's a whole lot of iOS users, and more than a few new iPhone owners, many of whom aren't familiar with the ins and outs of iOS and the iPhone hardware. Here are 10 tips and tricks every iOS users should know that are simple enough for even the least-techy new iPhone or iPad owner.
1) Streamline iOS Navigation with Control Center
One of the most valuable new features in iOS 7 is Control Center, which lets you swipe up from the bottom of any screen or app to quickly access certain functions. Control Center has options for Airplane Mode, which turns off your wireless radios; Wi-Fi; Bluetooth; Do Not Disturb, which you can customize to turn of notifications during certain times, and a screen-orientation lock.
Control Center also includes settings for screen brightness; media controls; AirDrop, which lets you quickly share content with other iOS users; a flashlight, using your camera flash; your clock app; the calculator, and your camera.
Getting in the habit of swiping up on your display to access any of these functions can streamline and speed up your iOS navigation process.
2) Quickly Switch Between, Close Unused iOS Apps
Double tapping your iPhone or iPad home button shows you all of your open and running applications, in window form and in order of recent use. You can quickly hop back and forth between commonly used applications by double tapping the button and then scrolling horizontally through apps until you find and tap the one you want.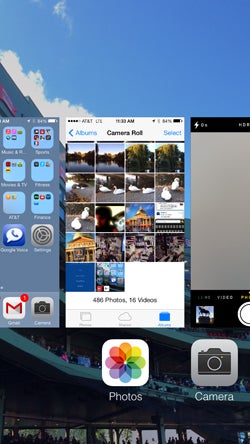 You can also minimize application strain on your system by closing any apps you're not currently using. To close an app, double tap your home button to bring up a list of active software, press and hold a finger on the app you want to close and then slide up and off your display.
3) iOS Spotlight Search
iOS Spotlight Search lets you quickly and easily search your entire device. To access Spotlight Search, press and hold a finger in the middle of your home screen, and then drag down. The Spotlight Search bar appears atop your screen. To close Spotlight, hit the Cancel bar next to the search bar or tap you Home button.
4) Organize iOS Apps Using Folders
You can use folders to order and organize your iOS applications and reduce the number of home screens you need.
You can also create as few or as many folders as you want by dragging one application icon onto another. To move an app, hold your finger on an app icon until you see it start to shake. Then drag the app you want to move onto another app. You'll see a folder appear, and it will be automatically named based on the types of app you've combined. To add a custom folder name, open a folder and hold your finger on an app until it starts to shake. Remove your finger and then tap in the text field above the folder. Enter in your custom name and then tap your Home button to save the name.
5) Set Custom Home and/or Lock Screen Wallpaper
One of the easiest ways to make a new iPhone or iOS device your own is by setting custom wallpaper. Setting your own home and/or lock screen wallpaper is simple in iOS. Just tap your Settings icon, hit Wallpapers & Brightness, click one of the images displayed beneath Choose Wallpaper, pick the image directory you want to use for your wallpaper, and then navigate to the image you want to use.
After you move and scale the image to fit your screen, just hit the Set button and then specify whether you want to use the images for your home screen, lock screen or both.
6) Display iOS Battery Percentage Number
By default, your iOS device shows battery life using a battery-pack-shaped icon in the top right of your screen. But you can see a more specific percentage number by turning the option on in your settings. Tap the Settings icon, hit General, then Usage and turn the Battery Percentage option to On.
7) Access iOS Camera from Lock Screen
You should be using a password or passcode on your iOS device. If you're not, hit your Settings icon, open the Passcode screen and set some type of password right now. If you don't, you're asking for trouble.
Now that that's out of the way, you can quickly access your camera without entering your passcode. Just slide your finger upward on the camera icon at the bottom right of your locked display. You can take new images, modify camera settings and see any images you just took with the screen locked, but you need to unlock your device to access other settings, apps or images in your camera roll.
8) Capture iOS Screen Shots and Save Them to Camera Roll
It's simple to capture screen shots using your iOS device. Just press and hold your Home Button and the Power/Sleep button on the top of your device. Let them both go to snap the screen shot, which is automatically saved to your Camera Roll.
9) Quick Access to iOS Voice Controls
You can hold down your iPhone or iPad home button to invoke various iOS voice command features, including one that lets you play a song and then determine the group or artist that made it; dial a phone number; play music; open FaceTime for a video call, and use the shuffle media feature.
10) Hard Reset Your iOS Device
If your device freezes up, slows down considerably or otherwise misbehaves and you can't find an obvious solution, you should try to hard reset the device, which powers off and resets your handheld or tablet.
To perform a hard reset on your iOS device, simultaneously hold down your Power/Sleep and your Home buttons until your device shuts down. Then wait 10 or 15 seconds and hold down your Power button to turn it back on.
AS
Al Sacco covers Mobile and Wireless for CIO.com. Follow Al on Twitter @ASacco. Follow everything from CIO.com on Twitter @CIOonline, Facebook, Google + and LinkedIn.