As with other non-essential operations of the U.S. government, the Department of Labor (DOL) iCert system — used to submit the Labor Conditional Applications (LCAs) required for H-1B petitions — shut down as of Oct. 1. In addition, some courier services, such as FedEx, have been unable to deliver paper copies to the Labor Department, according to an Oct. 4 American Immigration Lawyers Association bulletin.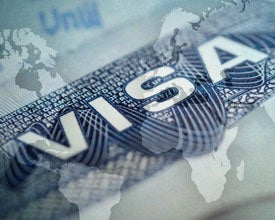 While the 2014 quota for H-1B visas was reached in early April, the LCA (which is designed to ensure that the wage offered to the non-immigrant worker meets or exceeds the prevailing wage for the position and must be certified by the DOL) is also required to extend H-1B work authorizations.
But the shutdown of iCert is not yet a big problem for IT service providers. "The current year's quota has long been exhausted and there are very few fresh applications this late in the year. The same goes for renewals as well," says Hansa Iyengar, analyst in the sourcing and vendor management practice at Forrester Research. "Basically, it's business as usual for Indian IT, and there is no cause for concern at this moment."
In the past, when Department of Labor operations have been impacted, the U.S. Citizenship and Immigration Services (USCIS) temporarily accepted H-1B filings without certified LCAs. The business user community has requested that USCIS once again accept H-1B petitions without an LCA, but the agency has not announced such a plan this time around.
"If a miracle happened and peace broke out on earth, [immigration reform] might happen. But the provider community and customer community believe that it's going nowhere fast.
–Peter Bendor-Samuel, CEO of Everest Group
"If this [shutdown] were to run on a couple of months, it could be an issue. But at that point, there will be much bigger problems than that to deal with," says Peter Bendor-Samuel, CEO of outsourcing consultancy and research firm Everest Group. "It's too short of a time to have had an impact. Even if this lasts another week or two, I don't think it will be an issue."
Will Government Shutdown Impact Comprehensive Immigration Reform Legislation?
Bigger concerns could arise if political fallout from the shutdown increases pressure to pass comprehensive immigration reform legislation. (The Senate version of immigration reform makes significant changes to the H-1B and L-1 visa programs that would have the greatest negative impact on offshore outsourcing providers.)
Yet IT service providers seem little concerned about that prospect either. "If a miracle happened and peace broke out on earth, [immigration reform] might happen," says Bendor-Samuel. "But the provider community and customer community we talk to believe that it's going nowhere fast. The energy has been sucked out of it. First the war in Syria and now the shutdown have put [immigration reform] on it's back, and time is running out to get it done."
Stephanie Overby is regular contributor to CIO.com's IT Outsourcing section. Follow everything from CIO.com on Twitter @CIOonline, Facebook, Google + and LinkedIn.