When Apple unveiled the iPhone 5S (and basically colorful versions of the iPhone 5, called the iPhone 5C), Wall Street shrugged, or rather slumped. Apple's stock slid 5 percent on the news. Financial analysts predicted tepid sales. Nearly everyone lamented the end of Apple magic in the Tim Cook era.
A little more than a week later, Apple unleashed the new iPhones to consumers—and sales soared to the tune of 9 million units in the first three days, shattering the previous iPhone 5 record of 5 million units last year.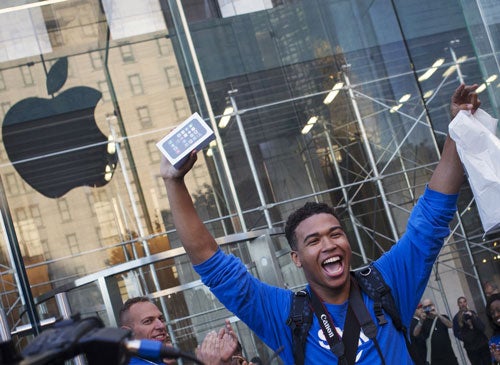 More than 200 million people also downloaded the new iOS 7 over roughly the same time period. Apple's stock rebounded, and analysts backtracked from their earlier comments.
Wall Street, financial analysts, tech watchers, including the media, all apparently got it wrong. So what gives? Sure, there's a bit of herd mentality—no one wants to be an Apple outlier—but the bigger problem is the erroneous way most people fundamentally evaluate Apple products and define Apple innovation.
Apple Analysts Offer Their Side of the Story
First, though, we have to give financial analysts their say about what went wrong with those understated sales predictions. Apple Insider rounded up some of their explanations, which suggest that they might not have been wildly off the mark.
Some cited the fact that Apple was launching two new iPhones, which it had never done before. Others said the new iPhones on more carriers in more countries, particularly China, juiced sales. "China sales could account for at least half of the increase in this year's opening weekend," wrote Rolfe Winkler in the Wall Street Journal.
Slideshow: 15 iPhone Apps Millennials Can't Live Without
Gene Muster of Piper Jaffray, who had expected 5-6 million units, said that Apple's high sales numbers were possibly due to retained inventory rather than sales to consumers. Steven Milunovich at UBS argued that sales figures, while seemingly strong at first glance, may be tempered by weaker-than-expected demand in key growth areas.
Both Jaffray and Milunovich, however, conceded that the 9 million new iPhones sold in the first three days is an encouraging sign for Apple. Jaffray even admits that the "iPhone 5S demand throughout opening weekend appeared to be stronger than iPhone 5 demand last year."
What Changed About the iPhone in 10 Days?
So what's behind the iPhone 5S demand after critics panned it only 10 days earlier?
The critics simply got it wrong, because they're looking through the wrong lens.
Apple watchers tend to fixate on new features, such as FaceTime, Siri, Retina or a more powerful camera. With the iPhone 5S, they were again on feature watch, hoping for a larger screen size or an octa-core processor or an eyeball-gaze sensor, only to be disappointed by the fingerprint scanner.
This kind of feature-focused thinking isn't new to Apple. Three months ago at Apple's WWDC in San Francisco, analysts were less than thrilled with iOS 7 for its lack of innovation. They claimed that iOS 7 shamelessly took features from Windows Phone and Android, which it did.
But that's the problem with this definition of innovation, a term attached to ground-breaking features—it's got little to do with Apple's success.
In truth, Apple has never really innovated. From the iPod to the iPad, Apple products were built upon existing ones. Apple has also never been just about features, in spite of Steve Jobs' famous, "one more thing" line. Rather, Apple creates and sells fluid, delightful customer experiences.
Taken together, the iOS 7 software and iPhone 5S hardware deliver such an experience.
"One of Steve Jobs' first inspirations was around Japanese packaging, the art of gift-giving and gift-wrapping, where the experience of opening the box is as important as what's in the box," explains Andrew Borg, research director at Aberdeen Group.
"Being able to embody that in a software experience is where innovation comes in," Borg says. "Maybe 'innovation' is the wrong word, because we're talking about something that's as old as ancient cultures."
Just compare Android phones to iPhones, Borg says. "If you look at Android on a Samsung or HTC device, you'll see islands of innovation in a sea of potential chaos. From the end user's perspective, it is not a fluid, synchronous experience."
In the final analysis, consumers don't buy innovation, they buy great experiences.
Tom Kaneshige covers Apple, BYOD and Consumerization of IT for CIO.com. Follow Tom on Twitter @kaneshige. Follow everything from CIO.com on Twitter @CIOonline, Facebook, Google + and LinkedIn. Email Tom at tkaneshige@cio.com