About a year-and-a-half ago, Tim Maguire, director of Customer Experience at Equipment Data Associates (EDA), had a problem: The executive suite had asked him to convert customers to a new online interface and implement a price increase. And they wanted the conversion fast.
"We needed help," Maguire says. "We were asked by our executive leadership and board to go from a six-month plan down to a four-month plan."
EDA, a division of Randall-Reilly Publishing, provides data-driven market insight to organizations that manufacture, sell, service or finance equipment in the agriculture, capital markets, construction, lift truck, logging, office equipment, printing, machine tool, trucking and woodworking industries.
EDA's transactional data helps its customers guide strategic planning and day-to-day operations, identify regional hot spots and competitor market share, anticipate growth trends and emerging markets, exploit new product opportunities and target qualified prospects using detailed contact information and equipment purchasing histories.
EDA Needed to Better Understand and Serve Its SaaS Subscribers
As a company, EDA lives and breathes data. But it was in the dark when it came to data about how its customers were using its software-as-a-service (SaaS) platform. EDA knew whether customers were using its service or not, but didn't know which users at a particular customer were logging on, how regularly they used the service or how effectively they were able to leverage those features.
The idea of switching to value-based pricing based on how much value each customer received from the service was promising, but not terribly realistic if it couldn't show customers how much value they derived from their subscription.
EDA turned to Issaquah, Wash.-based Scout Analytics, which leverages the power of big data to provide cloud-based recurring revenue management solutions that help its customers reduce customer and revenue churn, increase renewal revenue yield, optimize rate plan performance and maximize marketing conversions. Of particular interest to EDA was Scout's newest solution, Scout Playbooks, a customer engagement orchestration solution.
Playbooks builds on Scout's other solutions—Scout Link for data integration and Scout Hub for predictive analytics. Scout Playbooks orchestrates workflows and automation across sales, customer success, marketing, product management and finance teams. Matthew Shanahan, senior vice president of Marketing and Strategy for Scout Analytics, says that a "playbook" is really a set of business rules and automations that allow you to achieve a specific business objective. For instance, in customer service, one objective is to onboard new customers. That objective is achieved through a series of "plays" or milestones. Each milestone is triggered by a set of business rules.
Essentially, Scout Playbooks use business rules to trigger workflows and automations across multiple systems and then monitors for resolution. For instance, if log-ins by a formerly heavy user taper off, Playbooks could send a reminder notification to that user, or even trigger an alert to a customer service representative who can then proactively reach out to the user to resolve issues or otherwise provide support.
Companies Are Switching to Cloud and a Recurring Revenue Model
"More and more companies are switching to a recurring revenue model," Shanahan says. "Customers don't want to buy products to own anymore. They just want to pay for what they actually consume. What this means is that usage is really the key to revenue and profitability. If you can drive usage up, you can drive revenue and profitability up."
But driving usage is easier said than done. In a recurring revenue model, Shanahan says, you have to take a proactive approach. Rather than waiting for your customer to approach you with problems or questions, you need to approach them. But you can't afford to scale your customer service linearly with an approach like this.
"The thing is, most companies just don't have enough arms and legs to monitor every customer, figure out what they need to do and contact them," Shanahan says. "You have to automate."
In this way, Scout allows companies to target their customer service efforts on customers that need help. The idea is to provide better customer service to more customers more efficiently.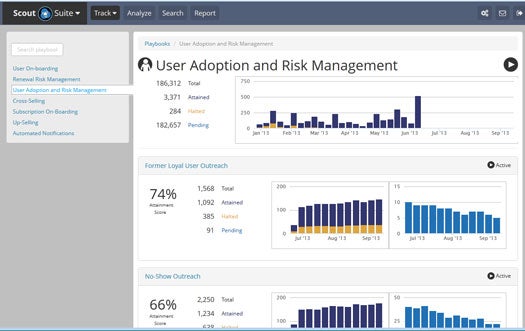 "Companies have to develop strategies for cost effectively retaining and growing revenue from existing customers," Shanahan says. "By combining predictive analytics with customer engagement orchestration, Scout Playbooks allows companies to provide a more personalized and improved customer experience at higher scale with lower costs."
Scout Playbooks consists of a number of features, including the following:
Playbook Editor. This visual editor allows users to define triggers, automations, workflow and resolution criteria.
Playbook Orchestration. This feature improves the quality of customer processes by matching customer engagement to individual customer needs to improve resource allocations and efforts.
Playbook Performance Tracker. The Performance Tracker tracks the resolution of each play within each playbook to identify which are effective and which ones are not, enabling continuous process improvement.
Playbook Management. This console allows for quick deployment or suspension of automated processes, enabling rapid responses to customer needs.
Automation Library. The library includes off-the-shelf automations to third-party systems like Salesforce.com, Microsoft Dynamics, SAP and Marketo, speeding many deployments by eliminating the need for custom integrations.
For EDA, Scout has been a success, Maguire says. The company was able to convert 1,200 subscription customers to a new platform within four months, all while increasing pricing with a value-pricing model.
"We were able to roll out a six-percent increase to our pricing," Maguire says. "And Scout helped us accelerate our conversion. We were kind of in the dark prior to Scout in regard to understanding what our customers were doing. Now we've enhanced our retention approach. It's also added scale to my team. We're growing. We can't continue to hire a body for every 50 new customers. We had to figure out a way to scale our service delivery."
"It's obviously going to become part of how we do business," he adds. "It gives us a much more proactive approach to the customer renewal subscription lifecycle."
Thor Olavsrud covers IT Security, Big Data, Open Source, Microsoft Tools and Servers for CIO.com. Follow Thor on Twitter @ThorOlavsrud. Follow everything from CIO.com on Twitter @CIOonline, Facebook, Google + and LinkedIn. Email Thor at tolavsrud@cio.com