One of the best things about Google's Android OS is that it runs on a variety of different devices. So if you want an Android tablet, but a particular piece of hardware doesn't have a feature you want or need, you can keep looking until you find the device that's right for you. And there's certainly no shortage of Android tablet options.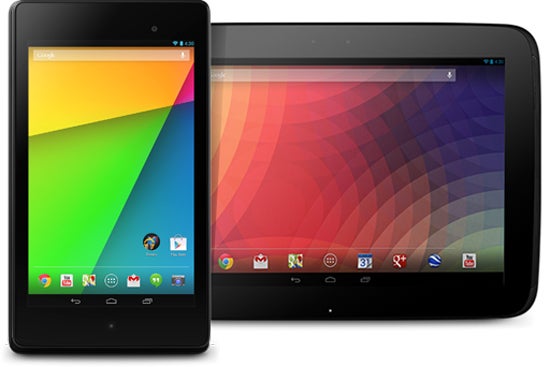 I'm a longtime Android user – smartphones and tablets – and I spent the past three weeks dividing my tablet time between Google's latest Nexus 7 tablet and Samsung's new Galaxy Tab 3 10.1 These, in my opinion, are two of the best Android tablets available today.
If you're in the market for an Android tablet and have your eye on both of these terrific tablets, how do you choose which one is for you? Here's a quick breakdown designed to help make your decision.
Before I get started, it's worth noting that both Nexus and Galaxy Tab 3 are families of devices, not just individual tablets. There are two Nexus tablets, each available with different storage configurations: The Nexus 7 and the Nexus 10. The Nexus 7 was recently updated, and the Nexus 10 is feeling a bit long in the tooth these days – though rumor suggests a new Nexus 10 is in the works.
There are also three different version of the Galaxy Tab 3: the Galaxy Tab 3 7.0; the Galaxy Tab 3 8.0; and the Galaxy Tab 3 10.1. All three were released semi-recently.
For the purposes of this post, I'll mostly compare the Nexus 7 (2013 edition) to the three Galaxy Tab 3 devices; it doesn't really make sense to compare three new Samsung tablets to the old-ish Nexus 10.
Nexus vs. Galaxy Tab 3: Wi-Fi Only or Cellular?
One of the first questions you should ask before purchasing any tablet: Do you need a cellular radio, or will Wi-Fi be enough?
Most users should be okay with Wi-Fi-only tablets. If you want a cellular radio in your device, you'll likely end up paying more up front, as well as a monthly service fee. Your options will be limited, too, since not all tablets are available in cellular versions. (I've never owned a tablet with a cellular radio. I use my smartphone as a Wi-Fi hotspot, and I've never wished I had a built-in radio instead.)
If you need a cellular radio and want a Nexus tablet, you'll need to go with the smaller 7-inch device; the Nexus 10 is not currently available with a cellular radio. The Nexus 7 LTE is designed to work on T-Mobile, so if you're on another carrier and you need that radio, the Nexus tablets might not be for you. (The LTE Nexus 7 comes unlocked, so you could use it on carriers other than T-Mobile, but the device may not support your carrier's LTE bands, and you may not get the fastest data speeds possible.)
The only Samsung Galaxy Tab 3 device with a cellular radio is the Tab 3 7.0, and it's exclusive to AT&T in the United States at this point. Unless you're an AT&T customer or are willing to become one, the Galaxy Tab family may not be for you if a cellular radio is a necessity.
Nexus vs. Galaxy Tab 3: Screen Size Matters – and So Does Price
Another important question to consider before choosing an Android tablet: What screen size is right for you? The answer will depend on individual preference and planned usage, but smaller, 7- or 8-inch tablets are much more portable than their larger counterparts. If you plan to travel frequently with your device, or to carry it around on your person regularly, a smaller size might be better for you.
If you plan to use your device along with a wireless keyboard to simulate a netbook setup, on the other hand, the larger display might be right for you. This will give you more screen real estate and a more "laptop-like" experience.
The best way to find the right tablet size for you is to envision how you will regularly use the device and also to go to a retailer such as Best Buy so you get your hands on a device before you buy it.
I prefer smaller tablets. I use my tablet mostly for reading – reading on the couch, reading on trains and air planes, and reading in coffee shops. And the 7-inch form factor just works best for my needs. I can slip a 7-inch tablet in my back pants pocket – I don't need a separate bag to carry it. And I can hold it comfortably in one hand while reading.
In addition to size, price is also likely an important consideration. Here's a quick breakdown of pricing for all Nexus and Galaxy Tab 3 models.
The Google Nexus 7 comes in three versions:
Nexus 7 16GB Wi-Fi: $229
Nexus 7 32GB Wi-Fi: $269
Nexus 7 32GB Wi-Fi and LTE: $349
The Google Nexus 10 comes in two versions:
Nexus 10 16GB Wi-Fi: $399
Nexus 10 32GB Wi-Fi: $499
The Samsung Galaxy Tab 3 is available in four versions:
(Find additional availability details for each Tab 3 model on Samsung's website.)
To sum up those numbers, the $200 Galaxy Tab 3 7.0 tablet with 8GB of storage is the cheapest option of the bunch, not counting the Galaxy Tab 3 8.0 Wi-Fi/LTE version, which also costs $200 but requires a wireless service commitment. For $30 more, you can get the 16GB Nexus 7, which has double the storage of the Galaxy Tab 7.0.
If you seek a larger tablet, the least you'll pay is $379.99 for the 16GB, Wi-Fi only Tab 3 10.1.
Nexus vs. Galaxy Tab 3: Comparing Tech Specs
I'm not going to stack up all of these various devices and break them down spec by spec. But I will offer up some notable hardware differences:
One notable difference between the Nexus family and the Galaxy Tab 3 devices is thickness – or, in this case, thinness. Both the Tab 3 8.0 and Tab 3 10.1 are just slightly slimmer than the Nexus devices.
The Tab 3 devices also have a "physical" home button built into their displays, while the Nexus tablets have solid screens with no buttons; the only physical buttons on the Nexus tablets are volume up/down keys and power buttons on their sides.
The Nexus 7's 1920 x1200 HD display (323 PPI) is "the sharpest 7″ tablet screen ever," according to Google. And it really does look good. In comparison, the Galaxy Tab 3 7.0 has a 1024 x 600 display and both the Tab 3 8.0 and Tab 3 10.1 have display resolutions of 1280 x 800 (WXGA). You can see a notable difference in display quality in the Nexus 7 and Galaxy Tab 10.1 when watching HD movies, playing games with vivid colors or when reading larger text on crisp white background.
The Nexus 7 has a 1.5GHz quad-core processor, compared to the Tab 3 10.1's 1.6Ghz dual-core processor; the Tab 3 8.0's 1.5GHz dual-core processor; and the Tab 3 7.0's 1.2Ghz dual-core processor. The Nexus 7 also has 2GB of RAM, while both the Tab 3 7.0 and 10.1 have 1GB of RAM, and the Tab 3 8.0 has 1.5GB of RAM. The Nexus 7's powerful processor and additional RAM make it well suited for gaming.
As for built-in storage, the Nexus 7 is available in two configurations: 16GB and 32GB. The Tab 3 7.0 Wi-Fi comes with 8GB of storage; the Tab 3 7.0 LTE/Wi-Fi version has 16GB; and both the Tab 3 8.0 and 10.1 Wi-Fi models come with 16GB of storage. However all Galaxy Tab 3 devices also have microSD memory card slots that support cards up to 64GB.
Nexus vs. Galaxy Tab 3: Android Experience
Both Nexus tablets run the latest version of Google's Android mobile OS: Android 4.3 "Jelly Bean." Both devices will also be among the first to get the next version of Android 4.4 "KitKat."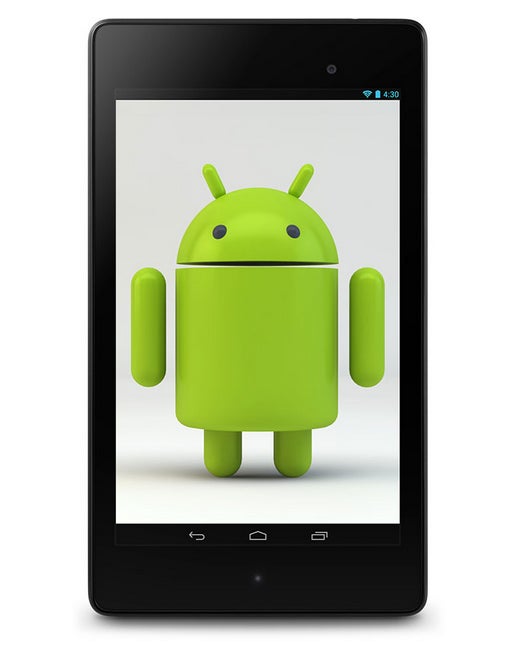 Both the Galaxy Tab 3 8.0 and Tab 3 10.1 devices run Android 4.2.2 Jelly Bean, while the Tab 3 7.0 runs a slightly older version, Android 4.2.1 Jelly Bean.
The Nexus tablets run newer, more polished versions of Android, but the Android software itself is quite different than the Samsung version that runs on its Tab 3 devices. Samsung's "flavor" of Android is dubbed "TouchWiz," and it's basically a customized version of Android with a number of Samsung-specific features.
For example, TouchWiz gives you unique home-screen customizations options; gesture and motion-based controls; themes and wallpapers, and settings that are specific to Samsung devices. It has a number of third-party Android apps preinstalled, too, including the SWYPE keyboard and Polaris Office suite.
Some of these unique features are valuable, some, well, aren't so valuable.
The "pure" version of Android that runs on Google's Nexus devices is basic and simple. In some ways, it doesn't have as many extraneous bells and whistles as TouchWiz. But it's also updated before the software on any other Android device, and updates don't go through any manufacturer before being released, so you always have the latest and greatest software tweaks as soon as they're available.
Also, if you already use a Nexus smartphone, you may appreciate the software similarities in the Nexus tablets, and vice versa; if you already use a Samsung Android phone, you may value the similar Tab 3 Android software.
It's hard to say which version of Android is better, and some users will feel differently about each software flavor. If you don't really care about getting software updates just as soon as they're available, and you like the idea of using gestures and motion-controls to navigate around your device, you might prefer TouchWiz. If possible, you should spend a bit of time with a Samsung TouchWiz tablet and a Nexus tablet, then move through the UI and check out the settings, before making a final decision.
Nexus vs. Galaxy Tab 3: My Take
I prefer Google's Nexus tablets to Samsung's Galaxy Tab family of devices. I appreciate the clean and simple interface that's a part of the pure Android experience, and I value the ability to get my hands on the newest version of Android just as soon as possible.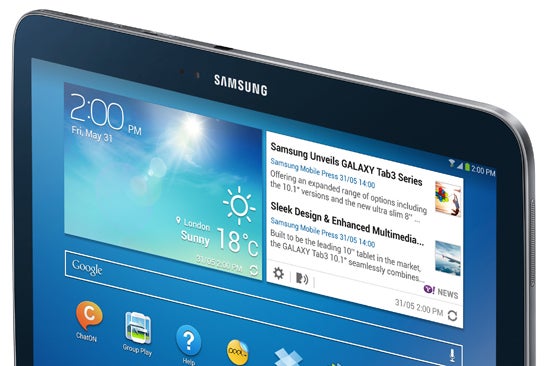 I also like the Nexus 7 form factor better than the Galaxy Tab 3 designs. (It's worth noting that the Nexus 7 and Nexus 10 have very different form factors. In fact, the Nexus 10 is made by Samsung and feels somewhat like the Tab 3 devices. The Nexus 7 is manufactured by ASUS.) The Nexus tablets are sleeker looking, and they're all solid black; the Galaxy Tab devices all have somewhat cheap-looking, silver-colored plastic bezels around their edges. I also prefer the solid Nexus display with all the controls on screen, as opposed to the Galaxy Tab 3 devices, which each have a "physical" home buttons on their displays.
Still, there are some things I like better about the Galaxy Tab 3 family. I appreciate the wider variety of hardware-size options. I like how they're available in multiple colors – the Nexus tablets only come in black. I really appreciate how they all have microSD card slots, so you can expand the memory and swap out as many cards as you please. The speakers on the Tab 3 10.1 can also emit slightly louder sound than the Nexus 7, but the overall audio quality is better on the Nexus 7.
My favorite tablet of all those mentioned in this post: The Nexus 7 32GB Wi-Fi version.
AS
Al Sacco covers Mobile and Wireless for CIO.com. Follow Al on Twitter @ASacco. Follow everything from CIO.com on Twitter @CIOonline, Facebook, Google + and LinkedIn.