Although most game-changing technologies ultimately reach their target market through well-established organizations, many innovations come from entrepreneurs. Ultimately, success for tech startups often rests with the entrepreneur's ability to recognize an industry issue and build a differentiated product or service in a timely manner. However, achieving this level of success means assembling numerous building blocks that typically extend beyond the talents of the entrepreneur.
This summer, seven teams moved to Chattanooga, Tenn. to participate in GigTank, a tech entrepreneurial accelerator event hosted by The Company Lab. Why Chattanooga? The city has installed 1 gbps Internet on its entire grid and now invites entrepreneurs, developers and students to help turn "Gig City" into an innovation hub.
Teams live and breathe all aspects of their new product in a 14-week span while gaining access to specialists and mentors willing to help them put those blocks together. Here's an introduction the seven start-ups that participated in this year's GigTank and a brief look at what's next for each firm.
HutGrip: Real-Time Data for Manufacturing
HutGrip is a specialized data processing application designed to gather and analyze data that helps prevent costly damage to or failure of off-the-shelf sensors, especially in highly automated environments such as manufacturing facilities.
"We calculate what can happen so we can give early notifications via text message," CEO Ivan Dragoev says. "We focus on giving suggestions … and probable solutions to problems in real-time."
As a SaaS offering, HutGrip's main goal is providing reliable service. "We are focused on building our platform on several small but highly specialized modules — for storing data, for analyzing data, for notifications," Dragoev says. "Each module could work on its own virtual instance, which gives us the flexibility to run more instances of each module, when needed, as long as needed."
Given the nature of the data being collected, HutGrip is working to deploy new software versions without interrupting the normal work of the platform. The aim is to host on at least two data centers, complete with data replication, and "an automatic way to switch if the main data center is out," Dragoev says. "Platform reliability, scalability, uninterrupted deployment of new versions and platform mirroring are all crucial components to success."
HutGrip's goal is to hasten manufacturing's adoption of technology and "do for manufacturers what Apple did in the consumer market," Dragoev says. To do that, the start-up must prove that it is a reliable partner. "All of our actions are focused on building trust from development, through installation and initial setup, until customer support and satisfaction."
What's next: HutGrip was one of two GigTank teams selected as a finalist in last month's TENN Statewide Demo Day.
Sensevery: 'FitBit for Grandma'
Sensevery used its time at GigTank to develop a HIPAA-compliant, SaaS-based wristband to monitor various aspects of senior citizens' health, including activity levels, heart rate and body temperature. A syncing device plugs into the wall and charges the bracelet while gathering data and sending it to the cloud.
Feature: 10 Mobile Health Gadgets for Better, Longer Living
Also: 14 Gadgets and Mobile Apps That Empower Patients With Diabetes
Sensevery doesn't require an Internet connection or a smartphone cellular plan, though real-time reporting capabilities let caregivers and loved ones "check in" using their own smartphones to monitor sleep patterns and other aspects of overall health. Another device setting provides automatic notifications if its wearer falls or presents other signs of potential concern.
CEO Bentley Cook says Sensevery's product is designed to address the stigma attached to the poorly designed, "large, gray and cumbersome" medical devices that dominate the market.
"Understandably, loved ones don't like wearing them, even though they understand the usefulness, he says. "We see this as an opportunity to make a product that not only provides an important service, but also … looks good. We want to make a product that we wouldn't mind wearing on a daily basis."
What's next: Sensevery aims to have its cloud-based platform and wearable product available to customers "as soon as possible" and is exploring pilot program opportunities with Chattanooga-area senior healthcare facilities, Cook says.
Sisasa: Mobile Banking That Appeals to Young Adults
For most consumers, mobile banking means checking balances and making transfers. Sisana hopes to "reinvent" mobile banking — and change the way banks engage with young adults — by focusing on social finance, gamification and financial education, CEO Deborah Tien says.
"These are key customers for banks going forward, yet they're often confused about financial awareness and desire an easy, interactive way to understand financial management," she says.
Related: The Best and Worst Mobile Banking Apps
Sisasa's partnership with prepaid gift card and payroll card distributor Transcard provides access to more than 200 banks nationwide. "It's a great opportunity for us to pilot our offering, gauge acceptance and make adjustments," Tien says. Through Sisasa, for example, these banks can run targeted campaigns and offer customer rewards.
What's next: Sisasa is keen to add mobile application developers, Tien says.
FwdHealth: Predictive Modeling From Wellness Data
As healthcare costs rise, Shayne Woods and his FwdHealth partners see wellness as a key to controlling costs. The firm's app uses data produced by fitness apps and wearable tech such as RunKeeper, Nike+ and Fitbit to encourage and empower users while sharing information with employers, insurers and caregivers.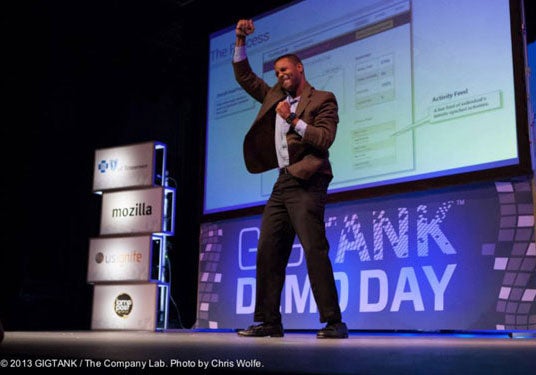 "The goal is to create an environment that allows for more personalized care from providers, improves productivity for employers and helps insurers manage risk," Woods says.
FwdHealth plans to exceed what traditional employee wellness plans can do by using data for predictive modeling. For instance, the interactive dashboard can show human resources departments how an employee population is progressing toward wellness goals and indicate when it might be time to intervene.
What's next: FwdHealth was one of two GigTank teams selected as a finalist in last month's TENN Statewide Demo Day.
Mira: Give Retail Customers Product Info, Get Behavior Insight
Mira is a SaaS application for retail stores that works in conjunction with digital signage to merge ecommerce and the hands-on feel of brick-and-mortar shopping.
More: 5 Ways to Track In-Store Customer Behavior
Customers can interact with the digital sign to peruse information about a product on display and to see how many a store has in stock. Meanwhile, stores using Mira have access to data such as the time of day when consumers look at a specific item, how long they look and what product details are of most interest.
Mira's sustainability model focuses on providing partners with trends and user insights that can improve customer service and marketing capabilities, including the use of flash sales.
What's next: Chattanooga-based sporting goods retailer Rock Creek is piloting the system.
Tidbit: Video Training for the Hospitality Industry
Tidbit is all about improving employee training. The firm's initial focus is the hospitality industry, where a 65 percent annual turnover rate makes it difficult to share knowledge.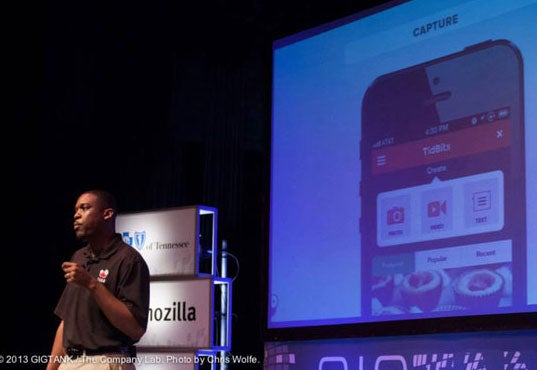 While other services tether employees to an online or paper-based system featuring written content that takes weeks to produce, Tidbit lets users create and distribute video-based training content on a smartphone or tablet device, CEO Sam Bowen says.
Related: How Gamification Reshapes Corporate Training
What's next: The company plans to crowdsource and sell exclusive video-based training content through a Tidbit experts marketplace, Bowen says. The platform will likely evolve in response to customer feedback, he adds.
WeCounsel: Telehealth for Mental Healthcare Providers
WeCounsel offers mental health providers a HIPAA-complaint telehealth platform for interacting with patients.
Feature: 12 More Telehealth Innovations That Will Shape Healthcare's Future
In the traditional care model, 50 percent of mental health patients stop visiting their care provider due to a lack of access, WeCounsel CEO Harrison Tyner says. The company's platform, on the other hand, uses an interactive dashboard complete with note-taking, secure messaging, online billing and client record storage capabilities.
What's next: WeCounsel is a step ahead of its GigTank peers: The young firm recently received its initial $600,000 funding from UltraGroup, which provides outpatient behavioral health programs at 40 rural hospitals across an eight-state region.
Peter Fretty is a business journalist who specializes in small business management strategies, complex manufacturing processes and consumer product innovations. Follow everything from CIO.com on Twitter @CIOonline, Facebook, Google + and LinkedIn.