Are you dropping the ball when it comes to enterprise mobility?
A new report suggests IT might be delivering poor mobile support to BYOD employees even though IT pros think they're doing a good job. In other words, mobility is becoming a major point of contention in the rocky IT-business relationship — and tech leaders aren't even aware there's an issue.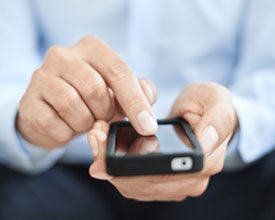 A Failure to Communicate
Technology services and product provider CDW surveyed 1,200 mobile users and 1,200 IT professionals, and found a significant disconnect: 64 percent of IT professionals graded themselves with an A or B for providing personal mobile support (including BYOD policies and technical support), while 56 percent of users gave IT a grade of C or worse.
In the survey, BYOD users sounded off about their issues with IT. Some were age-old refrains: "Improve IT's availability for technical issues, including faster response times." Others were specific to mobility: "Allow us to access apps which could be used for work so we aren't as dependent on our PCs."
For the most part, though, users simply want better training and communication from IT as they find their way in the brave new world of mobile devices.
[ Slideshow: 12 BYOD Disaster Scenarios ]
"Mobility has edged its way into the workplace, increasing and complicating IT's workload, and often leading to frustration on all fronts," says Andrea Bradshaw, senior director and general manager for mobility solutions at CDW.
BYOD Isn't Easy
To be fair, IT has a tough job.
For starters, smartphones and tablets have sold largely on their simplicity. It just works, says Apple. This is a hard standard to live up to for an IT department in charge of security and network bandwidth despite dwindling resources.
A whopping 86 percent of BYOD-ers say they access or save work-related information on their mobile device. Some 5 percent of users admitted losing a personal device used for work, either forgetting it somewhere or having it stolen. Given that many users have more than one device, CDW estimates one in 20 of all devices will be lost or stolen.
While this is bad enough, here's the punch in the gut: 83 percent of lost smartphones are used in attempts to access corporate data, says Symantec.
Moreover, mobile devices put pressure on the corporate network, leading to network latency and scalability problems. Nearly 40 percent of IT pros say they've already seen serious issues tied to network performance.
The problem is only going to get worse, too, as IT pros expect the number of personal smartphones and tablets accessing the network to more than double in the next two years.
In order to corral these dangers, CIOs have had to implement strict end-user guidelines and BYOD policies. They've had to demand longer passwords and enforce the screen lock on mobile devices. Some are looking at partitioning, location tracking, geofencing, mobile app blacklists, and other methods that seemingly infringe on a user's privacy or the device's simplicity.
Tom Kaneshige covers Apple, BYOD and Consumerization of IT for CIO.com. Follow Tom on Twitter @kaneshige. Follow everything from CIO.com on Twitter @CIOonline, Facebook, Google + and LinkedIn. Email Tom at tkaneshige@cio.com