Many healthcare industry observers say that mobile health (mHealth), telehealth and other eHealth initiatives are on the verge of changing the care delivery model — so much so, they say, that it's about time to drop the prefixes and start referring to the use of technology as plain old "health."
While the industry has been seemingly reluctant to use electronic health record (EHR) software, and reimbursement and regulatory hurdles continue to hinder telemedicine adoption, healthcare has by and large embraced mobile health — in theory if not necessarily in practice.
Healthcare Embracing Mobility Thanks to Physicians, Patients
One reason, of course, is ever-rising smartphone use among both patients and physicians. Patients are using mobile health apps for a variety of health and wellness purposes, from monitoring diet and exercise to controlling diabetes, while "more and more physicians are using their mobile devices as part of caring for patients," says Lynne Dunbrack, program director for Connected Health IT with IDC Health Insights. "Consequently, CIOs do need to focus their attention on this, particularly on mobile security."
Healthcare reform is also influencing clinical mobile health adoption, Dunbrack and Leslie Hand note in a recent report, A Maturity Model for Mobile in Healthcare. (For its part, Dunbrack and IDC use the terms "mobile health" to refer to consumer technology and "clinical mobility" when discussing systems that healthcare providers use.)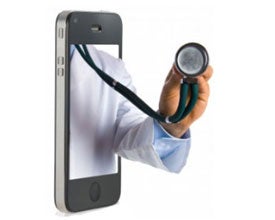 From CITEworld: How the Mobile Revolution Will Transform Healthcare Around the World
"Many of the same demands for healthcare reform — the need to improve access, quality of care, patient safety and clinician efficiency to treat patients cost effectively — are setting in motion the second-wave of mobility in healthcare," they write.
But perhaps the biggest factor that's motivating healthcare's adoption of mobile technology is its transformative potential. It's about more than those consumer health and wellness apps, says Daniel Ruppar, Connected Health global program manager and North America healthcare director with the analyst firm Frost & Sullivan. Remote patient monitoring, video consultations and personal emergency response systems (think Lifeline) are garnering lots of interest from lots of companies who are looking for opportunities to change healthcare delivery.
Healthcare Mobility Still at 'Look Up, Receive Alerts' Phase
The industry will have to come a long way to realize that potential, though. While many healthcare executives place mobile technology atop their business strategies, Dunbrack and Hand write, "Many healthcare organizations have not yet addressed the range of technology, staffing, and process requirements needed to capitalize on mobile assets and to deploy mobile capabilities pervasively to optimize operational, tactical, and strategic decisions."
A recent IDC survey suggests that fewer than 50 percent of healthcare provider organizations are deploying mobile devices in a care setting and fewer than 40 percent are deploying apps. Such apps are more likely to be seen in an ambulatory care setting than in an acute care setting, Dunbrack says. On top of that, she adds, many of these apps are little more than browser-based or Citrix-enabled clones of legacy client applications; they typically lack touch capabilities and make data entry difficult.
How-to: 11 Ways to Make Healthcare IT Easier
Also: 12 Ways to Improve the Healthcare User Experience
As Dunbrack puts it, the industry is still in a "look up, receive alerts" mode where the use of mHealth is largely limited to consuming data from EHR, imaging and e-prescribing systems — as opposed to creating that data on a smartphone or tablet — and engaging in asynchronous communication that's little different than waiting for a physician to answer a page or return a phone call.
Getting there won't be easy, of course. To adapt to a "mobile-first" culture, as Dunbrack and Hand suggest, healthcare IT departments very well may have to reinvent the wheel — they'll need to place added emphasis on everything from BYOD policies and mobile enterprise management to security infrastructure to mobile app development and application lifecycle management.
Make Mobile Health Apps Easy to Develop, Use, Replicate
For the Cleveland Clinic, the key to mobile health success has been making architecture, infrastructure and governance priorities, says William Morris, vice chairman of clinical informatics. (Morris, along with Ruppar and others, spoke at last month's mHealth World Congress in Boston.)
Focusing on architecture makes it easier to repurpose code and develop modules, Morris says. This reduces the likelihood that developers will have to build one-off mobile apps that come from fragmented, non-standardized requests. For the Cleveland Clinic, this meant developing a Web-based clinical services layer to manage a whole host of needs, including request routing, EHR access management, data validation and security, says Director of Technology and Innovation Brent Hicks.
How-to: 5 Ways to Avoid Mobile App Development Failure
It's also imperative to understand how new mobile apps will fit into clinical workflows, says Beth Reese, manager of the institution's Clinical Solutions Center. To do this, Hicks accompanies nurses on rounds to get to the root of the problem and develop an app that meets nurses' needs, not their own perceived needs. Plus, when nurses help develop the app, they don't need to be trained on it once it goes live.
Undergoing such a mobile application development process mirrors IDC Health Insights' short- and long-term recommendations for healthcare organizations aiming to embrace mobile health. Now is the time to be defining clinical mobility strategies, governance policies, usability criteria and the key performance indicators for determining a project's return on investment.
It will also help to align IT with line-of-business departments — as Cleveland Clinic did with nursing — and assess the top healthcare IT skills your organization needs.
Only once that has happened, Dunbrack says, should organizations start to plan for more "opportunistic" clinical mobile health deployments such as remote monitoring, telehealth and robotics.
Use Healthcare IT Challenges As Opportunities to Use 'Virtual Care'
In that sense, then, some may say that healthcare organizations are almost lucky that mobile health faces numerous growth barriers. These obstacles exist in the form of a looming deadline to implement EHR systems, the omnipresent challenge of health information exchange, the various technical and administrative hurdles of participating in an accountable care organization and trying to realize the potential of big data in healthcare. Oh, and then there's healthcare reform, which aims to do nothing less than change the payment model of what will likely be a $3 trillion industry in 2013.
Dunbrack describes it as trying to have "a foot in each canoe." But she's optimistic about the future. "There's just so much potential for mobile in healthcare, especially when you consider how mobile the workforce is," she says.
Jennifer Kent, a senior research analyst with Parks Associates, also says she sees the aforementioned challenges as opportunities. Whether organizations are struggling to meet the criteria for EHR meaningful use or reduce hospital readmissions as healthcare reform mandates, they can turn to virtual care to fill the gaps.
Consumers with access to online health services — admittedly less than half of Americans — use them to fill prescriptions, schedule or change the time of an appointment and email a doctor, Kent says, referring to Parks Associates research conducted at the end of 2012.
The "care gap" exists, she adds, when consumers are asked what services they want; these range from live chats with health experts to monitoring their recovery from surgery or prolonged hospitalization.
Ultimately, says healthcare author and entrepreneur Douglas Goldstein, the "mobile" aspect of mobile health matters less than the service and the engagement. (That's a tall order when you consider that Goldstein called the mobile phone the "most important health appliance ever" at the mHealth World Congress.)
Healthcare organizations need to view patient engagement through the lens of shifting their business model from brick and mortar to brick and mobile, packaging their apps to meet the needs of their target audience and finding ways to "stimulate juices and creativity" in order to promote healthcare IT innovation.
The ultimate aim, Goldstein says, to make what you're doing addictive and fun.
Brian Eastwood is a senior editor for CIO.com. You can reach him on Twitter @Brian_Eastwood or via email. Follow everything from CIO.com on Twitter @CIOonline, Facebook, Google + and LinkedIn.