Modern technology has improved so quickly that most of us need an assistant to help keep track of it all. While there aren't robots who can fill in for you at meetings or scour up background information (not yet, at least), there are digital avatars that can do nearly as much. These apps can track your schedule, warn you about potential delays, pull up weather forecasts, read your email and even pop up flight information right when you need it.
Donna: Arrive to Your Meeting on Time—and Properly Dressed
The Donna app for the iPhone—named after Donna Moss, the affable assistant to President Jed Bartlet's Deputy Chief of Staff on the TV show The West Wing—is one of the best meeting assistants you'll find if you're mostly interested in being on time.
The app shows you how long it will take to get to a meeting; thanks to the phone's GPS capabilities, the app knows where you are and estimates the time based on the meeting location. A nice perk: The app also lets you know about the weather for your upcoming meeting, so you'll know if you can leave the overcoat at the office.
Price: Free.
More: 15 Best iPhone Apps for Busy CEOs
MeetingKing: Build an Agenda, Assign Tasks, Archive Notes
In the corporate world, scheduling a meeting is one thing, but tracking the agenda, assigning tasks and distributing the notes as a communication aid is another challenge altogether. MeetingKing lets you create meetings, or import them from Microsoft Outlook or Google Calendar, and then distribute the agenda and minutes to those who attend. The app, which runs on the Web, also lets you archive the notes from all meetings and track tasks that came out of your meetings.
Price: Ranges from $9.95/month for Pro Individual account (one user) to $124.95/month for Pro Large (25 users); 30-day free trial (one user) available.
Tips: 8 Steps to More Effective Meetings
Cue: Get Alerts Via Email
Cue syncs to your email and assists you with tasks throughout the day. For example, if you get a notice about a UPS shipment, the iOS app will pop up a reminder that it arrives today. Flight info is also shown automatically before you're scheduled to depart. If you book a lunch appointment with a colleague through OpenTable, you'll see the salient details.
Price: Free.
Commentary: Don't Be Afraid of Using Consumer Apps for Your Business
Google Now: Meeting Details on the Go
This service, available on most Android phones, is like having an assistant who hands you white note cards all day. For example, when a meeting's coming up, Google Now will show you a reminder with attendee names, meetings topic, building address, transit time and a map to your location. Walk or drive near a bus route or airport and you'll see relevant travel details, too.
Price: Free.
News: Google Updates Google Now, Makes it More Prominent on Phones
SuperCalender: Cheaper Than Hiring an Assistant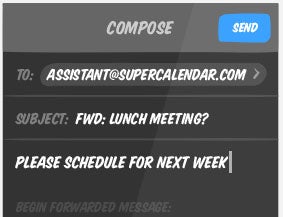 This is more of a service than an app. You start by granting an agent access to your Google Calendar. (Interestingly, it's hard to know whether the SuperCalendar "agent" is a computer program or a human.) You then share several preferences with the agent so it better knows the who, what, when, where and why of your calendar. To schedule, move and cancel meetings, you just forward an e-mail. The service isn't exactly a bargain, but it's much less than hiring a real assistant.
Price: $89/month.
More: 5 Google Calendar Tips and Tricks for Power Users
Osito: Bringing Google Now-esque Features to iPhone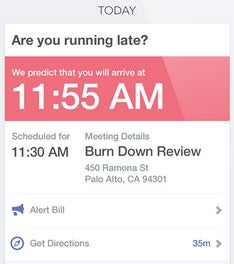 Osito for iPhone is another app that tries to predict your day. It behaves like a mashup between a weather app and Google Now. It estimates how long it will take to get to a meeting. You'll also see weather info related to your meeting locale, and even an estimate on when the weather might change. You'll also get automatic popups about flight details. Finally, you can quickly let people know if the travel route you're using has you running late.
Price: Free.
Good to Know: Google Now for iOS Lacks Android Features
John Brandon is a former IT manager at a Fortune 100 company who now writes about technology. He has written more than 2,500 articles in the past 10 years. You can follow him on Twitter @jmbrandonbb. Follow everything from CIO.com on Twitter @CIOonline, Facebook, Google + and LinkedIn.