Mobile technology that enables federal employees to connect to work remotely can yield substantial productivity gains for government agencies, but progress has been slowed by an aging IT infrastructure, according to a new survey of federal managers.
Respondents estimate that federal workers stand to gain an average of seven hours of productivity each week from always-on connectivity to their agency's network, amounting to 364 hours a year, or $14,000 in productivity gains.
Road to Mobile Connectivity a Bumpy Ride
However, the survey, conducted by the federal IT consortium MeriTalk and underwritten by Brocade, finds that those potential gains are impeded by limited connectivity and mobile access options.
Eighty-two percent of federal managers say that they are frustrated by their agency's mobile situation, with the top complaints involving a slow connection, cited by 65 percent of respondents, onerous security procedures (57 percent), and limited network access (45 percent). Another 70 percent say that the limitations on their agency's infrastructure prevent workers from accessing all of their work information remotely.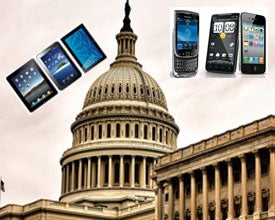 "Not only is mobile connectivity what federal workers want, it can provide substantial productivity gains to federal agencies," Anthony Robbins, vice president of Brocade's federal division, says in a statement.
"Just as large commercial companies have been doing for years, agencies should enable mobile connectivity. They need to embrace the growth in the bring your own device (BYOD) trend by investing in and deploying modern infrastructure improvements that deliver seamless connectivity, improved access and increased speed of service," Robbins says.
The new survey comes amid a broad-ranging and ongoing effort to modernize and improve efficiencies in the federal IT apparatus, which has seen the White House throw its weight behind cloud computing and data-center consolidation, and call on agencies to develop mobile computing strategies to address issues like BYOD and third-party applications.
The push toward a more mobile federal labor force, perhaps best described as a work in progress, is also hindered by a persistent adherence to the traditional work environment. In MeriTalk's survey, 82 percent of respondents say that they spend their workday at a desk, while just 56 percent say that is where they do their best work.
Federal Workers Adopting Mobile Practices, Despite Curmudgeons
At the same time, the survey also finds that mobile technology is, if haltingly, garnering significant adoption within the federal workforce.
A solid majority — 81 percent — of federal workers say that they use mobile devices to connect remotely to work each week, while 54 percent say they do so each day. Forty-five percent say that they typically check in several times a day.
Respondents say that, on average, they spend an additional nine hours on top of their full-time work schedule checking in through mobile devices, with 88 percent saying they use a laptop to work remotely, 53 percent a smartphone and 19 percent a tablet.
The respondents cite numerous benefits from remotely connecting with mobile devices, including 45 percent who say they work more efficiently outside the office, 34 percent who say they feel more available to their team, and 28 percent who say mobile devices help them collaborate more frequently with their colleagues.
The authors of the report acknowledge that the notion of mobilizing a workforce is not a one-size-fits-all proposition, and derive their estimate of seven hours of additional weekly productivity as a composite that accounts for different profiles of workers. They identify one class of "curmudgeons," for instance, who prefer to work in an office, and whose productivity would likely only increase by four hours with a seamless connection.
At the other end of the spectrum are the so-called "office wanderers," those employees who thoroughly embrace mobile collaboration. A seamless connection would increase their weekly productivity by 10 hours, the authors conclude.
Kenneth Corbin is a Washington, D.C.-based writer who covers government and regulatory issues for CIO.com. Follow Kenneth on Twitter @kecorb. Follow everything from CIO.com on Twitter @CIOonline, Facebook, Google + and LinkedIn.