Looking to deploy video cameras to help keep an eye on your small business? Despite the unavoidable technical terminology involved, the technology that drives network-enabled cameras is actually quite mature and, with some effort, can be readily understood.
With this in mind, let's look at some of the key specifications that businesses should pay attention to—as well as a trio of IP camera solutions designed for easy deployment and robust operation.
IP Camera Capabilities: Look at Resolution, Frame Rate, PTZ and More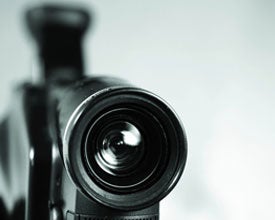 Image quality is one of the first considerations when deploying IP cameras for your small business. This is usually determined by their resolution, which ranges from 1280 x 720 (720p high definition) for a current top-tier camera to 720 x 576 (DVD quality) or 352 x 288 (video CD quality) for lower-range models.
Camera resolution is undoubtedly important, but it's hardly the last word in image quality. Other important specifications include light sensitivity, supported video compression formats and frame rate. The first helps capture clear images in low-light situations, while the last two impact the bandwidth and storage capacity that you'll need. Many IP cameras are enabled for Wi-Fi and support uploading video footage directly to the cloud. (You may not want to do this, though, as discussed below.)
Advanced cameras may be able to operate in complete darkness, record audio or offer pan, tilt and zoom (PTZ) remote control capabilities. Others also incorporate wide-angle lenses.
Connectivity: Power Over Ethernet Secure, Delivers Power to Boot
Deploying IP cameras is rarely a quick process, due to the need to properly wire your property. This is true even for wireless models, as you need to install electrical cables to power the cameras.
Due to possible interference from neighboring Wi-Fi networks, wireless cameras aren't generally recommended for business deployments. Moreover, misconfigured Wi-Fi configurations or security vulnerabilities in some wireless cameras may inadvertently allow hackers access into a crucial part of your business.
Related: Widely Used Wireless IP Cameras Open to Internet Hijacking
More: Hackers Hijacking Security Cameras for Malware and Spying
In contrast, a wired Ethernet network offers significantly better security and isn't susceptible to passphrase guessing brute-force attacks. That's why I highly recommend the use of IP cameras with Power over Ethernet (PoE). Though the need to lay Ethernet wires makes this more costly than a wireless deployment, it does offer improved security and reliability. Such a setup also allows power to be delivered using industry-standard PoE equipment in place of hard-to-replace AC adapters.
Know Your Options for Recording, Storing, Reviewing Footage
While some cameras store video footage locally (within their chassis), for management and security reasons it's generally a better idea to archive video at a central location within the monitored premises. For obvious reasons, this location should be secured against unauthorized access.
For an on-site deployment, you'll need to consider the amount of storage required. For cloud-based storage, you'll need to know the average bitrate consumed by each IP camera—and whether you have sufficient Internet bandwidth to support that. In either case, give yourself some time for hands-on user training on accessing and extracting recorded footage.
As noted, storage and bandwidth requirements depend on various factors—video resolution, frame rate, compression algorithm used, video quality and the number of IP cameras deployed. While it's not always easy to determine the amount of storage space required for a specific deployment, ACTi's online storage calculator can generate estimates for planning purposes.
Managing Storage: Lower Frame Rate, Consider Motion Detection
As mentioned, storage space is a fairly important consideration for organizations deploying IP cameras. Fortunately, there are a number of strategies for reducing video storage and bandwidth requirements.
In locations where the period of exposure is large, such as a long hallway, lowering the frame rate can be particularly effective. Reducing the quality of video images can work, too—but this comes with the attendant risk that resulting video resolution may not be high enough to make out important details.
Finally, you can set the IP camera to record only when motion is detected. To reduce false alarms, some cameras offer the ability to monitor only a specific part of the screen for motion.
IP Camera Option No. 1: Logitech Alert Security System
Having outlined the specifications you should keep in mind as you consider an IP camera setup for your small business, it's time now to look at a trio of popular products.
The Logitech Alert Security System lets homes and small businesses assemble a complete system with real-time monitoring from a local PC, the Logitech Alert Web portal or from a mobile app. Video is saved on a microSD memory card that's installed at each network camera, though you can keep the Logitech Alert Commander app running to automatically back up camera video onto your computer.
Setup is straightforward. Purchase a "Master" system and up to five add-on cameras, plug in the IP cameras and use the Logitech Alert Commander app to detect and configure them. All cameras offer a 130-degree, wide-angle lens and 960 x 720 resolution; they can be hooked directly to a standard PoE network switch if desired.
Review: Logitech Alert Cameras Let You Set Up Security System in an Hour
For its elegance, the Logitech Alert Security system isn't cheap: An Indoor Master system costs $299.99, while an indoor Add-On camera is priced at $229.99 (with night vision) and $199.99 (without). Annual subscriptions to the Logitech Alert Web and Mobile Commander service are $79.99; these let you watch recorded clips and change camera settings directly from a smartphone.
IP Camera Option No. 2: Dropcam
Dropcam is a wholly cloud-based solution that streams all captured video over the Internet. The only hardware to be purchased is the Dropcam HD camera, which captures video at 720p (1280 x 720) and streams it using Wi-Fi to Dropcam's servers.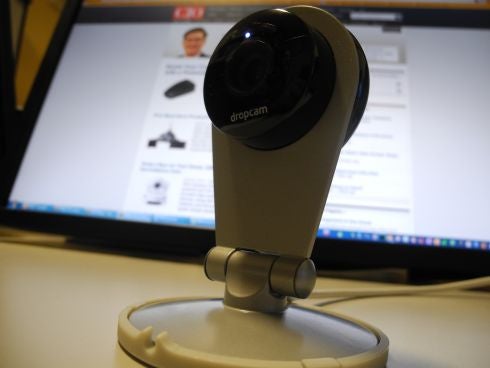 Setting up the Dropcam entails connecting it to an existing Wi-Fi network and registering it with a valid Dropcam account. Live video is subsequently accessed from a Web browser or from Dropcam's free iOS or Android app.
Review: Dropcam HD: Monitor Your Home, Business Over the Internet
The Dropcam camera, which is powered from a USB adapter, offers features such as two-way audio support, night-vision capabilities and the ability to configure motion and sound alerts in the form of email or device notifications. The Dropcam HD costs $149. Subscription plans are $9.95 per month if you want to keep recorded footage for seven days and $29.95 per month to store footage for 30 days.
IP Camera Option No. 3: Ubiquiti airCam
The airVision IP camera system from Ubiquiti is touted as a complete, enterprise-class IP-based video surveillance system. The heart of this on-premises system is the airVision network video recorder (NVR) appliance, which serves as a central console to configure and manage the airCam IP cameras and archives all video footage captured by the cameras on its built-in hard disk drive.
Ubiquiti recommends the use of an airVision NVR unit for at least 20 Ubiquiti airCam cameras (the unit supports up to 50 cameras). Should its 500GB HDD storage prove inadequate, additional capacity can be added via external storage drives that connect to its USB ports.
The airVision NVR is a sophisticated solution that delivers on its promise of a plug-and-play NVR. Newly installed airCam cameras appear automatically on the NVR's Web interface, which simplifies the process of adding new cameras. The interface also makes it easy to navigate between multiple airCam cameras, bring up the current live feed, modify the parameters for individual cameras or download recorded video snippets onto a local computer.
In addition, the ability to upload a custom floor plan will help administrators visualize the positions of deployed cameras, while the pervasive control means that even the firmware of individual cameras can be pushed out from the airVision NVR controller.
The airVision NVR costs $330, while its three models of wired IP cameras range from $89 to $109.
Also Consider: Keep an Eye on Your Home, Office with D-Link Remote Surveillance Cam
There are many IP camera options on the market. The three highlighted systems, along with the pointers outlined, will help you narrow your options for an IP camera solution that best meet the individual needs of your small business.
Paul Mah is a freelance writer and blogger who lives in Singapore. Paul has worked a number of years in various capacities within the IT industry. Paul also enjoys tinkering with tech gadgets, smartphones and networking devices. You can reach Paul at paul@mah.sg and follow him on Twitter at @paulmah.
Follow everything from CIO.com on Twitter @CIOonline, Facebook, Google + and LinkedIn.