Many students who attend online schools have other priorities outside of the classroom, such as full-time jobs or families. At Kaplan University, a for-profit online university, 65 percent of the 45,000 students are adults over the age of 30 who are going back to school to get a first-time or additional degree
[ Related: 5 Key Benefits Gamification Brings to Your Business ]
David DeHaven, dean of Kaplan's school of information systems and technology, says at the average age of 35-years-old, many of the students at Kaplan need a boost of confidence in order to get back into learning mode. "When you have adult learners, they may have questions about their ability to succeed and get a degree," he says.
A Class Trip to Badgeville
Last fall, in hopes of drumming up enthusiasm and boosting students' participation, DeHaven piloted Badgeville's gamification platform in an entry-level programming class in the School of Information Technology. "We picked a hard class that had a high unsuccessful rating," he says.
People love to master skills and accomplish objectives, says Rob Lytle, head of the education practice at advisory firm, The Parthenon Group. Lytle compares gamification to video games. "If you look at any video game, you're constantly leveling up." This advancement to new levels gives the player a sense of accomplishment and success, he says.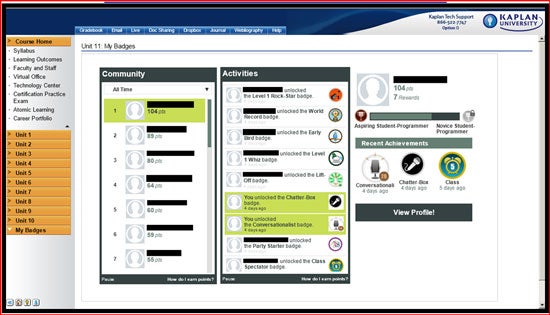 For each assignment in the class, Kaplan students were presented with two versions: an easier one or a harder one. If they chose to complete the more difficult one, they would be rewarded with a "rockstar programming" badge. As a result, 85 percent of the students chose the harder version of the assignment, completed it and earned a badge. Students could also earn badges for posting on the discussion board and spending time in class and in seminars.
[ Related: How to Use Gamification to Engage Employees ]
DeHaven said no training was needed for the gamification technology. "Students did it themselves because they liked the recognition and ability to compete and learn," he says.
[ Related: How Gamification Reshapes Corporate Training ]
Students could not only earn badges but they could also give them to their peers, and the faculty could award them to anyone who did exceptional work. Each week the leaderboard was updated with the leading badge earner. Over the course of the six-week class, students earned 9 percent higher grades, posted online 32 percent more often and spent 26 percent more time in class.
DeHaven says being on the leaderboard creates a huge sense of accomplishment for the students, which eliminates the need for any real-life prizes. "We didn't give anything outside of social recognition," he says. "The ultimate prize is your diploma."
Lytle says with a for-profit university like Kaplan, the investment is worth it even if the results were minute. "Anything that improves students' outcomes is a good idea. If it works, it becomes embedded into how people do things over time."
Watching Gamification Grow
The results were enough for DeHaven to expand the pilot from the initial class of 30 students to a total of 700 students, including the school of business. DeHaven is currently in Phase 2 of the project where he plans to integrate social networks so students can get LinkedIn endorsements and share their badges on Facebook.
"As they move towards the competencies of their degrees, we will test them for those competencies and expose the badge on Facebook or LinkedIn," DeHaven says. "We can discreetly test for those skills and prepare them for their careers."
Down the line, DeHaven hopes to turn the tables and use gamification with the Kaplan faculty. He's interested in seeing how they could measure the faculty's performance and how they engage with their classes. However, DeHaven jokes, "I'm not sure how the PhD's will respond to it."
Lauren Brousell is a staff writer for CIO magazine. Follow her on Twitter @LBrousell. Follow everything from CIO.com on Twitter @CIOonline, Facebook, Google + and LinkedIn.