A steady stream of Windows 8 devices have shipped since the beginning of the year, including a number of tablets designed to take advantage of the touch-centric interface in Microsoft's latest operating system.
With further usability improvements due to arrive with Windows 8.1 in the next few months, CIO.com decided to take a close look at the Lenovo ThinkPad Tablet 2 to evaluate how well this Windows tablet works for business users.
ThinkPad Tablet 2 Specifications
The ThinkPad Tablet 2 comes with a bright, vibrant 10.1-inch (1366×768) IPS display that remains viewable even at extreme angles. There's a Z2760 Intel Atom processor under the hood; this dual-core chip is clocked at 1.8GHz with hyper-threading. An integrated graphics processor, 2GB of system memory, and long-term storage in the form of 64GB of embedded MultiMediaCard (eMMC) memory all support this processor, while an integrated microSD slot makes it simple to increase storage capacity.
The Tablet 2 offers standard capabilities such as 802.11a/b/g/n Wi-Fi, Bluetooth 4.0, built-in stereo speakers and front (2MP) and rear (8MP) cameras. Notably, the Tablet 2 comes with a USB 2.0 port along the left side of the tablet, and micro-HDMI port along its bottom. On the right are volume and orientation lock buttons, as well as a headphone/microphone combo jack.
Related: Lenovo Kicks Off Windows 8 Device Parade With ThinkPad Tablet 2
The Lenovo tablet comes with a Wacom digitizer that works with the supplied stylus. The combination offers pressure-sensitive pen input with automatic palm rejection when writing. An integrated slot on the top left of the tablet offers easy stowing.
Overall, the Tablet 2 looks every part a premium tablet, part of it due to sporting the same anti-slip coating you see on high-end ThinkPad laptops such as the Lenovo X1 Carbon. The Tablet 2 is a slim 0.34 inches (9.8mm) thick and weighs 1.3 pounds (0.59 kg)—a good size for business users who need to quickly access files while waiting in a queue or sitting in an airport departure lounge.
ThinkPad Tablet 2 Usability: Easy to Write, Easy to Charge, Easy to See
To evaluate the ThinkPad Tablet 2's suitability for business use, we installed productivity Microsoft Office 2013, the Google Chrome browser and SugarSync cloud sync software.
Everything installed uneventfully and launched fine, and we encountered no problems working with basic Word documents, spreadsheets and Web browsing. While everything loaded slower than it might on a laptop, most applications launched within seconds of clicking on their icons. Microsoft Outlook worked great, too, even after synchronizing it with a mailbox containing more than 1GB of email messages.
More: 25 Practical Windows 8 Tablet Apps for Business Users
Also: A Visual Tour of Windows 8
Overall, it was amazing to see such a tiny device deliver a full desktop experience without an excessive amount of lag. The tablet did warm up mildly after heavy usage, though not uncomfortably so.
Despite a glossy display, the brightness of the ThinkPad Tablet 2's backlight and its visibility from extreme angles allowed it to be used in relatively bright environments. Indeed, the screen was vibrant enough to make up for a resolution just 1366×768.
Writing with the stylus was an exceptional experience, as the palm rejection capabilities and 1,024 levels of pressure sensitivity make it possible to write naturally on the Tablet 2. Don't lose the stylus, though— the digitizer display in the Tablet 2 won't work with just any stylus, and it'll cost you $24.99 for a new one.
The micro-USB charging port on the left of the ThinkPad Tablet 2 is particularly useful, as it frees traveling executives from packing yet another proprietary charger on long road trips. We managed to get the Tablet 2 to charge using an Innergie PocketCell Duo portable battery though, as noted, different USB batteries will bring different results.
Accessories Prime ThinkPad Tablet 2 for Business Use…
As with its ThinkPad laptop series, Lenovo has clearly positioned the ThinkPad Tablet 2 for business users. Optional accessories—ranging from a business-centric docking station ($99.99) to a portable Bluetooth keyboard with integrated stand ($119.99) to a VGA monitor adapter for organizations that have yet to make the shift to HDMI—make this readily apparent. The Tablet 2 also travels well, in either a slim case or a snug case ($39.99) that's designed to transport the tablet and the optional Bluetooth Keyboard accessory together.
IDC: Tablet Market Exploding, But Windows 8 All But Shut Out
Forrester: Windows 8 Won't Hit Critical Mass in Enterprises
The docking station deserve special mention, as it's a stable base that adds Fast Ethernet wired connectivity, three USB ports, microphone and speaker jacks, and a HDMI out port.
While it's somewhat strange that Lenovo didn't offer the more common VGA or DVI for video output, the HDMI port nevertheless makes it possible to wire up an external monitor of up to 1920×1080 resolution when back at the desk. The Tablet 2 slides easily into the dock, which also recharges it.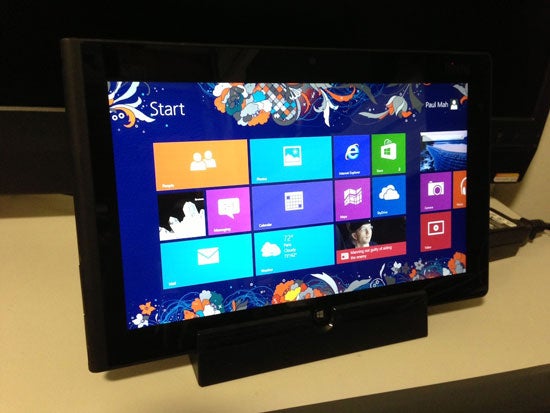 Meanwhile, the rugged Bluetooth Keyboard and Stand comes with an integrated optical trackball at the center of the keyboard where you usually find the classic TrackPoint pointer. Three buttons along the edge of the keyboard, under the spacebar key, offers laptop-level usability. (Do note that the Bluetooth Keyboard and Stand is not a full-sized keyboard, though keys deliver a tactile experience worthy of its ThinkPad moniker.)
By using the energy-efficient Atom chip, Lenovo says the Tablet 2 offers up to 10 hours of battery life when video streaming. While actual mileage will vary depending on what you do, there's no reason you shouldn't get at least eight to 10 hours of use with less processor-intensive tasks.
…But Also Leave Much Room for Improvement
Despite its strengths, there is definitely room for improvement with the Tablet 2. Surprisingly, the majority of these revolve around relatively minor but important shortcomings with the official accessories. We highlight them as some of they are what metamorphoses the Tablet 2 from an ordinary stylus-equipped tablet into a veritable corporate workstation.
For one, the Tablet 2 must be removed from the official Slim Case before it can be inserted into the Docking Station. The magnetic on-off toggle built into the Slim Case was nice, but slipping it into a bag sometimes misaligns it and switches the Tablet 2 on. This wastes the battery.
In addition, you use the Bluetooth Keyboard and Stand by first lifting a flap along the top edge to hold the Tablet 2 in place. Despite the use of integrated magnets to hold the tablet in place, the tablet falls easily when you're typing on an unstable surface such as your lap. As such, the Tablet 2 is really only suitable for use with the keyboard when at a desk.
Related: 11 New Windows 8 Input Devices Tested
Also, Lenovo should have used a simple on-off toggle instead of the ambiguous slider on the keyboard. This can wake the Tablet 2 from sleep mode when keys are inadvertently pressed.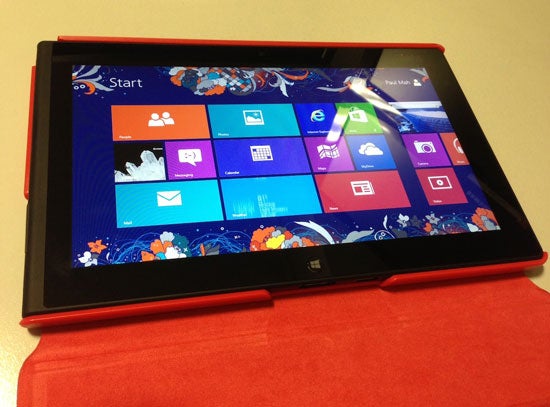 Finally, though the USB port protector on the Tablet 2 is a nice touch, you can forget about keeping a small USB flash drive or a micro-sized USB transceiver for a wireless mouse plugged in—the port protector sticks out like a sore thumb when a USB device is plugged in.
Slim ThinkPad Tablet 2 Good For Power Users—But Look at Ultrabooks, Too
It's clear that Lenovo put a significant amount of effort into making the Tablet 2 a must-have business tablet. There are things to like about the Windows 8 tablet over competitors such as the Microsoft Surface Pro, including its slim form factor, integrated stylus holder and business-centric accessories.
Related: Lenovo Executive Welcomes Microsoft Tablet Competition
On the other hand, the ThinkPad Tablet 2's Atom processor limits its capability to run intensive tasks or apps. More importantly, properly accessorizing the tablet with a dock ($99.99), case ($39.99) and portable keyboard ($119.99) to make it "desktop ready" adds substantially to its cost and makes you wonder if it's more economical to get a Windows 8 ultrabook instead.
Nevertheless, if you need a slim tablet with the capability to run the full-fledged version of productivity software such as Microsoft Office youll want to seriously consider the ThinkPad Tablet 2. After all, it has one of the best batteries for a Windows tablet and can be recharged from a portable USB battery pack.
The ThinkPad Tablet 2 can be purchased for $579 with Windows 8 or $649 with Windows 8 Pro. (This is $50 less than the ThinkPad Tablet 2 launch price announced in October 2012.) Versions that comes with 4G LTE mobile broadband are also available.
Paul Mah is a freelance writer and blogger who lives in Singapore. Paul has worked a number of years in various capacities within the IT industry. Paul also enjoys tinkering with tech gadgets, smartphones and networking devices. You can reach Paul at paul@mah.sg and follow him on Twitter at @paulmah.
Follow everything from CIO.com on Twitter @CIOonline, Facebook, Google + and LinkedIn.