There's no question that the IT outsourcing industry is undergoing some fundamental changes. IT leaders are looking for more innovation from their partners. Business users are bypassing IT to procure their own technology services and products. And outsourcing providers are struggling to understand the shifting dynamics of their deals and relationships.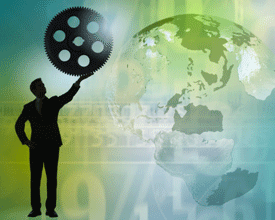 Yet, amid all this transformation, many buyers continue to employ an outdated approach to IT outsourcing governance, according to a Forrester report earlier this year on the state of the IT services market.
"The combination of business-led innovation, new vendors and delivery models, and the shakeout in the provider ranks means that senior IT management has to fundamentally change how it approaches supplier governance," the authors of the Forrester report wrote. "The endless focus on a cost-based procurement model has left companies with rock bottom prices, but poor delivery and execution track records."
As changes in decision-making, delivery models, and supplier positioning take hold, CIOs will need to take their vendor management game to a new level, says Forrester vice president and principal analyst John C. McCarthy, who co-authored the report. IT leaders need to remodel their vendor management groups from a centralized procurement-centric organization to a more decentralized supplier management group focused on business outcomes, according to McCarthy.
CIO.com talked to McCarthy about what CIOs can learn from the outsourcing mistakes of Boeing and Mattel, which IT organizations are vendor management rock stars, and why IT leaders who want innovation from their providers "need to stop looking out the window and start looking in the mirror".
CIO.com: You say that CIOs need to move from outsourcing procurement to true vendor management. What's the difference?
McCarthy: Procurement is one aspect of the outsourcing transaction, but it's a subset of a much longer three-phase lifecycle–first, understanding demand, then doing the deal and, finally, the ongoing management of suppliers.
But, as Boeing learned the hard way, it's not enough to just subcontract the building of a next generation jet. If you're giving suppliers more responsibility, you've got to put in place the proper governance.
Vendor management organizations are dealing with a much more diverse IT supplier environment today. As we found in our recent study of the IT service market, the business is taking more direct responsibility for buying IT services and managing suppliers. So the vendor management groups, used to working with IT, now need to work with the business.
CIO.com: Why aren't IT or vendor management groups paying as much attention to vendor management as they ought to?
McCarthy: In the middle part of this decade, they were expanding their capabilities to be full vendor management organizations. But with the great recession of '08 and '09, they went back to their procurement-centric focus and looking for the lowest price. But just because you got a good deal doesn't mean your vendor is now a member of the Psychic Friends network capable of reading your mind and understanding what you need.
You have to manage your suppliers. And there are some very clear examples of what happens when you don't. Boeing failed miserably, delegating much of the responsibility for the design around the 787. Mattel had to recall a million toys made by a contract manufacturer in China because they were covered in lead paint. Conversely, Apple has done very well, not just based on their strength on the innovation side of the house but on the supplier governance side of the house.
CIO.com: Boeing's Dreamliner disaster, Mattel's lead paint debacle — those are very dramatic and real ramifications of lax supplier management outside of IT. But what's the worst that can happen due to poor IT outsourcing vendor management?
McCarthy: In this day and age, IT and the business are so intertwined that supplier governance has a huge effect. One day, your mobile app doesn't work with the new operating system. Or, like NatWest Bank, your systems are crashing for weeks on end.
CIO.com: Is the lack of investment in vendor management solely attributable to recessionary cost-cutting?
McCarthy: Procurement is an easy thing to fall back on. It's easy to prove your benefit if you cut costs by 20 percent with your last contract. But how do you put a number on that project that didn't go off the tracks.
CIO.com: Does good vendor management start much earlier in the outsourcing cycle?
McCarthy: Yes, companies that are good at this do a good job of understanding demand. They do a good job of contracting; they don't just throw a contract over the wall to vendor management. It's all intertwined.
CIO.com: What companies are good at IT outsourcing vendor management?
McCarthy: Firms like Nike, Cisco, Capital One, Bank of New York Mellon. They all have very mature vendor management practices.
CIO.com: Why is decentralized supplier management critical for IT organizations today?
McCarthy: The business is spending an increasing amount of its own money on technology. IT is not the sole source of technology decisions. IT is going to have to evolve to a consultant and orchestrator rather than a heads-down doer.
CIO.com: Are most IT organizations capable of making that shift?
McCarthy: I'd say 85 percent of them still have the blue-collar, let's-do-it-all-ourselves mindset. Far fewer see themselves as white-collar designers or consultants.
There are still too many IT organizations whose favorite movie is "Dr. No." But more organizations are starting to figure out that if they deny the business, the business will get what they need on their own. When we talked to people who made IT decisions without the involvement of IT, it wasn't because they didn't like IT. IT was because what they needed to do was too important and IT didn't have the time or money to invest in it.
CIO.com: IT leaders say they want more innovation from their IT service providers, but it doesn't seem that they're making the necessary changes internally to get it. Forrester's survey of more than 1,000 IT outsourcing decision makers found that 59 percent were adding more specific technical SLAs while just 38 percent were adding more business-outcome-level metrics.
McCarthy: Clients need to stop looking out the window and start looking in the mirror. They want innovation, but they lack the internal vendor management focus and processes to get there.
The good news is that for the first time in the 8 years that we've done this survey, cost was not the number one criteria [in IT outsourcing decisions]. As we enter this unprecedented period of innovation, things are going to have to change. IT leaders will have to look at costs not just at the rate level, but also at the lifecycle level. If you get a good rate, but have to do something over three or four times to get it right, it's not such a good rate anymore.
CIO.com: What are some of the best practices of those IT organizations that get vendor management right?
McCarthy: They separate innovation from ongoing operations in the contract and in the management. You'll see a very different set of attendees from the client and the vendor on their innovation councils than those involved in system implementation or operations.
They embrace concepts like our 10 steps of systematic multi-sourcing.
They understand what they're trying to accomplish from a business point of view versus an IT point of view.
CIO.com: When IT made all the IT outsourcing decisions, presumably its experience determining demand and contracting with vendors helped make up for what may be lacking in the vendor management department. But if business users with much less experience are making these big technology decisions — and no one's managing the vendors well — the potential ramifications would seem to multiply.
McCarthy: One of the biggest problems that's going to confront this industry is that while the rate of innovation is clearly going up, the investment in governance needed to make those innovations successful is not happening. That's going to come back to the end user and the IT organization and bite them both in the butt.
Those on the business side will tell you that their technology acumen has gone up, and that's true to some extent. But more often than not they're relying on a vendor like Salesforce to manage their infrastructure for them.
I'm not going to go the "chicken little" route. But the business is still in its technological adolescence. And as anyone who's even had a teenage kid knows, they damn well need to be supervised in adolescence.
Stephanie Overby is regular contributor to CIO.com's IT Outsourcing section. Follow everything from CIO.com on Twitter @CIOonline, Facebook, Google + and LinkedIn.