Things didn't go exactly as planned when we gave three retail businesses a customer feedback system to test for a customer service software buyers' guide . The goal was to see how the features worked in a real-life setting. However, we discovered that testing customer service software in a real-life setting involves more than simply installing and using. It requires a certain amount of planning, and there were several key issues we realized we should have addressed before beginning to test.
From our experience came three important lessons, here's a look at what those lessons were and what they taught us about how CIOs and other technology buyers should go about evaluating customer feedback systems.
Lesson No. 1: Consider What New Processes or Cultural Shift Is Needed
One of the biggest problems encountered with our experiment was simply not receiving enough data to properly evaluate the service. The issue wasn't so much a failure in technology as it was in implementation.
Customer feedback software comes in many forms, from surveys to community forums. This particular service collected data through text messages. The participating retailers–a bicycle chain, one homemade ice cream shop, and two Dallas-based burger joints–hung signs and placed table tents in their stores that invited customers to send feedback to a phone number.
When customers texted that number, their message would automatically be sent to an online dashboard where managers could respond, analyze sentiment, and track customer feedback over time. From April 6-May 6, our participants received only five messages.
After the experiment, several employees and managers for each of the stores were interviewed. A few reported customers asking about the signs, but it was clear they did not have a process in place for using the service.
"It sounds like there was no investment by people on the floor. If the culture isn't built in such a way that these people know they are the first line of defense for customer feedback, that wasn't going to change just by having the service available," says Robi Ganguly, co-founder and CEO for Apptentive, a feedback tool for iPhone application developers.
"They have to be trained to know that the company values customer feedback and it's their responsibility to proactively ask for it."
[Related: 4 CRM Lessons Learned From 'The Great Social Customer Service Race']
Creating the appropriate procedures and culture for leveraging customer feedback isn't exclusive to the in-store experience. Buyers should also think about specifically where online they would place customer feedback forms, surveys or other requests for action as well as how these might be worded. Feedback and online help desk software maker UserVoice said, for example, one of their best-performing prompts asks, "How can we make this more awesome?"
Creating context is the most important factor to consider when placing customer feedback requests. This will also dictate which system is a best fit for your company. Where would the form be most relevant to the customer's current experience?
"The customer needs to feel like there's benefit to them in providing the feedback," says Guy Letts, founder of CustomerSure, a customer feedback management and customer satisfaction software.
Your team might, for example, want to program the software to email customers or clients a week after the sale closes. This might ask if they are satisfied with the product or service so far, or if there's anything they can do to improve the experience.
Another common context is right after delivering customer service. Here's a screenshot from an email I received 23 hours after Vocus resolved an issue I was having with a Help a Reporter Out request: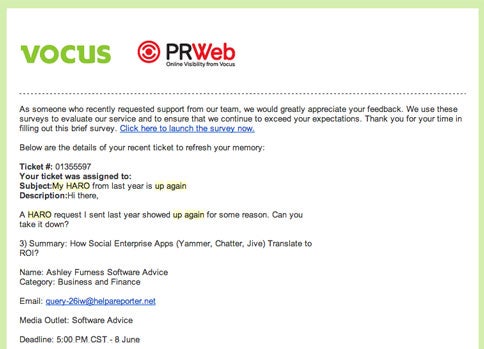 I responded to this email immediately, but only because the experience was still fresh on my mind and I saw a potential benefit to me. I actually did have a slightly negative response to the service and I wanted to tell them about it so it would be better next time. Unfortunately, the bad taste in my mouth was further soured because they never wrote back.
One of the strongest benefits of customer feedback is the ability to impact customer retention, loyalty and positive word of mouth. For this reason, it's just as crucial you have procedures for responding to feedback, not just for getting it.
"It's so important you act immediately, and let customers know you plan on doing something instantly. You've already raised the expectation that you care by asking for their feedback. By not responding, you risk them feeling like they've been ignored and that you've also wasted their time," Letts says.
Lesson No. 2: Set Specific Goals That Align with Your Customer Experience
Another issue we ran into with the experiment was not receiving feedback that was actionable for the goals we wanted to achieve. Ideally, we hoped our business participants would experience the following:
Staff would improve their behavior because customer feedback was more transparent.
Managers could use the feedback to create incentives–the store with the best, or most positive feedback would be rewarded.
The feedback would provide insights that could be used to make changes that would improve the customer experience.
The first two goals would have been possible had we received enough data, but for the final point it was clear this was not specific enough. Take these two messages from the test:
While messages like these could be useful for measuring overall customer satisfaction, it would be more useful for our third goal if these messages mentioned something more specific. "I wish you had more flavors," for example. Or, "The seating felt really crowded, and the ambiance was dark and cold feeling."
These are specific points of feedback the business owners could have used to change what they are doing. But you would also need to know if these suggestions actually improve the customer experience. Do most customers really care if the restaurant feels dark? Maybe some people like that, they might say it feels more upscale or romantic.
So your goals for using customer feedback data, and the questions you ask to get that information, should be determined by which factors most impact the (right) customer's decision to buy from you.
"Too often the person who yells a lot gets the most attention. … It's not bad. It opens doors, phones, emails in order for customers to communicate, but you often cater to that squeaky wheel. How do you know that is the right customer for you?" says Larry Freed, president and CEO of ForeSee, a customer experience analytics company.
His technology helps companies determine the causal relationships and key drivers that led customers to buy from you. Once those are determined, they ask for feedback around those specific drivers in the right context, and to the right customers.
So let's say, for example, that our bicycle store discovered that product selection was a key driver in the customer's decision to buy. The company might ask for feedback about these factors specifically: "What brands would you like to see in the store that we don't already have?" or "What bike brands do you love?" The answers to these questions might prompt the company to bring in new brands, or make others they do have more prominent or featured on the showroom floor.
"The end result of what we are trying to accomplish is find out what will change the customer's view of the experience. What is driving their satisfaction with their experience and what is driving the changes in their behavior," Freed says.
Lesson No. 3: Think Beyond Just Measuring Customer Satisfaction
Going into this experiment, there was an assumption that feedback technology was used most often to measure customer satisfaction (according to the software makers we interviewed, we were not alone). This limited the kind of products we researched and the ways we considered evaluating those products. But what do you actually gain from learning whether satisfaction is improving or declining if you don't know what you can do about it?
So far, we've suggested using feedback in two different ways that directly impact customer satisfaction:
• One: Using feedback as an opportunity to respond to customers. This increases loyalty and retention by showing the customer you listen and care. Also, it gives you the opportunity to fix a problem, or correct a negative experience in real time.
• Two: You can invest in changes you know will directly impact the customer's buying decision because you asked for feedback about those specific facets of the customer experience.
Consider these three lessons as you evaluate customer feedback software and avoid the outcome we experienced–not actually getting value from the technology.
Ashley Verrill is a CRM Analyst for Software Advice and Managing Editor for the Customer Service Investigator. She has spent the last six years reporting and writing business news and strategy features. Her work has appeared in myriad publications including Inc., Upstart Business Journal, the Austin Business Journal and the North Bay Business Journal. Before joining Software Advice in 2012, she worked in sales management and advertising. Currently, her research focuses on various topics related to CRM software, sales, customer service and marketing strategy.