Are you in crisis mode with Windows 8? Join the club.
According to Net Applications, Windows 8 market share is less than 4.3 percent. This is a slow gain from a few months ago, but it's still nowhere near the uptick in sales that Windows 7 enjoyed over a similar period.
It gets worse. Just recently, PC management company Soluto released a report with two starting findings: 44 percent of Windows 8 users don't bother to open a Metro app more than once per month, and 60 percent of desktop and laptop users running Windows 8 don't ever use any Metro apps at all. (Metro is the touch-enabled tile interface that's the biggest change in the new operating system.)
Related: IDC Tablet Report Casts Shadow Over Windows 8 Tablet Hopes
Enterprises aren't exactly clamoring for Windows 8—and once they do deploy the upgrade, there are problems with migration, usability, security and hardware. Fortunately, for each Windows 8 problem, there is a remedy.
Windows 8 Problem No. 1: Usability Considerations
Solution: Invest in training programs.
The first challenge after deploying Windows 8 is lack of training before a rollout that surprises end users with a new UI. Fortunately, this can be circumvented, says David Chew, solutions architect at Unisys.
When a user first starts his laptop or desktop, he's greeted by the Metro UI. Tiles splash across the screen showing touch apps like a new photo program and a new touch browser. IT shops should expect users to wonder where their most common apps are now located, Chew says, including Microsoft Word and Excel.
"Windows 8 and the Office Suite are so functionally rich that an organization does a disservice to itself and its end users if it skimps on investing in showing workers how to get the most out of the new environment for workplace productivity," he says.
Windows 8 Problem No. 2: Controlling, Managing Apps
Solution:Use secure app stores and APPX app packaging.
Windows 8 crosses the divide between consumers and the enterprise. After all, the OS looks remarkably similar no matter which version you use. Kevin Watkins, CTO and cofounder of Appthority, a company that provides app risk management services, says the dilemma facing IT admins is that legit work apps sit alongside social games.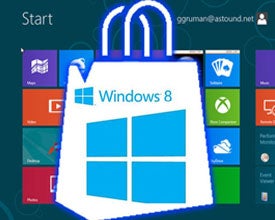 "Developers now have to rely on ad networks to monetize, which means there's more temptation to obtain data from their users so they can sell it," Watkins says. "Windows 8 is bringing bring-your-own-device app risk to the laptop and desktop world. CIOs must look at Windows 8 software the same way they look at iOS and Android apps," he says.
Related: The BYOD Mobile Security Threat Is Real
Chew agrees, suggesting that businesses must deal with the reality of cross-pollinated apps. Some are designed for touch, some are designed for desktop and some are designed for both. There has to be a business process in place to deal with the differences.
"Microsoft development tools provide the capability to create new mobile APPX applications," he says. Those apps, he adds, run across all touch-enabled Windows 8 Pro and RT devices and from Windows 8 phones to laptops.
"Engaging an expert partner to assist in an app modernization initiative for Windows 8 can be a good investment," Chew says, because it tends to have "necessary processes and resources in place." Unisys, for example, has an app factory where it recodes applications and develops new mobile apps for clients who use Windows 8.
Windows 8 Problem No. 3: Migration to Touch-Enabled Devices
Solution: Develop a strategy and analyze the costs.
We've entered the wild, unpredictable world of touch computing. Many new laptops are now touch-enabled, and Windows 8 works well with Windows Phone 8 smartphones and tablets that use a similar UI.
That's mostly a good thing—yet as Constantin Delivanis, co-founder and CEO of data-as-a-service company BDNA says, migrating from earlier versions of Windows to Windows 7 was not as profound. Companies should develop a touch-computing strategy as part of migration plans, and examine the total cost of doing so.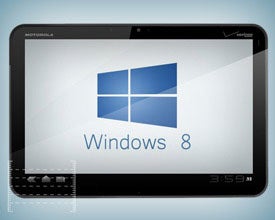 When enterprises migrated to Windows 7, Delivanis says, it was primarily for technological reasons such as the rapidly approaching Windows XP end date or the future role of desktop environments in the organization. "However, migrating to Windows 8 is more of a business strategy, as implications of a Windows 8 migration will impact the entire platform from desktops to mobile devices."
Analysis: Windows 8 Pro Features You Need to Know About
Delivanis says executives should also look closely at migration costs associated with touch computing, as Windows 8 touch apps are still untested in the market. The economic decision comes down to doing a Windows rollout now in prep for the April 2014 end date for Windows XP or moving to Windows 7 and postponing your touch computing strategy.
Windows 8 Problem No. 4: Lax Security in a BYOD World
Solution: Develop new work-personal policies.
Windows 8 provides an opportunity to develop new BYOD security policies. It's a problem plaguing IT shops at every turn, but Windows 8 encourages even more personal use. There are more social media connections with apps, including the ability to post to Twitter and Facebook. The Metro UI encourages users to create and post photos and other content.
Policies for how employees use Windows 8 for personal user and work productivity can help. "You can be as restrictive or progressive as your situation and levels of acceptable risk warrant," Chew says.
How-to: 7 Tips for Establishing a Successful BYOD Policy
An expansive policy lets workers use corporate devices during "leisure time" is better than blocking access outside normal working hours, he suggests. "[Employees] will take the opportunity to deal with incoming work-related items in real time, increasing the productivity for which you're migrating to Windows 8 in the first place."
Expect a cultural shift with Windows 8. There's a brand new look and feel, as well as new touch-enabled apps, yet at the same time the core operating is faster and more reliable. A smart strategy is to expect a crisis related to new modes of computing, then train effectively and make wise decisions about how the rollout progresses and when.
John Brandon is a former IT manager at a Fortune 100 company who now writes about technology. He has written more than 2,500 articles in the past 10 years. You can follow him on Twitter @jmbrandonbb. Follow everything from CIO.com on Twitter @CIOonline, Facebook, Google + and LinkedIn.