When it comes to leveraging big data, most companies focus their efforts on four business functions: sales, marketing, customer service and research and development. But companies that look beyond the obvious may find even greater return on investment in areas like logistics or finance, says Satya Ramaswamy, global head of Mobility and Next Gen Solutions at Tata Consultancy Services (TCS).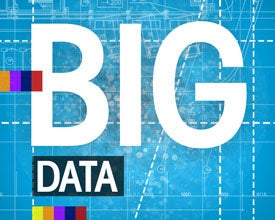 TCS surveyed 1,217 large enterprises in nine countries and four regions (U.S., Europe, Asia-Pacific and Latin America) in December 2012 and January 2013 about their big data initiatives.
Fifty-three percent of the companies surveyed had undertaken big data initiatives in 2012 and 43 percent predicted an ROI of more than 25 percent. About a quarter or the respondents projected a negative return or didn't know what their return was.
[Slideshow: 10 Big Data Deployments That Will Change Our Lives]
The 643 respondents that had undertaken big data initiatives represented a broad range of investment. Seven percent had invested at least $500 million and 15 percent spent at least $100 million on big data initiatives. Nearly a quarter (24 percent) spent less than $2.5 million. The industries that spent the most included telecommunications, travel-related, high tech and banking. The industries that spent the least included life sciences, retail, and energy/resources.
[Slideshow: 8 Real-World Big Data Deployments ]
Perhaps unsurprisingly, 55 percent of all big data spending goes to four business functions that generate and maintain revenue: sales (15.2 percent), marketing (15 percent), customer service (13.3 percent) and R&D/new product development (11.3 percent). Ramaswamy notes that three non-revenue-generating functions get less of the big data spending pie: IT (11.1 percent), finance (7.7 percent) and HR (5 percent).
But while sales and marketing get the lion's share of the bi data budget (30.2 percent), the highest expected ROI came from the logistics and finance functions. Those functions together only constitute 14.4 percent of the big data budget, but logistics managers said they expected their big data initiatives to generate a 78 percent return, while finance managers expected a return of 69 percent. In comparison, marketing executives expected an ROI of 41 percent on their big data initiatives.
[Related: Universities Closing Big Data Talent Gap But Need Real Data]
"This data suggests that activities which companies believe have the greatest potential to benefit from big data go far beyond marketing and sales," Ramaswamy says. "In fact, of the 25 highest-rated activities, there are an equal number in logistics and sales (six). In addition, marketing and customer service had four each. In other words, opportunities to capitalize on big data exist in numerous corners of a large, global company.
Using Big Data in Marketing
TCS found that marketers identified two areas that benefitted the most from big data initiatives: determining campaign effectiveness and channel effectiveness. Marketers also identified tailoring marketing campaigns and promotions offers and determining customer value as areas representing high potential benefit.
"Tailoring marketing campaigns can begin with figuring out which prospects should be targeted in the first place," TCS writes in its report, The Emerging Big Returns on Big Data.
"An auto insurance company that we spoke with found that over 80 percent of the over 100,000 households it sent direct mails to had the wrong demographics and would never buy insurance from the firm. In fact, only 1 percent bought policies as a result of these campaigns. After using analytics to determine the right demographics, the company conducted a more targeted direct mail campaign and increased its response rate tenfold. That boosted revenue and cut marketing costs," the reports says.
TCS also found that marketers feel their biggest challenge in implementing big data is technological. Marketing is typically the least automated function in many companies, and so they struggle to handle the volume, variety and velocity of the data they have.
Using Big Data in Sales
For sales executives, big data's greatest potential is in identifying the most valuable customers for the organization. Finding opportunities to cross-sell products and services came was second on their list.
TCS pointed to Dell as a textbook case of companies using big data to better identify their best prospective customers. Dell began working with a provider of cloud-based analytics for software in 2007 in an effort to help the Dell sales force pinpoint its best prospects. By identifying the types of customer behavior most likely to lead to the purchase of different products, Dell's sales productivity, efficiency and revenue in Europe nearly doubled. TCS attributes at least part of this success with the halving of the number of leads that marketers forwarded to the sales organization.
The sales function also has its challenges with big data. Sales executives say their biggest challenge is data silos, according to TCS. They find it difficult to get business units to share information with the sales function that could prove valuable in identifying trends and making decisions.
Using Big Data for Customer Service
Customer service executives told TCS that they saw the greatest benefit from big data in identifying customers that were at risk of discontinuing use of the company's offerings. Analyzing the way customers use the company's web site also received high marks from customer service executives.
However, it should be noted that even the lowest-rated activity on the list—monitoring products as customers use them to detect manufacturing or design problems—was considered to have more than moderate potential.
TCS pointed to Xerox as an example of the latter. The company gathers terabytes of data from the 1.2 million devices it has at customer sites and uses predictive algorithms to determine which ones may stop operating.
Like sales executives, customers service executives see data silos as their biggest challenge.
Using Big Data for Manufacturing/Operations
For manufacturing and production managers, detecting product defects and boosting quality, along with improving supply planning, represent the greatest potential benefits of big data.
"A $2 billion industrial manufacturer told us that analyzing sales trends to keep its manufacturing efficient was the main focus of its big data investments," TCS writes. "The company's products are largely engineered to order. Understanding the behavior of repeat customers is critical to delivering in a timely and profitable manner. Most of its profitability analysis is to make sure that the company has good contracts in place. The company says its adoption of analytics has facilitated its shift to lean manufacturing, and has helped it determine which products and processes should be scrapped."
TCS says manufacturing and production managers believe building strong levels of trust between data scientists and themselves is their greatest challenge.
"Perhaps the quants have a harder time relating to managers on the factory floor than they do with other, more 'white-collar' functions," TCS says.
Using Big Data for R&D
R&D, product development and product engineering managers point to monitoring product quality as the biggest potential benefit from big data.
"That indicates they may be more interested in using big data to protect established products than in inventing new ones," TCS writes. "However, identifying customer needs for new products and enhancements to current products featured next on the list."
Netflix is an example of a company that has used its data to do the latter.
"The company collects enormous volumes and varieties of data: 30 million 'plays' daily (what customers are watching); million consumer ratings of its content per day; billions of hours of streamed video, device and device location data, social media data and other digital information, according to one technology publication's summary of a Netflix data scientist's conference presentation in June 2012," TCS writes. "Such data told Netflix there was a large market for a remake of the 1990 British Broadcasting Corporation miniseries called 'House of Cards.'"
Since its release, Netflix's 'House of Cards' remake has become the most streamed Web content in the U.S. and 40 other nations, according to TCS.
TCS says R&D managers rate finding data scientists as their biggest challenge, followed by getting managers in other functions to share data.
Using Big Data in Logistics/Distribution
Logistics managers rated monitoring product shipments as the most valuable benefit of big data, though it also rated highly the capability to determine locations of inventory shrinkage and the ability to identify spikes in costs.
TCS points to Deere & Co., the global manufacturer of agricultural and construction equipment, which is experimenting with technology to help it assess its inventory of parts and other components in real time.
Logistics managers see securing the data as their greatest big data challenge, especially keeping it secure from internal parties. They consider figuring out how to use their data to make decisions as their second biggest challenge.
Using Big Data for Accounting/Finance
Finance and accounting managers see a great deal of big data value in two areas, according to TCS: measuring risk and improving budgeting and forecasting. TCS says they are less interested in using big data to reduce internal or external theft.
Finance managers identified determining what data to use for different business decisions as their primary challenge in generating value from big data. They also point to getting other functions to share information.
Using Big Data for Human Resources
HR managers are most interested in using big data for employee retention. They want to figure out which employees are most likely to leave so they can discourage them from doing so. They also want to use big data to understand the effectiveness of recruiting campaigns and to gauge employee morale.
HR managers said their biggest big data challenge is understanding where to focus investments. They also struggle with finding data scientists.
Thor Olavsrud covers IT Security, Big Data, Open Source, Microsoft Tools and Servers for CIO.com. Follow Thor on Twitter @ThorOlavsrud. Follow everything from CIO.com on Twitter @CIOonline, Facebook, Google + and LinkedIn. Email Thor at tolavsrud@cio.com