Companies jumping on the bumpy "Bring Your Own Device" bandwagon might be the real losers. That is, corporate dollars are falling out of their pockets. A new report from Nucleus Research takes a close look at BYOD costs and finds that companies are financing the trend with little in return.
"The hard ROI of BYOD is a straightforward accounting exercise that is being confused by the feel-good claims around productivity and vendor proclamations that lack a financial foundation," writes Hyoun Park, principal analyst at Nucleus and author of the report.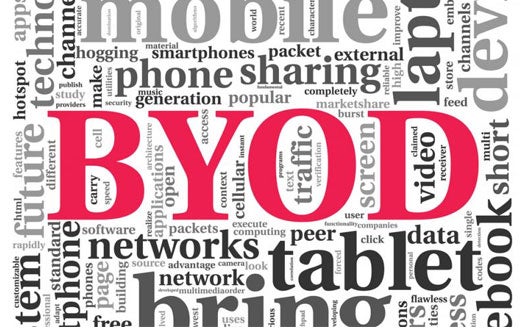 BYOD, of course, was supposed to save companies money. Let's start with its popular premise: Companies no longer have to buy corporate smartphones and tablets. But this is flawed logic, because the cost of devices themselves make up less than 10 percent of a company's annual mobility spend, says Park.
Consider that an enterprise mobile phone costs $200 per device and has an average lifespan of 18 months, at which point an employee asks for an upgrade. This works out to around $11 per month. Tack on additional 20 to 30 percent savings for volume discounts and free backup devices. This means that companies offloading the device cost to employees are saving only $8 per month under BYOD.
Here's the kicker: BYOD increases the other 90 percent of the mobility spend, which includes voice and data, help desk, developers and mobile management software.
BYOD's Big Spend
A typical business user will spend $80 to $90 per month for a personal smartphone voice and data plan, which the company usually reimburses. The careful reader will notice that this is ten times the cost of the device itself. In comparison, a corporate-owned smartphone costs around $60 to $65 per month, thanks to bulk discounts, pooled data for voice and data and texting, and special rates for international reporting, according to Nucleus.
The BYOD premium doesn't stop there, either. There is a hidden cost to process expense reporting and reimbursement, which works out to around $20. (For more on this, check out BYOD: If You Think You're Saving Money, Think Again.)
"In general, any reimbursement above $40 per month means that the company is deliberately giving up money to support BYOD," says Park, adding, "Companies providing a standard $75 reimbursement (or more) through an expense report process are giving up hundreds of dollars per employee every year to support BYOD."
Unintended Consequences
In its BYOD report, Nucleus cites a startling legal case that took place some six months ago: Massachusetts Eye and Ear Infirmary and Massachusetts Eye and Ear Associates settled with the U.S. Department of Health and Human Services for $1.5 million. What happened? Violations of the HIPAA (Health Insurance Portability and Accountability Act) regulation due to the loss of a personal laptop with identifiable health information.
In another example, some companies embroiled in a class action lawsuit against AT&T Mobility stand to lose out on thousands of dollars because they can't participate in a $153 million settlement, says a source knowledgeable about the lawsuit. The reason is because they moved to BYOD.
Blog: Infographic: BYOD's Dirty Little Secret
There's also growing concern that BYOD will open the floodgates to employees suing their employers. Employees are questioning the intrusion of corporate eyes on their personal devices and wondering if companies are taking advantage of them through BYOD.
"I anticipate a bunch of little [lawsuits], then something big will happen that'll be a class action and become headline news," CEO John Marshall at AirWatch, an enterprise mobile device management (MDM) vendor with 6,500 customers, including Lowe's, United Airlines and Best Buy, told CIO.com.
What About Productivity Gains?
Nucleus admits BYOD productivity gains are a moving target—that is, they're hard to calculate. Of course, this hasn't stopped companies from trying to calculate the return on investment. Cisco says its BYOD saves the company $2 million per year.
Also, Intel claims to be saving 57 minutes a day for 23,500 BYOD employees. Since the chip giant makes about $500,000 per employee in a year, an hour savings a day per employee works out to around $700 million in added productivity.
"This is a difficult estimate to believe," says Park. "However, if true, a $700 million productivity increase is material to the business and should be considered by the investment community as a key differentiator."
A case for BYOD productivity can be made using a time-tracking model similar to Intel's. Let's say employees spend a day to set up their corporate-liable device, whereas no time at all (or at least not on company time) to set up a personal device.
Since employees in a profit center are expected to bring in around $250,000 per year, a day lost works out to be $1,000.
"This time lost is difficult to overcome based on the costs and benefits associated with BYOD versus a corporate-owned program," Park says.
Tom Kaneshige covers Apple, BYOD and Consumerization of IT for CIO.com. Follow Tom on Twitter @kaneshige. Follow everything from CIO.com on Twitter @CIOonline, Facebook, Google + and LinkedIn. Email Tom at tkaneshige@cio.com