All but one of the "Big Four" U.S. wireless carriers this week announced plans to release the much-anticipated, Android-powered Samsung Galaxy S4 smartphone before the end of April, along with a few additional smaller carriers. (Read GS4 pricing and release details for U.S. carriers here.)
The Galaxy S4 promises to be another impressive high-end smartphone from Samsung, and it's being released just 10 months after its hugely-popular predecessor, the Galaxy SIII. Like the Galaxy SIII, the brand new GS4 packs some valuable and truly unique features. Here's a break quick breakdown of the coolest and most unique Samsung Galaxy S4 features and functionality.
Samsung Galaxy S4 Camera Features
Galaxy S4 and Dual Shot
The Galaxy S4's unique new Dual Shot Camera feature lets users take advantage of both the device's 13MP rear-facing camera and 2MP front-facing shooter to simultaneously capture images and video. The front-facing camera is used to capture images and video, which can be displayed in a small window over the image or video taken by the rear camera. The idea is to show the person taking the image or video along with the video begin captured.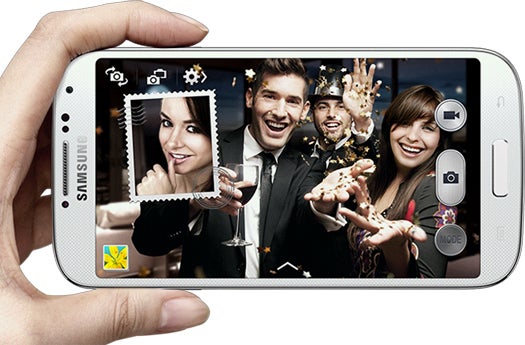 Dual Shot is a truly unique feature, something that's not currently available in other comparable handsets, and it could be valuable to many different kinds of users.
Galaxy S4 Sound & Shot
Another new and unique camera feature in the Galaxy S4 is Sound & Shot, which lets user tie audio clips to images or add commentary and ambient sound to pictures. Sound & Shot could be used to attach an audio clip of cheering fans and the crack of the bat to an image of a baseball player hitting a home run, for example, or to attach the sound of a child's laugh to an image of him/her feeding a dolphin at an aquarium.
Galaxy S4 and Drama Shot
Though not as unique as the first two Galaxy S4 camera features mentioned hereother similar features are available on other devices, including the Galaxy SIIIDrama Shot is still notable. Drama Shot combines a number of photos taken in sequence to show an action scene in a single frame.
Drama Shot could, for example, be used to capture a dog or other pet performing an amusing trick.
Samsung Galaxy S4 Sharing and Multimedia
Galaxy S4 and Group Play
Group Play, which lets Samsung device owners wirelessly share content and interact with each other, isn't new, but the Galaxy S4 has some updated Group Play features. Group Play participants with GS4s can now connect using Wi-Fi Direct technology. (Galaxy SIII users had to connect to the same Wi-Fi network to use Group Play.) And on top of document and file sharing, GS4 users can now employ Group Play to share music and games.
Galaxy S4 Story Album
The new Story Album feature in the Galaxy S4 includes tools to let users select and organize images in their photo albums and create custom albums that can be turned into actual, physical photo books. Story Album also has themes and layouts that can be used to customize albums. It costs between and $10 and $30 for 10-page albums, according to Samsung.
New Samsung Galaxy S4 Tools and Utilities
Galaxy S4 and S Translator
Plenty of translator apps are available for Android and other devices, but Samsung's new, native S Translator application may be the most full-feature and best looking of translation app I've ever seen. I haven't actually used the app for more than a minute or two, but it seems to be very well designed and functional.
S Translator currently supports nine different languages, according to Samsung, with support for additional languages in the works. Users can type or speak words or phrases in the application, and translated words or phrases can be displayed on screen or spoken back to users.
The application can also quickly and easily translate email and other messages users receive.
Galaxy S4 and S Health
Samsung's S Health service isn't brand new, but it's new to Galaxy smartphones in the United States. S Health is a health-tracking and monitoring service designed to let Samsung users get or stay healthy using a number of smartphone-based tools.
Not unlike the popular Fitbit service, S Health track steps, recommends health activities and exercise, lets you monitor caloric intake and weight levels and much more. S Health measures users' custom environmental-comfort levels using temperature and humidity sensors built into the Galaxy S4. And online health boards and other charts help track progress toward health goals.
S Health also integrates with a number of additional related accessories from Samsung, including a wireless Body Scale and a wearable Heart Rate Monitor (HRM).
Samsung Galaxy S4's New Navigation Features
Galaxy S4 Smart Scroll and Smart Pause
Two of the coolest and most innovative new features in Samsung's Galaxy S4 smartphone are the Smart Scroll and Smart Pause navigation features.
Smart Scroll lets users scroll up and down screens and through pages by simply tilting their Galaxy S4 devices without ever touching the displays.
The Galaxy SIII smartphone packs a feature that can determine when a user is looking at the display so the screen doesn't power down while it's in use. But the GS4 takes the technology a bit further. Galaxy S4 Smart Pause technology determines when a user looks at on-screen video and then pauses when the user looks away. Smart Pause also restarts the video when users look at their displays again.
I haven't used Smart Scroll or Smart Pause for more than a few minutes during a demo at the device launch, but it worked well in my limited tests. You can turn off both features if you'd rather not use them.
Galaxy S4 Air View and Air Gesture
Two more new and unique Galaxy S4 features are Air View and Air Gesture. Samsung's Galaxy Note II device has some gesture-based Air View features, but users need to employ the Note II "S Pen" stylus. The Galaxy S4 Air View features let users swipe their hands across device displays to answer calls, skip audio tracks, navigate through browser pages and photo albums and more much, without the use of a stylus.
AS
Al Sacco covers Mobile and Wireless for CIO.com. Follow Al on Twitter @ASacco. Follow everything from CIO.com on Twitter @CIOonline, Facebook, Google + and LinkedIn.