Seeking to secure its place as a leader in the enterprise social networking and collaboration platform market, VMware today released a new version of Socialcast that focuses on adding project management, messaging and community management features to the platform.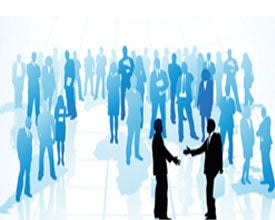 "There is an evolution happening within the social enterprise and social technology space," says Igor Spivak, senior product manager for Socialcast at VMware. "Initially it was targeted toward communication, but now it's aimed at business processes and workflows."
"Let's be honest, the vast majority of our time at work is spent on projects—if we're not actually doing the work, then we are talking with team members, attending meetings or reporting on progress." Joan Bodensteiner
Senior director of marketing for Socialcast at VMware.
Socialcast goal is to alter the way organizations manage and access information. In a traditional organization, Spivak says, information is routinely trapped in silos. This often leads employees to gather or recreate information that already exists within another business unit, for instance.
The idea behind Socialcast is to break down these silos by consolidating all activities associated with daily workflow into a single location accessible from any device. In other words, rather than turning to a slew of different tools—email, instant messaging clients, spreadsheets, intranets, project management tools and so on—employees can use a single integrated platform.
"Socialcast supports technical collaboration in two important ways," says John Woodworth, Tech Forum Chair-Elect and head of IT Lab Collaboration at 3M Company, which facilitates workflows for 2,000 technical employees with its Socialcast community, dubbed Spark.
"First, it helps us share and discuss content available on our 'knowledge at rest' resources—3M's wikis and massive stores of information. Second, it facilitates 'knowledge in motion'—those dynamic bits of data and information you find in the activity streams in Spark. By capturing and sharing knowledge in motion, Spark helps 3M technical employees find a more direct path to information and expertise that can help solve problems in real time," says John Woodworth.
"We were driven to connect the organization with itself, and realized enterprise social networking was the solution," says Dennis Agusi, global internal communications officer at Royal Philips Electronics. "I can truly say after more than two years that we have achieved an official internal communications channel."
"More than 44,000 Philips employees engage through Socialcast to work together, exchange ideas and knowledge, and respond to questions asked by colleagues," he adds.
Project Management Meets Social Networking
Socialcast 6, the latest version of the platform, adds new capabilities, including integrated project management, secure real-time messaging and enhanced community management.
The project management features come through an addition aptly named Socialcast Projects.
"Let's be honest, the vast majority of our time at work is spent on projects—if we're not actually doing the work, then we are talking with team members, attending meetings or reporting on progress," says Joan Bodensteiner, senior director of marketing for Socialcast at VMware.
"Two years ago, we launched a beta product called Strides that was our initial exploration into social project management. We took all the feedback users gave us, and put that into creating Socialcast Projects," Bodensteiner says.
"We believe we have created an easy-to-use and highly efficient tool that emphasizes communication over process to help teams work more efficiently, Bodensteiner says. Now team members can track deliverables, action items, and timelines within the Socialcast community, without the need to resort to spreadsheets, emails or status meetings."
On the secure real-time messaging front, VMware added Socialcast Messenger, a free mobile application companion to Socialcast Private Message. It allows you to have ad-hoc conversations with individuals or teams, as well as share files, photos and location information. At the same time, it keeps work-related communications within IT's domain, allowing the IT organization to secure the channel against security breaches and compliance violations, according to VMware.
Finally, VMware has added an improved command and control interface for community administrators that allows the configuration and customization of communities to fit the unique requirements of an organization's culture. It centralizes management of security and employee access as well as integration with other business systems like auditing and reporting.
Socialcast is immediately available as an on-premise or software-as-a-service (SaaS) solution.
Thor Olavsrud covers IT Security, Big Data, Open Source, Microsoft Tools and Servers for CIO.com. Follow Thor on Twitter @ThorOlavsrud. Follow everything from CIO.com on Twitter @CIOonline, Facebook, Google + and LinkedIn. Email Thor at tolavsrud@cio.com