Education is a centerpiece of any good IT organization. As new technology trends emerge, staff members need to know how the IT landscape will change, how to respond in kind and what impact the technology will have on their day-to-day jobs. Even large companies such as Wal-Mart and Exxon frequently hold training days for their staff.
The big question: Where to hold the training? You might already have ample meeting space on site—but these facilities offer amenities such as massive screens, catered meals, comfortable meeting/training spaces and scenic vistas. Here are five sites worth considering for your next offsite training event. Each offers its own unique advantage.
This high-tech facility in Denver caters to those in the cable industry, but training rooms are available for any purpose. Unlike some resorts and hotels, training rooms are decked out with equipment. For example, if you use the boardroom, the center provides Dell Latitude laptops, projector with screen, microphones, webcams and even a full technical support team to help with setup. Fees run as high as $6,000 for 300 attendees in a large room or $300 for one room. The facility has a modern, open design to inspire better learning.
10 Tips: Security for Offsite Meetings
One key to a successful training day for IT folks: Making sure there's reliable and fast Internet access. The scenic Aspen Meadows Resort in Aspen, Colo. recently upgraded to 100Mbps Ethernet and added a 20-inch 3-D projector and screen with 7.1 digital surround sound to the main meeting space. The largest room has 4,235 square feet of space. There's also an executive room with comfy chairs, built-in bookcases and massive windows that look out at the mountains and a river.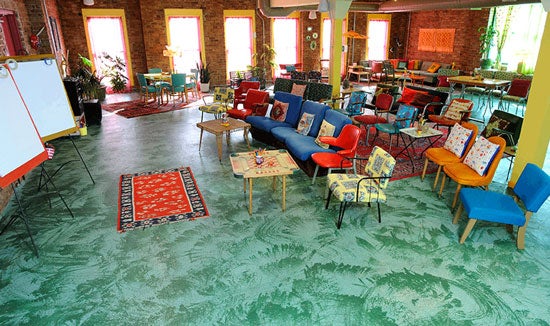 This 15,000-square-foot facility caters to "innovation days" and groupthink meetings. The colorful decor, writing easels, open floor plans and bright lighting promote group interactions and a fun atmosphere. There are six rooms—pricing varies by group size—including one that fits about 110. Unlike hotels and some resort centers, the center supplies computers, projectors, LCD screens, printers, Wi-Fi and many other training aids. Another bonus: When you book the facility, there are unlimited hot and cold beverages all day long, and there's no minimum charge for food catering.
How-to: Use a Moneyball Approach to Build a Better IT Team

Located in the Blue Ridge Mountains of Virginia, this resort center is an inspiring locale for technical folks who need to get out of the office. The meeting space accommodates up to 150, and there's a 2,178-square-foot ballroom, a theater and a 17-seat exec boardroom. Pricing runs about $600 to $1,000 to rent the larger rooms for a full day, down to about $150 for a half-day in a smaller room. One additional perk: The resort offers a PGA-ranked golf course, ATV trail riding, incredible views and a full spa if you plan to keep your staff overnight.
The oddball of the bunch, this trampoline park might not be the best locale for serious IT training days, but it's ideal for team-building exercises. You can rent the multi-trampoline facility—there are 34 of them across the United States and Canada, in cities such as Chicago, Minneapolis, New York and Toronto—at a group rate by the hour or for extended periods that vary by the locale. An instructor can lead groups in team-building exercises or fitness workouts. The best part: Your team gets out of the office for a low-impact event that everyone on your staff can enjoy.
Feature: IT Training Gets an Extreme Makeover
John Brandon is a former IT manager at a Fortune 100 company who now writes about technology. He has written more than 2,500 articles in the past 10 years. You can follow him on Twitter @jmbrandonbb. Follow everything from CIO.com on Twitter @CIOonline, Facebook, Google + and LinkedIn.