How the Elite Eight of IT Will Lead You to Victory
With March Madness around the corner, we pick the Elite Eight bracket of IT elements that will help you lead your IT organization to victory. We also narrow the list down the Final Four and pick an IT champion.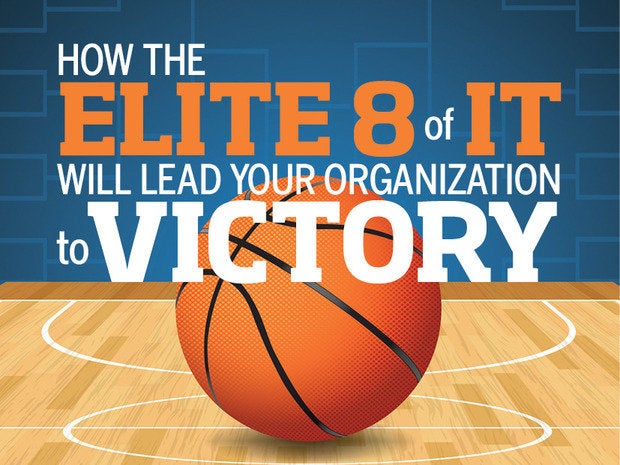 The Elite Eight IT Bracket
IT isn't a winner-takes-all sport, but it does rely on teamwork, coordination and knowing when to deploy the full-court press or push for the fast break. The start of March Madness is still a week away, but when it comes to essential IT elements to run a successful IT organization, we're ready to declare our Elite Eight IT bracket. These eight elements will help bring your IT organization success and acclaim.
Ticketing System
Every IT department needs a ticketing system to manage and maintain lists of issues. These systems aren't just about triaging problems, they're about collecting data fundamental to the health of your organization.
"Any idiot can build a ticketing system, but a really good ticketing system has automation so it can automatically escalate things and make sure that nothing falls through the cracks," says Adam Stewart, vice president of Engineering at IT management specialist Autotask. "It also allows you to measure your SLA performance. I should be able to report on that and analyze that across a broad set of variables. I should be able to see which of my technicians are meeting their SLAs, which customers I'm meeting my SLAs for and which devices are cause me to miss my SLAs."
Additionally, Stewart says, your ticketing system should be fully integrated with your remote-monitoring tool so alerts can automatically create tickets, allowing you to focus on solving problems rather than administration.
Project Management
Ticketing is a reactive thing. When you want to be proactive about getting things done, you need a project management system. But you don't want it to stand alone.
"Generally, your customers want to know when it's going to be done and what it's going to cost," Stewart says. "A standalone project management system gives you information in a vacuum. Ideally, a good project management system is going to be integrated with your ticketing system."
Time Tracking
To manage your organization's resources efficiently, you need visibility into how your staff are using their time.
"Whether you're doing internal IT or you're an IT service provider, you need to manage your costs and people are always your greatest cost," Stewart says. "You want to see how they're spending their time, especially on non-billable tasks. It needs to be really easy to use, otherwise they're not going to track their time. And it needs to be integrated with your ticketing system and project management system so you can generate analytics on your staff."
Integration With Cloud Apps
It's a rare IT organization these days that doesn't have to integrate cloud apps with its environment. Doing it right means asking the right questions and securing the right vendors.
"You need a simple set of questions to vet any cloud vendor to separate cloud pros from cloud poseurs," Stewart says. "What percent of uptime do you guarantee? What are your multiyear stats on uptime? What's your security track record? Just like integrating any other products for different third parties, you have the potential for finger pointing. The more you can go through a single vendor, the better you are, even if it's a third-party integrator."
You want someone that's knowledgeable and authorized to do the integration. And you want to make sure that you can get to the data you need through whatever published APIs they offer.
"You want to make sure that before you sign the contract, you look at those APIs and do a proof of concept that those APIs will give you the access you need," Stewart says.
Analytics
The point of gathering data is to perform analytics to inform your decisions and confirm the effect of those decisions. For that reason, analytics advance to the Final Four.
"You need a really good ad hoc reporting tool because you want to use metrics to track how your projects are progressing," Stewart says. "How do I maximize my revenues and business growth? Which of my clients are most profitable? You want to measure all of the things that really impact your business's bottom line. You want to make sure you can measure with data so you're not just going on gut."
Endpoint Integration and Remote Monitoring
You need a highly scalable, cloud-based remote monitoring tool to monitor the health of your end points and monitor them and this IT standout also moves on to the next round.
"It needs to be highly scalable with a really efficient, small footprint agent," Stewart says. "It needs to be cloud-based so you can get information from anywhere. From an alert you should be able to access a device remotely and fix it. You want this thing to work really well so it doesn't give you a whole lot of false positives and you want it to be highly configurable so that you can configure a continuum of alerts from warnings to real critical alerts."
Security
Security is fundamental to a digital enterprise. From policies to access controls, security must be a priority and earned a spot in the Final Four
"You want to have security policies, employee compliance policies, that are simple and clearly written," Stewart says. "You need a really good antivirus tool that works as close to the perimeter as possible -- both the Internet connection and everyone's device. Besides antivirus, you need a really good antispam system that keeps spam outside your perimeter. You want to have a good intrusion detection system in place and you want to have policies with your ISP where you're protection yourself against those intrusions. You want really well-thought-out access control lists so you're not giving access to anything that someone really doesn't need to do their job. And you need to keep a good audit trail."
Management / Leadership
Finally, you need good leadership to bring all the elements together. This person is the champion of IT.
"You need the right leader who has a deep understanding of both technology and people because they can either make or break the IT department," Stewart says. "A product is a reflection of the team that built it, so your network is a reflection of your network engineers, and that team is a reflection of its leader."
"You want a leader who can get people enthusiastic about getting woken up in the middle of the night to fix a problem that could affect the business," he adds. "You need a leader that can motivate people to let them know they're part of something bigger. It's not just solving a problem, it's helping your business survive and thrive."
Copyright © 2015 IDG Communications, Inc.
Next Up: Check out these related slideshows