7 principles of data-driven transformation
Becoming a data-driven enterprise requires a plan and the right people, technology and culture. These seven principles of data-driven transformation will help you successfully make the journey.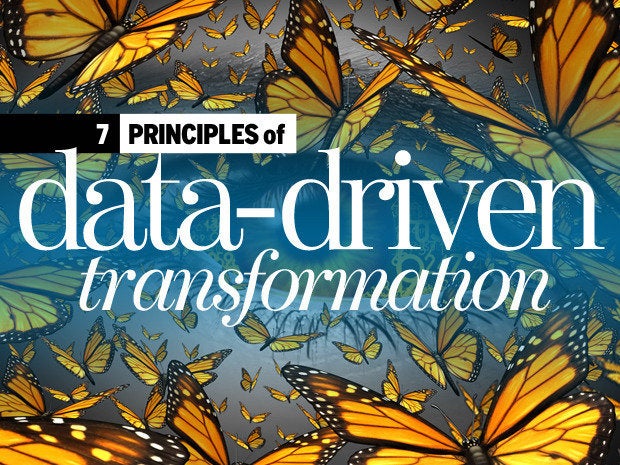 How to do data-driven transformation successfully
Harnessing information so that your organization can become data-driven is no simple task. You need to be able to rapidly assimilate, integrate and analyze your data — existing internal data and the growing stream of big data from new internal and external sources — and turn it into insights that you can act upon at the point of action.
Jeff Hunter, vice president of the NA Insights & Data practice at Capgemini, says a Capgemini survey of 1,000 C-level executives and senior decision makers reveals seven principles CIOs should follow to help their organizations successfully transform into data-driven enterprises.
Principle 1: Embark on an insights journey within your business and technology context
Data-driven transformation must begin with your business objectives. Once you understand your objectives, you can design a roadmap for leveraging new data sources to help you achieve those objectives. Where you start in terms of both data maturity and technology will dictate the course of your journey.
"By proper alignment of business and technology, firms can start to systematically go through business process and business models and start to ascertain whether a process contains qualitative elements that could be replaced by quantitative elements," Hunter says.
Principle 2: Enable your data landscape for the flood from connected people and things
The Internet of Things is here and it has brought (and will continue to bring) unprecedented volumes of data with it.
"Companies over the last 20 years have been talking about enterprise data strategies because they have data marts and data silos sitting all around the company," Hunter says.
While organizations have worked hard to break down these silos, the coming flood of data will create them all over again unless your environment is prepared to cope with it.
"The amount of data that's being generated on a daily basis has far outstripped what we were used to in the last two decades," Hunter says. "You have to be prepared to manage the new velocity of data."
Hunter says that many new technologies equip organizations to capture and manage data. Your data landscape needs to incorporate a mix of these technologies to suit the specific data sets necessary for your business needs.
Principle 3: Create a data science and analytics culture
Technology is not enough to transform your organization into a data-driven powerhouse. Creating a culture that understands data and how to use it is just as important, if not more so.
"For us, that really means understanding data is no longer a by-product," Hunter says. "It's an asset. You need to go into the mindset that it is an asset. You need to understand that your data could potentially help you reengineer an existing business process or help you find a new revenue stream."
To get there, you need to embed data science throughout the enterprise and systematically make all decisions better informed.
Principle 4: Unleash data- and Insights-as-a-Service
You can expect demand for information and data-driven insights by business users to increase continually in virtually all organizations. That means business users must feel that they can rapidly access the information they need, any time, any place.
That's no mean feat. The trick is to start small with a single business goal that can benefit from analytics. Then iterate, allowing your team to gain experience and become a center of excellence that can "industrialize" the process of bringing data-driven insights to business problems.
"This process should be able to be replicated and continuously consumed," Hunter says. "You want to make an investment in technology, people and analytics that allow you to industrialize sideways business unit by business unit.
Hunter notes that a large portion of Capgemini's own investments in big data are reusable across clients.
Principle 5: Make insight-driven value a crucial business KPI
A key element to making your data initiatives succeed is to apply data science to your data science. No, that's not another crack at the Xzibit meme. With increasing amounts of revenue driven by data activities and insights, you need to be able to determine whether your data initiatives are moving the needle so you can measure success and failure.
"How do we measure success? We want to make sure we are focusing on insights as a crucial KPI," Hunter says.
Principle 6: Master the governance, security and privacy of your data assets
Basing decisions on insights gleaned from bad or unreliable data can be much worse than acting on intuition. Worse you can expose your business to all manner of bad things if you don't handle data securely and with utmost respect for privacy issues.
"The security and privacy of your data assets is essential," Hunter says. "We will always stand very strong on proper governance of data. Contractual, compliance and regulatory issues have to be adhered to regardless of how fast the data is generated."
Principle 7: Empower your people with insights at the point of action
Ultimately, data-driven insights are valuable only when the insights are provided to people in your organization who can act upon those insights in a timely fashion. The insight needs to make a difference at the "point of action."
For instance, if you're focused on shopping cart optimization, you need to provide recommendations to the customer before the transaction is completed.
"Those same types of things are being done elsewhere as well," Hunter says. "Can you provide insight to the point of action for a machine operator so that he or she is getting information that the drill bit is going to break within the next seven cycles?"
Copyright © 2015 IDG Communications, Inc.
Next Up: Check out these related slideshows