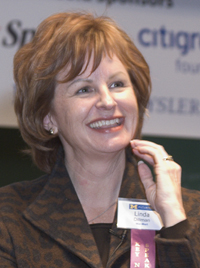 Wal-Mart announced an executive shuffle today. The company promoted its EVP and CIO Linda Dillman (pictured at left) to executive VP in charge of risk management and benefits administration. In this position, she's also going to lead the company's sustainability efforts. Perhaps Wal-Mart is grooming Dillman for broader management responsibility by moving her out of IT?
Assuming the CIO post at the world's largest retailer is Rollin Ford, who most recently served as Wal-Mart's EVP of logistics and supply chain.
Dillman and Ford report to Wal-Mart Vice Chairman John Menzer.