Setting up a few security cameras in your corporate office and connecting them to a Wi-Fi connection isn't exactly the best security surveillance plan. For starters, you can't expect a security pro to sit in front of a monitor all day and look for malicious behavior every second. Plus, no matter how small, cameras aren't exactly inconspicuous.
Instead, these five recent innovations in surveillance can help you stay one step ahead of the criminals — sometimes by spotting them and sometimes even by predicting their behavior and spotting anomalies.
[ Tips: Integrating Physical, Information Security Mitigates Risks ]
SpotterRF: All-weather Radio Frequency Surveillance
This high-end security system, used by some military installations — offers radio frequency detection to help spot intruders. SpotterRF Shield Stations work in heavy fog, rain and other weather conditions and can spot intrusions at night with no available lighting. The video camera system is all self-contained, so the kit is pre-assembled and pre-tested before install.
SafeZone: Lock Cameras Onto Intruders
Details are scarce on this new surveillance technology, which will be available sometime this year. Essentially, SafeZone technology can spot the presence of a weapon on an intruder. In a large area, a "sentinel" — a main processing computer local to the video system — is installed on one of every 10 security cameras. The software can detect the shape of a firearm. When detected, the technology can then trigger events such as calling law enforcement, locking doors and automatically tracking the intruders' location on video.
[ Tips: How to Deploy IP Cameras in Your Small Business ]
DVTel 4K: Very High Definition Video
Currently in beta testing, this new domed surveillance camera offers a clear advantage. For large companies wanting to see more detail in their security systems, the camera feed shows four times the number of pixels of even a 1080p high-definition video system. With that clarity, security teams can better identify threats to a locked-down data center or company headquarters. For example, using DVTel 4K, they can compare the face of a known criminal to an existing photo database.
360-IQ: Surveillance Feeds on Your Smarphone
Traditional corporate security systems use hard-wired cameras scattered around a building that tap into a computer terminal or security station. The 360-IQ system pipes the video feed to a smartphone for mobile surveillance. Used primarily by retailers, the mobile software can show multiple cameras on one mobile screen. Security teams can use finger gestures to pan and tilt in a 360-degree view around the building and check stolen merchandise logs.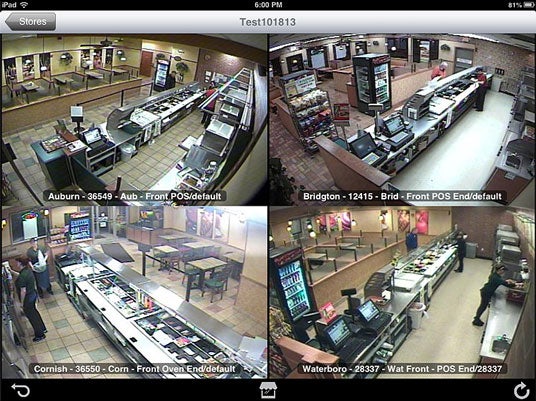 [ How-to: Turn Your Old iPhone into a Surveillance Camera ]
Video Surveillance as a Service
One last trend in video surveillance trend has nothing to do with the camera technology itself or mobile devices — although that all does come into play. Scott Greiper, the president of Secure Strategy Group, a security consulting company, says one of the most important innovations involves bundling video surveillance as a cloud service delivered as hardware and also maintained in the cloud to a corporate client. That makes surveillance easier to manage, the feeds easier to store, and the entire process more secure, he says.
John Brandon is a former IT manager at a Fortune 100 company who now writes about technology. He has written more than 2,500 articles in the past 10 years. You can follow him on Twitter @jmbrandonbb. Follow everything from CIO.com on Twitter @CIOonline, Facebook, Google + and LinkedIn.