Software developers are in high demand, as employers double down on the need for foundational technologies and core systems and ramp up for future technologies such as robotics, the Internet of Things (IoT) and wearable technology, according to recent research from Dice.com.
Java Still Tops the List
Dice examined searches of its candidate database and found 40 skills topped the list of desired software skills. The top ten highest-searched terms are shown in the graphic beloe: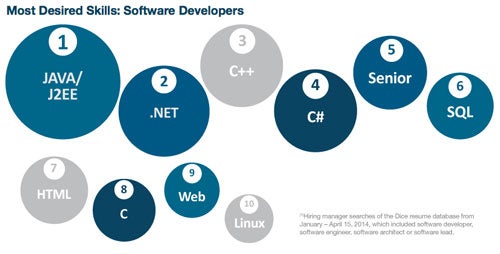 "Many of these searches revealed employers' need for longstanding, core technologies and a continued focus on providing basic services and maintaining existing infrastructure," says Dice.com's president Shravan Goli. "At the end of the day, these skills are essential to the success of any company, regardless of industry — whether they're in retail, IT, finance, education, healthcare."
Emerging Software Skills in Demand
But these statistics can be misleading, as they don't reflect the hottest emerging tech skills, says Goli, only the highest volume of searches. Recruiters and hiring managers are also looking for developers to address new challenges in IT, including embedded systems and IoT, robotics and wearable technologies, just to name a few, he says.
[Related: More Weird Things in the Internet of Things]
"These top 10 are measured by volume of searches only – based on the number of available positions within each company," Goli says. "Combined together, yes, skills like Java, .Net and C++ will make the top 10, but we also have to consider where technology is heading and determine what the hottest new skills are, even if talent is hard to find at this time," he says.
Goli says that according to Dice.com, the hottest and most in-demand skillsets are for candidates with Hadoop and/or big data experience; those familiar with mobile technology and the Android operating system, wearable technology, IoT and robotics, but since those technologies are much newer, talent is more difficult to find.
[Related: How to Use Agile Development to Avoid Project Failures]
"Some of these skills are going to take the market by storm, just like mobile and big data did," Goli says. "It's important not just to focus on core foundation technologies, but also emerging tech so that companies can either attract and retain this talent or identify and grow those skills internally before it gets too expensive," he says.
Sharon Florentine covers IT careers and data center topics for CIO.com. Follow Sharon on Twitter @MyShar0na. Email her at sflorentine@cio.com Follow everything from CIO.com on Twitter @CIOonline and on Facebook.