Speaking at a recent conference, Salesforce.com's Peter Coffee put up a provocative slide: The number of Google searches for the term "cloud computing." It proves, he says, that people no longer find cloud computing compelling.
You might be tempted to think that people aren't interested in cloud computing because they've got it all figured out and have moved on to new challenges.
The reduced lack of interest in cloud computing notwithstanding, I certainly don't think that cloud computing adoption is finished. Far from it. In fact, I'd say most IT organizations have barely started working with cloud computing, much less completed their journey.
Gartner's Lydia Leong echoed this perspective in a couple funny tweets, plaintively noting that, far from being finished with cloud implementations, many IT personnel don't even really understand cloud computing.
When It Comes to Cloud Computing, Most Companies Aren't Trying
As Leong notes, many IT organizations fail to understand the key characteristics of cloud computing and, as a result, fall far short of actually operating real cloud environments. While she didn't detail the issues she found in the discussions she's had with IT professionals, I'd bet they revolve around clients failing to grasp the importance of self-service, easy elasticity and resource usage-based billing.
Simply put, many traditional IT organizations view these characteristics as optional add-ons that some providers have put into operation — namely, Amazon Web Services — but not really critical as part of internal cloud implementations. Moreover, too many of them view automated infrastructure as something that will improve the internal workings of IT operations, not as something relevant to the company at large.
[ Commentary: The Legacy IT Conundrum: Money Pit or Value-Add? ]
[ How-to: Evaluate Moving Legacy Mission-Critical Apps to the Cloud ]
You can see the results of this attitude in the rather lackadaisical rollout of internal infrastructure automation. The 451 Group recently published the results of a survey regarding server automation and configuration (below). It found that more than 25 percent of all respondents had no implementation plan at all, while nearly one-third were six or more months away from providing server automation.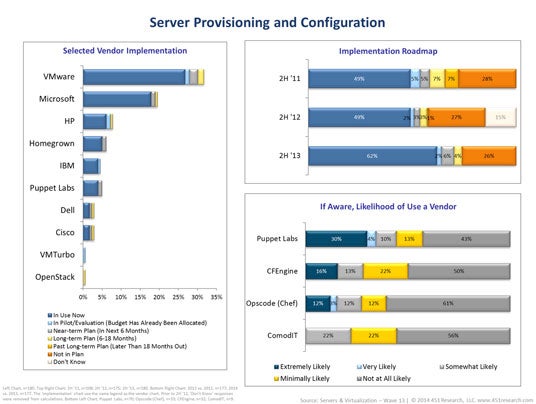 Another survey, presented at the recent OpenStack Summit, also makes for sober reading. In the section on scale of implementation (below), you can see that the vast majority of implementations have fewer than 50 nodes. This indicates prototype experimentation rather than production use.
Summed up, progress for internal IT groups implementing cloud computing is mixed at best — and could be interpreted as tech departments not really trying.
There's no excuse for this ignorance or lack of on-the-ground progress. Amazon Web Services launched close to a decade ago. NIST released the first draft of its cloud computing definition five years ago, clearly identifying what's needed to achieve real cloud functionality.
Users Want the Cloud Even if IT Doesn't
Given the lack of progress, you might think cloud computing's heyday has passed — or, maybe, that it never even occurred, that it represents just one of another in the long line of failed IT revolutions, consigned to the ash heap along with network computers and standalone PDAs.
That would be wrong. In Gartner's latest 2014 IaaS Magic Quadrant, Amazon retains its far-in-the-front position, so much so that Gartner says Amazon has actually increased its overall market share. (Leong, it's worth noting, leads the Gartner IaaS Magic Quadrant effort).
[ Commentary: In Public Cloud Computing Fight, the Gloves Have Come Off ]
[ More: 10 Cloud Computing Predictions for 2014 ]
Dissatisfied with the tardy pace of internal IT, developers and business units are turning to AWS and other public cloud service providers at an increasing rate. Far from indicating a lack of enthusiasm or fatigue regarding cloud computing, this adoption can be seen in the Google Trend for searches on the term "Amazon Web Services" (below). Search activity for this term is steadily growing, indicating a focused interest in realizing the benefits of cloud computing via its leading provider.
Despite the endless discussion by vendors and in the trade press about how corporations will soon end their dalliance with public cloud computing and return to internally hosted cloud environments, the reality is that IT users are rapidly adopting public cloud computing. Given the slow progress of internally implemented solutions, expect this trend to continue to explode.
Unless IT steps up the pace of implementation, the next five years will be a period of intense pain for IT organizations as they try to find a new role that keeps them relevant to users, who will continue embrace providers more responsive to their needs.
Named by Wired.com as one of the 10 most influential people in cloud computing, Bernard Golden serves as vice president of strategy for ActiveState Software, an independent provider of CloudFoundry. He is the author of four books on virtualization and cloud computing, his most recent book being Amazon Web Services for Dummies. Learn more about him at www.bernardgolden.com.
Follow everything from CIO.com on Twitter @CIOonline, Facebook, Google + and LinkedIn.