After about three years of pushing iPads on college campuses, Apple has gained a number of notable successes at universities across the nation, in particular in California, Texas and Florida. But this doesn't mean the iPad is a runaway hit among the entire college crowd. The iPad has had a difficult time, for instance, fitting in at Ball State University.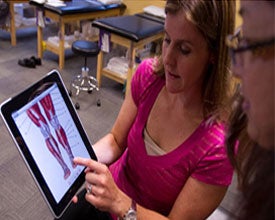 "Tablets are for entertainment purposes, not for writing papers and doing class projects — key components of higher education," says Michael Hanley, an advertising professor and director of Ball State's Institute for Mobile Media Research. "Tablets don't have the keyboard accessibility and power as compared to laptops and PCs."
Hanley has been conducting surveys on the use of mobile devices among students since 2004, and the most recent survey found that 29 percent own a tablet this year — nearly half are iPads — a slight decline since 2012. To be fair, the number of tablets should rise slightly with 8.2 percent of students saying they plan to buy one this year.
Nevertheless, the apparent stagnation of iPads at Ball State University is surprising.
Shortly after the iPad's debut in 2010, Apple made a big effort to get them in the hands of college students. The iPad was priced favorably and performed well against the cheap netbook, which, only a few years ago, had become the laptop of choice among cash-strapped college students.
Driven by productivity apps such as iWork and now Office for iPad, as well as a proliferation of college ebooks that can replace textbooks, the iPad gained popularity among college students who weren't brought up in the Windows desktop world.
Today, the netbook is nowhere to be found, a victim of the iPad's enormous success. And the iPad has gained a foothold at campuses where administrations have made a concerted effort to champion the popular tablet.
[Related: Millennials Rule the Valley: Enjoy It While It Lasts]
Then there are the exceptions, like Ball State University.
iPad's Not All Fun and Games
For years, the iPad has been trying to shake its reputation of being only an entertainment and content-consumption device. But for college courses requiring intensive computing, mouse-level efficiency, big-screen graphics and 100-plus GB of storage — such as engineering, marketing and design classes — the iPad's limitations are exposed. Instead, students (or their parents) are buying Macs and PC laptops for coursework.
"Tablets are fine for reading material and accessing digital files, but for any type of coursework requiring sophisticated design, image manipulation or production, tablets fall far short," Hanley says, adding, "Of the 140 students in my classes this year, none used a tablet in class for academic purposes."
That's not to say students don't want iPads. Hanley's survey found that many students plan on getting a tablet after graduation. After all, the iPad is great for watching movies, playing games and accessing social media.
Student debt aside, Hanley says, "After graduation and getting a job, you can afford to splurge on entertainment."
Tom Kaneshige covers Apple, BYOD and Consumerization of IT for CIO.com. Follow Tom on Twitter @kaneshige. Follow everything from CIO.com on Twitter @CIOonline, Facebook, Google + and LinkedIn. Email Tom at tkaneshige@cio.com