LOS ANGELES – You know things aren't going well when the moderator of a panel asks the audience if anyone understands a word of what was just said by one of his two interviewees. The delivery was deadpan, but it actually underlined the vexing challenges that are making social media all the more complex and confusing for advertisers.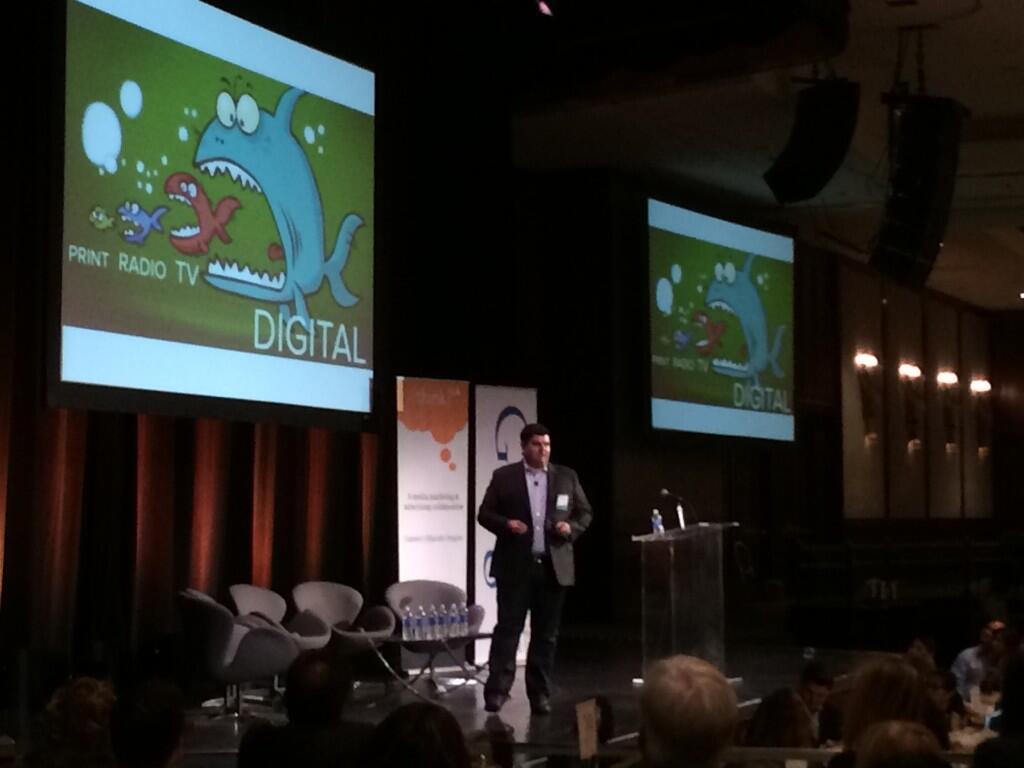 More importantly, the jab accentuated the mood that was taking hold in a banquet hall filled with hundreds of marketers at ThinkLA's Automotive Breakfast earlier this week. The at-times confusing back-and-forth between executives working on analytics at Twitter and Facebook followed a rather critical keynote by Greg Johns, senior vice president and client director of digital strategy at Initiative. There appeared to be little room for grandiosity or empty platitudes at this morning gathering.
[Related: Is There Any Digital Marketing Value in New Breed of Social Apps?]
"It comes down to what I think is the biggest challenge that we all face as an industry and that is complexity. Collectively over the past 15 years and more, we've done a really good job at making this very complex for all of us," Johns told the audience.
"Across all objectives, there should be a focus on scale. Doing small programs is good, but doing large programs that make a measurable difference for your business is what you should be focusing on."
— Jonathan Lewis, Facebook
Programmatic buying and selling of ads, which Johns describes as "this idea, this promise that we will be able to automate most of this complexity out," isn't working out as well as everyone had hoped. "As we are on this learning curve of it, it's actually gotten more complex than simple& It's turning a little bit into the wild, wild west again in terms of the things we're doing."
Cookies and Banner Ads Time-Consuming and Less Useful Data
Not only are cookies and banner ads becoming "less worthwhile to us," Johns says, "it's making the reporting that we spend so much time putting together really become less useful to us." The rush to know all data has manifested itself into what he calls the "80/20 problem" wherein marketers spend most of their time building and compiling data instead of gleaning useful insights from the data.
Although television is more fragmented than ever, the disparate infrastructure of online and social media is still no match for the reigning king of media. "We have to get that focus in place," says Johns. "We have to find our own filter."
[Related: Twitter Readies Design Changes As It Unveils New Ad Offerings]
Brands and marketers need to create "intricate campaigns that can blow away what you can do on 55-inch screens. Unfortunately I think these are the exception, not the rule in our industry. We just can't scale," he adds.
Simplicity Remains Elusive for Social Media Marketing
Despite all the work and investment that has gone into digital media, simplicity seems just as hard as ever to come by for marketers and brands. Indeed part of that is due to the growing number of tools and platforms by which ads reach consumers. But, at the same time, these ads are trying to track down users who increasingly spend more of their time on mobile apps from the likes of Facebook and Twitter.
"When you think about data you can offer up a lot of complexity," says Jonathan Lewis, manager of monetization analytics at Facebook. "We want to surface data but we want to do it for the right purpose … to simplify your life instead of adding complexity."
Lewis encourages marketers to focus less on likes and more on core metrics that lead to a lift in branding and ultimately sales. "Focusing on just social metrics as an outcome leads you potentially to undesirable outcomes," Lewis says.
"Measuring the digital environment is harder than you might think," Lewis says. A big reason why is because advertisers are rarely disciplined in how they approach a campaign, he adds.
The same rules generally apply for retweets on Twitter. Tim Perzyk, the company's regional head of U.S. research and sales analytics, says marketers are skipping ahead by assuming that a share of voice matters. Retweets, for example, primarily speak to advocacy, he says.
Focus on Scalable Business Objectives
Perzyk and Lewis both spoke about their respective company's responsibility to help every advertiser achieve business objectives that matter most to them. "We're trying to create tools that are as flexible as possible for the different approaches and strategies that you need," Lewis says.
"Across all those objectives, there should be a focus on scale," Lewis says, echoing earlier comments from Johns. "Doing small programs is good, but doing large programs that make a measurable difference for your business is what you should be focusing on."
These experimental or narrow campaign "pet projects" can be fun, but advertisers need to develop campaigns that are repeatable and built on consensus, says Johns. "Innovation still has its place, but it can't be just metastasizing everything we do."
The challenges associated with campaign measurement and other unnecessary complexities are effectively a "forcing function" that motivates Facebook to continue building a better platform, says Lewis. "We can actually evolve as a platform and do the thing that matters most to your business."
So what can those in the industry do today to begin effecting positive changes? Johns, who oversees digital strategy for Hyundai and Kia, admits he doesn't have all the answers but says the most important goal of all is to simplify.
"What are we going to stop doing in order to do these new things?" Johns says. That's the conversation he said he and his colleagues need to start having.
Matt Kapko covers social media for CIO.com. Follow Matt on Twitter @mattkapko. Email him at mkapko@cio.com Follow everything from CIO.com on Twitter @CIOonline and on Facebook.