Google Plus naysayers, especially those in marketing, may want to give the platform another look, according to a new report from Forrester.
While Google's answer to the social media boom is still only one-quarter the size of Facebook, its user base is on par with Twitter and even more popular than Instagram or Pinterest, the firm reports.
For all the criticism lobbed at Google Plus, there is still a significant payoff for marketers who engage on the platform. And the benefits go well beyond the widely reported lift in search optimization that few companies other than Google can provide.
Google Plus Doubles the Engagement of Twitter
Forrester looked at the social profiles of 50 leading brands and found that while Facebook delivers the most fans, the companies have also collected an average of 90 percent as many followers on Google Plus as they enjoy on Twitter. Moreover, the engagement rate for those companies' pages on Google Plus receive nearly double the rate of likes, shares or replies as Twitter.
"Google Plus can deliver bigger audiences and deeper engagement than you think — and even offers marketers clear advantages over Twitter."
The average number of fans on Facebook for those top brands surpassed 9.2 million, according to Forrester. Twitter is hanging on to a slight lead in followers over Google Plus with an average of 836,924 followers or about 85,000 more than Google Plus among the top brands surveyed by Forrester.
Despite being called a "ghost town" last month by The New York Times, Google Plus is larger than Twitter and delivers almost twice the engagement rate. In its latest report, "The Case for Google Plus," Forrester also calculated the number of user interactions with brands' posts as a percentage of each brands' fans or followers.
Google Plus Almost on Par With Facebook
Facebook delivers an engagement rate of .073 percent to Google Plus' .069 percent and Twitter's .035 percent, Forrester reports. Google's social network is almost on pace with Facebook despite a significant gap in activity and interest among users.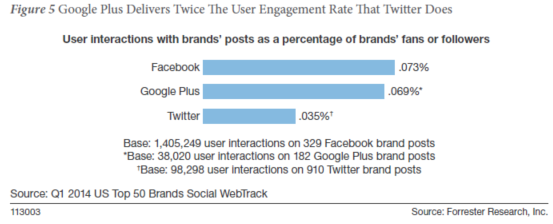 As of November 2013, each Google Plus user spent an average of seven minutes on the site while Facebook users were enthralled with the world's largest social site for more than six hours on average, according to Nielsen data cited in Forrester's report.
A subsequent survey of 60,000 U.S. residents by Forrester found that 22 percent visit Twitter and Google Plus at least once a month, but both are still well behind Facebook's 72 percent.
With those numbers it's no wonder why 82 percent of the top 50 brands maintain Facebook fans while only 64 percent maintain a presence on Google Plus. Those brands also post on Facebook 56 percent more often than they post on Google Plus, Forrester found.
That lack of activity among users doesn't have as negative an impact on marketing pursuits as one might expect. "Google Plus can deliver bigger audiences and deeper engagement than you think — and even offers marketers clear advantages over Twitter," Forrester analyst Nate Elliott writes in the report.
Elliott encourages companies to begin syndicating content from Facebook to Google Plus and to make a better effort to promote their presence on their home page and wherever else they might include links to other social networks. This missed opportunity is not limited to small or less savvy companies, he adds. Neither Disney nor Nike link to Google Plus on their homepage, but in Disney's case its Google Plus followers are already engaging more often than its Facebook fans or Twitter followers.
"The bottom line?" Elliott writes. "If you're not actively marketing on Google Plus, it's time to start."
Matt Kapko covers social media for CIO.com. Follow Matt on Twitter @mattkapko. Email him at mkapko@cio.com Follow everything from CIO.com on Twitter @CIOonline and on Facebook.