Last week, two high-profile Hollywood personalities, actor Kevin Bacon and uber-celebutard Paris Hilton, lost their BlackBerry smartphones. Bacon's BlackBerry was nabbed right from his hands by a NYC subway baddie as he stood on a platform waiting for a train, during the same week that Paris Hilton apparently left hers in a watering hole in Cannes, France. Both are now on damage-control patrol.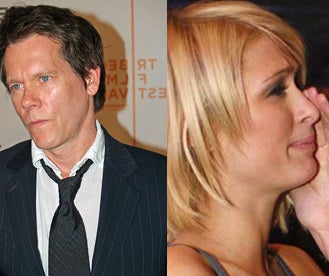 There's really not much more "news" to report here, but there's a simple lesson to be learned: If you–or your BlackBerry admins–don't already lock your BlackBerry or other smartphone with a password you're just asking for trouble. Especially since the feature is so easy to enable and use on most devices.
For example, you can quickly set a new password to protect your BlackBerry by clicking on the BlackBerry Options icon on your device's home screen. On the following screen, choose Password and make sure the first field is set to "Enabled." If you've never used a password to protect your device, you'll need to create a new one and then verify it.
You'll also see a number of additional password-related security options on the Password screen, such as Number of Password Attempts, which allows you to set the number of failed password attempts your device allows before locking up completely, as well as a Security Timeout option that lets you choose the amount of time your device should sit idle before locking.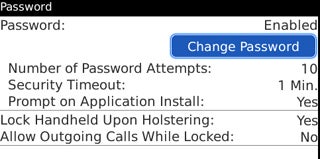 Don't want to remember any more passwords? No worries. There's also a trick you can use to easily unlock your device without having to remember anything new, though it's not exactly the most secure option since it's well-known to advanced CrackBerry addicts like myself. Still, it's better than not using any password at all.
First, open your device Options menu and open the Password section again. Change your password to "b, n, m, $"–the four far-right characters in the second-to-bottom row of your BlackBerry keyboard, not counting the Enter key. Setting this password lets you simply slide your thumb from left to right over the second-to-last keyboard row, from "b" to "Enter"–which looks like an arrow. You can also elongate that password by adding the additional characters directly to the left of "B" to the start of your password. (Note: This trick only work for BlackBerrys with full QWERTY keyboards.)
All you BlackBerry Enterprise Server (BES) admins out there might consider revisiting your BlackBerry password policies to make password locks mandatory. Sure, you can always remotely wipe corporate devices if the need be, and your users probably won't want to have to unlock their smartphones every time they check for new mail. But you know what they say, Better Safe Than Sorry, and in this case, I wholeheartedly agree.
As for Bacon and Hilton, it's unclear whether they employed password-locked devices. Bacon was reportedly using his handheld while the theft took place, so it would've been unlocked anyway–at least for a short period of time–until the thief left it idle for awhile. After Hilton's Sidekick debacle a few years back, in which many a Hollywood insider's contacts were leaked, one would hope Ms. Thang learned her lesson…but probably not.
Regardless, enabling your BlackBerry's password lock is one of the simplest and most effective ways to protect your device–and everything on it. So just do it.
AS