It's officially time to declare an emergency in Research In Motion's (RIM) engineering design laboratories. The company's been leaking new device information, i.e., confidential trade secrets, i.e., dollar-dollar-bills y'all, like a battered and broken sieve.
First, we saw shots and learned specs on the upcoming BlackBerry 9630 "Niagara/Tour." Next, we met the lower-end BlackBerry "Gemini," now known to be the Curve 8520. And this weekend, the Web offered up a handful of images of another never-before-seen 3G BlackBerry: the "Onyx/Driftwood 96xx." That's all fine and good if you're a blogger like me, a CrackBerry addict or a fan of everything 'Berry; however, you've got to wonder what, if anything, RIM is doing to curb this "problem"…or whether the company's actually embracing it.
I'll get back to that, but first, the new details on RIM's BlackBerry "Onyx/Driftwood." The two devices will be part of RIM's upcoming 96xx family of smartphones, according to BoyGeniusReport.com, and will therefore be BlackBerry "Tour" 9630 siblings. This makes perfect sense when you compare the devices; all three look like slimmed-down, streamlined BlackBerry Bolds, with slightly different bezels.
The Driftwood is expected to hit T-Mobile as early as September, with UMA, and could very well become the carrier's first 3G BlackBerry. Another variant, the Onyx, which should be nearly identical except for a lack of UMA, will presumably land on AT&T in a similar timeframe.
What's the one clear difference between the Onyx/Driftwood and the Tour? Besides the fact that the Tour will be built mainly for use on Verizon's CDMA network and the others will be GSM-only, the Onyx/Driftwood is also expected to do away with RIM's current trackball and instead will come equipped with an optical trackpad. (Yes, I know the pictures show a trackball, but that's reportedly an early prototype.) The new trackpad will reportedly work much like the existing trackball, but reduce the tendency of dirt and other particles to work their way into internal components and impede performance–I told you the "atomic trackball" was a myth.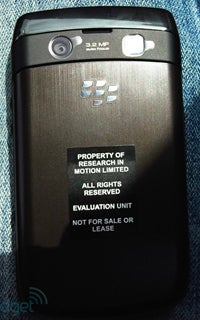 From the new images, we can see that like the Tour and the existing Curve 8900, the Onyx/Driftwood will also feature a 3.2 megapixel camera with flash and auto focus. The 3G, GSM (AWS 1700MHz + 2100MHz UMTS/HSDPA, according to BGR) BlackBerrys will reportedly sport both GPS and Wi-Fi, which should give them both a leg up over the 9630 Tour, since that device lacks Wi-Fi.
The BlackBerry Onyx/Driftwood will also feature the same 480×360 display found on the Curve 8900, as well as a similar carbon-fiber battery cover. In fact, we're clearly starting to see a trend where all the new BlackBerrys look quite similar–think Storm, Curve 8900, Tour—a trend which, I suppose, could be both a good and a bad thing.
Now, back to the recent increase in device leaks at RIM's Waterloo, Ontario HQ: No, I do not believe that RIM is purposely "leaking" information and images of unannounced devices. That doesn't make sense on a number of levels. And I hear RIM's actually very aggressive about tracking down employees who break contracts by leaking device information.
But you've got to admit that the leaks are an absolutely invaluable way to drum up interest in RIM and its upcoming wares months before they become available. You literally cannot buy that kind of publicity, and it would be silly of RIM to ignore this reality.
A while back,
I wrote a post about ways RIM could steal attention from Apple and the iPhone, and I hinted that sharing bits and pieces about new devices before they're announced or released could do just that. I didn't really expect RIM to listen to me, nor do I think that it has. But it does seem like a coincidence that as the battle between the iPhone and BlackBerry heats up, the number of device leaks increase accordingly.
And you've got to admit: You're a heck of a lot more interested in those next-gen BlackBerrys now that you've seen 'em, huh? I certainly am. So perhaps RIM really is embracing leaks, after the fact, in its own way…or at least trying to make the best of a less-than-ideal situation.
More BlackBerry Onyx/Driftwood information and images are available on Engadget.com, BoyGeniusReport.com and CrackBerry.com.
AS
FREE CIO BlackBerry Newsletter
Get better use out of your BlackBerry and keep up-to-date on the latest developments. Sign-up ť