U.K. department store chain Selfridges turns 100 this year. And to celebrate the company's centennial, it's offering up a cool, limited edition BlackBerry Bold with a custom battery cover in Selfridges' signature canary-yellow, as well as a matching keypad. (Just the numerals, not letters.) And it sure is purty. However, you could buy two brand new, unlocked Bolds with the full ColorWare treatment–not just a battery cover and a unique keypad–for less than the Ł1,000 (roughly $1,500) the company's charging for it.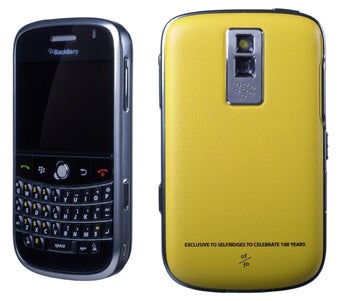 The Selfridges Bold is presumably unlocked–meaning it can be used on any compatible cellular network–and only ten of them will be available at the company's flagship store on Oxford St. in London. The Selfridges-yellow battery cover has the number 100 on its lower section, just above the words, "Exclusive to Selfridges to Celebrate 100 Years." Each device is individually numbered. And the keypad, which is normally white on AT&T Bolds and red on others, matches the yellow battery cover. Cool, right?
But other than that, the device is exactly the same as any ol' run-of-the-mill Bold–though it does come with "VIP support," which, in this case, may very well stand for Veritably Insane Pricing.
Recession be damned; full speed ahead, right?
Still, I'd be surprised if anyone outside of the esteemed Selfridges family–or other devoted employees–actually purchases one of these. For us lowly folks, ColorWare is a better option if you're seeking a custom paintjob. A brand new Bold with custom-colored bezel, bottom plate, battery cover and camera component–you can pick different colors for each–sells for $715, plus shipping.
I've made it a point in recent days to bring you all of the latest, custom BlackBerry devices, and this new Bold fits right in with my collection. Check out "BlackBerry Bling: The Hottest—and Priciest—Pimped-Out BlackBerrys," for more on the subject.
AS
via Pocket-Lint.com
FREE CIO BlackBerry Newsletter
Get better use out of your BlackBerry and keep up-to-date on the latest developments. Sign-up ť