Images of and technical specifications for the BlackBerry 9630, codenamed Niagara, have been bouncing around the Interwebz for more than a month, and though Research In Motion hasn't even acknowledged the device yet, one more juicy piece of information may have been uncovered yesterday, it's official name: The BlackBerry "Tour" 9630. And the device will likely be promoted alongside another tour: U2's 360 Tour.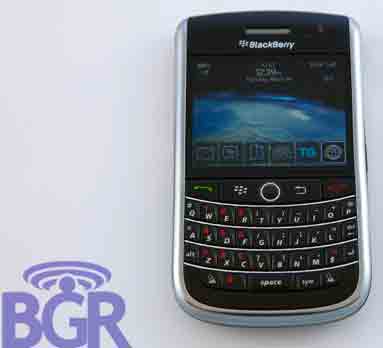 The alleged name for the BlackBerry 9630 comes from a BoyGeniusReport.com tipster who claims to have firsthand knowledge of the device. The same tipster claims the "Tour" will be released in "early summer." Additionally, one of the site's readers discovered that the Web addresses BlackBerry9630.com and BlackBerryTour.com are not only tied to the same IP address, they were both registered on the same day.
This last bit of data is convincing as RIM typically buys up all related and possibly-related Web addresses before releasing new devices. For example, BlackBerry9000.com and BlackBerryBold.com were purchased shortly before that device's launch and both now point to the same BlackBerry Bold page of RIM's site.
By no means is the Tour name 100 percent concrete; RIM could've toyed around with it at one point and decided to register the associated Web addresses just in case. But it does seem to fit in with the BlackBerry-maker's recent naming conventions. It's short and to the point. It makes sense considering the device will reportedly be a World Edition BlackBerry—World Tour, get it?
And, well…I don't like it at all. In fact, I dislike it just as much as I disliked "Bold" when I learned the 9000 would assume that title. Maybe even more so than when the flip BlackBerry "Kickstart" was branded as a revamped "Pearl."
Then there's the whole U2 thing. We know U2 and RIM have joined forces to cross-promote each other's respective offerings; RIM is sponsoring the band's 360 Tour and U2 is working with RIM in various capacities, including the filming of promotional materials for RIM events, such as the company's recent BlackBerry App World announcement at CTIA.
So why not call the BlackBerry 9630 something cool like the BlackBerry Edge, in reference to the band's lead guitarist? I suppose a name like that could easily be confused with the GSM radio technology EDGE (Enhanced Data Rates for GSM Evolution), but you get my point.
And you can bet U2, or at least some recorded version of the band, will make an appearance at RIM's upcoming Wireless Enterprise Symposium (WES) event, which is being held May 5 through May 8 in Orlando. In fact WES seems to be a likely place for the 9630's official announcement….
What's your take? I realize it's just a name, and in the grandiose scheme of thangs, it really doesn't much matter. And I'll admit it: my affection for the name Bold has grown over time, so maybe Tour will too. I just think RIM could be more inventive.
AS
FREE CIO BlackBerry Newsletter
Get better use out of your BlackBerry and keep up-to-date on the latest developments. Sign-up ť